On a cold winter night, there is nothing better than a good hearty stew. Over our holiday vacation, we had a couple of really chilly nights when this was just what we needed. One of our favorite stews is Beef and Barley Stew and making it in the Instant Pot delivers a stew that tastes like it has been "stewing" all day long but takes less than 2 hours and can be done all in one pot!
I love kitchen gadgets! I typically ask for one for Christmas every year and usually, it's just something small. But last year, to my surprise, my wonderful husband gave me an Instant Pot. I didn't ask for it, but he knew it was the "new" thing in cooking and surprised me. It has been a really nice addition to my collection of "tools" and once I got the hang of it, it's added a lot of flexibility to my menus.
Using an Instant Pot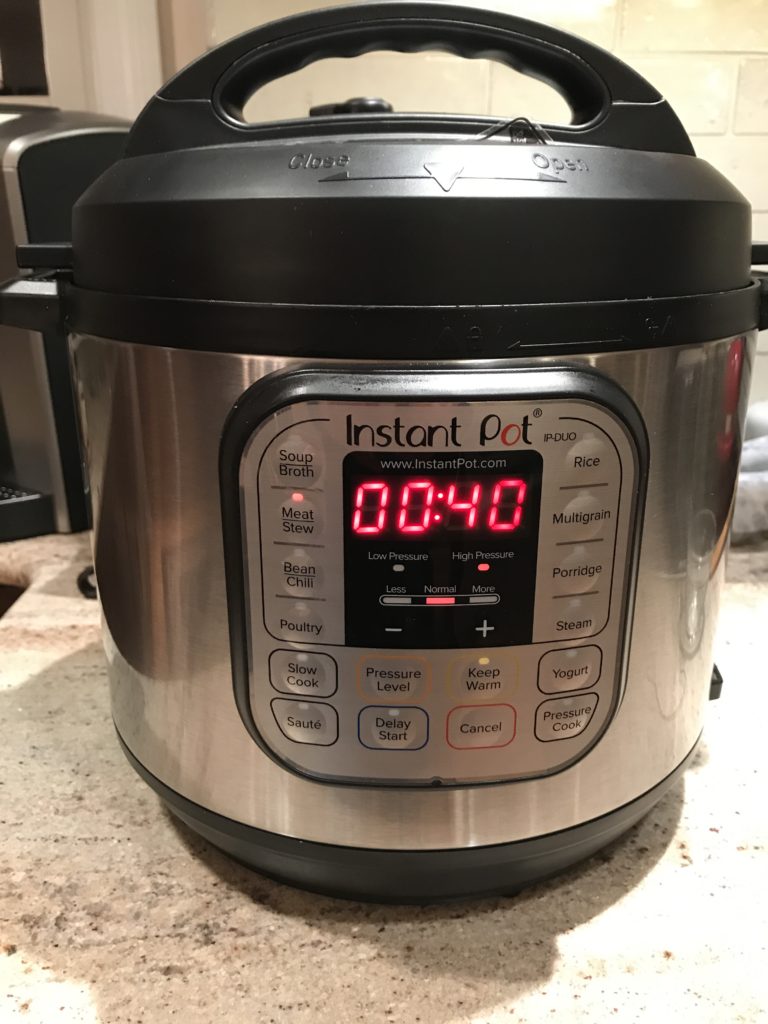 If you have never used an Instant Pot, I get it…they can be intimidating! There are so many controls on the front and what do you use to cook what? I'm not an expert – I'm still learning and experimenting with mine but it is a great kitchen gadget to have in your arsenal. It can cook food much faster than traditional cooking methods. The InstantPot website has a lot of great information to get you started.
One thing I have learned is that most "Instapot" recipes don't take into consideration the time it takes for the pot to come to temperature or the time for the pressure to release. So, when you set it for 20 minutes, it may take 10 to get to the right temperature for it's "instant" cooking and another 5 to 10 minutes to release the pressure (although you can do a "quick release" if you want). As long as you take that into account, you'll be amazed at how quickly it cooks some things.
I've played with mine over the last year and found that it is great for cooking beans and whole grains and tough cuts of meat. They cook so much faster than they typically would and tough cuts of meat become "fall off the bone" tender. It is also perfect for making a good hearty stew, like this Instant Pot Beef and Barley Stew
I was a bit scared of the pressure cooking feature. I remember my mom using a pressure cooker and how loud it was and her telling us to "stay away". I've used them in labs in school (okay, a LONG time ago, but I used them!). I know how quickly they work and how well they tenderize even the toughest meat so I was intrigued.
My Instant Pot experiences
My first attempt was cooking a "roast" chicken. It worked just like they said – yup, "fall off the bone" (Lit..er..ally) tender and the meat was really delicious. I admit however that I missed the roasted skin and taste that you get with traditional oven roasting. But the meat was incredibly tender, the juice made a delicious gravy and the leftovers worked nicely in a soup. I also cooked the chicken from frozen. This was more of a test than anything else, but one of the benefits of the InstantPot is that you don't need to thaw your meat ahead of time as you do with a slow cooker or oven cooking. The cooker brings the meat up to temperature so quickly there isn't a food safety issue.
I've also cooked dry beans. No more soaking overnight, which is a huge time saver! The other great use is for hearty grains like barley that I use here, brown and wild rice and wheat berries. Those normally take an hour or so with mixed results, but the Instant Pot takes less time and they are always nice and tender. My favorite though is the stew function. It is the perfect solution when you have some time, but not a whole day to cook. I think it makes the meat even more tender than a full day of cooking on or in the stove or slow cooker.
I love this recipe because it makes enough that I have leftovers to freeze for later. One of my goals over the holidays was to make extras of things for a few quick meals once we are back to work and have less time but still want a good hearty meal. I know we'll look forward to enjoying this one again!
Do you have a favorite Instant Pot recipe? Please share in the comments!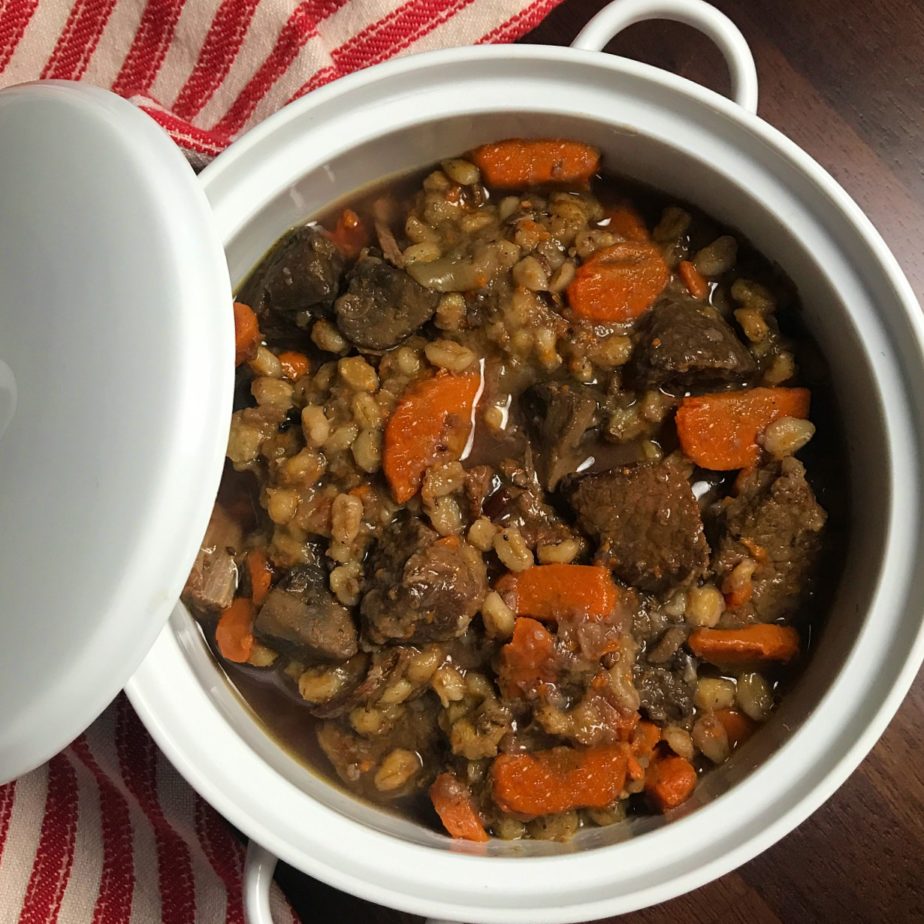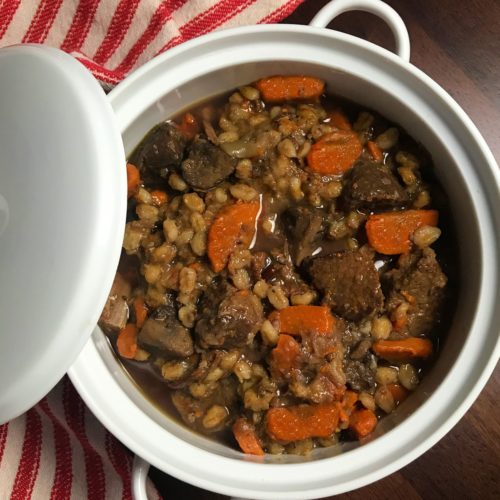 Instant Pot Beef and Barley Stew
A tender and delicious beef stew that tastes like it was "stewing" all day long but only takes about an hour and a half! This made enough for a couple of meals for us to enjoy later this winter!
Ingredients
1

slice

bacon

diced

2

cups

sliced carrots

1/2

cup

dice onions

10

oz.

crimini mushrooms (or baby bella)

cleaned, trimmed and quartered

1

Tbsp

Extra Virgin Olive Oil

1.5 – 2

lbs

beef cubes

1/2

cup

flour

1/2

tsp.

salt

1/2

tsp.

ground pepper

1

cup

dry red wine

2

cups

beef broth

low sodium

1

cup

pearl barley

(not quick cooking)
Instructions
Wash your hands. (I know everyone should know this but I'm including it as the first step from this point on as a reminder.)

Brown the bacon pieces on the sauté mode in the Instant Pot. Remove them to a plate lined with a paper towel to drain and add onions and carrots to the pot. Sauté for 4 minutes.

While the vegetables are cooking, toss the beef with the flour, salt, and pepper.

Remove vegetables from the Instant Pot to a clean plate and set the Instapot to sauté mode for 15 minutes. Add 1 – 1/2 tsp. EVOO to the pot and add half the meat. (don't overcrowd the pan) Brown it on all sides, remove to another clean plate and add the remaining meat (adjust the sauté time if needed). Brown on all sides and remove to the plate.

While the pot is still hot, add the mushrooms and sauté for 4 minutes.

Stir in the wine and scrape up the brown bits from the bottom of the pot. Add the vegetables, bacon bits, beef, and broth back to the pot. Cover and make sure the vent is closed. Set the Instant Pot on the "meat/stew" mode for 15 minutes and seal.

When done, release the steam (I did this manually at this stage), uncover carefully and stir in the barley. Cover the Instant Pot again and set the "meat/stew" mode for 30 minutes.

Allow the steam to release on its own. (You can release it manually but I've had better luck just letting it slowly release)

Once the steam is released, open the Instant Pot and double-check that the beef is tender (easily breaks apart with a fork – little effort). You can also check the temperature to make sure it is 160F. The barley should also be tender and have soaked up most of the liquid.
Notes
 If you like more liquid, increase the broth to 3 cups – I like mine nice and thick and the amounts listed here are perfect! 
Nutrition