Every year after our Thanksgiving dinner I wrap up some of the leftover turkey in Ziploc bags and throw it in the freezer for later. I'm usually busy either traveling or entertaining right after Thanksgiving and other than making a quick soup or using some of the really nice leftover pieces for a sandwich, I don't have time to use all the leftovers, but I really don't want them to go to waste.
This year, Mark and I were traveling for Thanksgiving and had our own Thanksgiving dinner the Sunday before. I didn't have time to make anything with the leftovers before we left so I packed up the scraps and good meat and put it in the freezer for later. It was nice to know I had some in the freezer waiting for me when we got home!
Having cooked turkey in the freezer in preportioned bags also makes dinner prep during the week super easy!
I made this quick turkey and pea recipe one night after work last week. I had peas in the freezer, mushrooms in the fridge and the turkey and some stock in the freezer. While the rice cooked, I pulled this together and had dinner on the table in a little over a half-hour. And it was delicious! So I had to share!
First, I sauteed onions in a large saute pan and removed them. I added a bit of EVOO to the pan and turned up the heat. Once it was really hot, I added the mushrooms and cooked them until they were brown, then flipped them and cooked on the other side.
Once they were done, I put them on the plate with the onions and wiped out the pan. A made a quick roux with EVOO, butter, flour, wine, and broth. Once it was thickened, I mixe in some tarragon and fresh thyme, salt, and pepper. I added the onions and mushrooms back to the roux along with the turkey, peas and a bit of gruyere cheese and heated it slowly until the turkey and peas were hot and cheese had melted.
It was ready to go just as the rice was done. A bit of broccoli on the side and it was the perfect meal for a cold weeknight.
What are your favorite ways to use leftover turkey?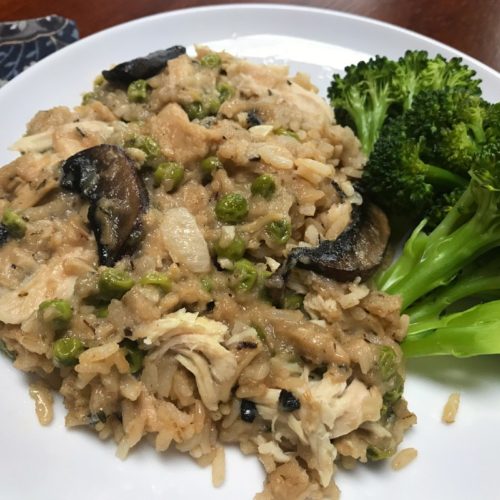 Creamed Turkey and Peas over Rice
This hearty dish is an easy way to use up leftover turkey from the holidays or substitute chicken for an easy weeknight dinner.
Ingredients
1

tbsp

Extra Virgin Olive Oil

1/2

cup

chopped onion

1

cup

sliced mushrooms

2

cloves garlic

minced

2

Tbsp

Extra Virgin Olive Oil

2

tbsp

butter

1/4

cup

flour

all-purpose

1

cup

frozen peas

thawed

2

cups

chopped turkey

1/2

cup

white wine

1-1/2

cups

turkey or chicken broth

reduced or low sodium

1/2

tsp

dried tarragon

1/2

tsp

dried thyme

1/4

tsp

salt

1/4

tsp

black pepper

ground

1

cup

shredded gruyere cheese
Instructions
Heat1 Tbsp Extra Virgin Olive Oil in a large saute pan over medium heat. Add onions and saute until translucent.

Add mushrooms and garlic to the onions and cook until mushrooms are soft. Remove onions and mushrooms from the skillet.

Heat 2 Tbsp. Extra Virgin Olive Oil and butter over medium heat until butter melts.

Add flour to the oil and butter and whisk for 3-4 minutes. Turn the heat down if the flour starts to brown.

Gradually add the wine and broth, continuing to whisk and cook over medium heat for at least 5 minutes until the sauce thickens.

Stir in the peas, turkey, tarragon, and thyme. Season with salt and pepper and cook until turkey is heated through.