I'm a bit of a history buff. I love reading about history, historical fiction novels and traveling to places to see and learn about the history of the area. I also love food history and learning about food traditions. That history is even more interesting to me when there is some sort of a family link.
So imagine my delight when a few weeks before Christmas I received a letter from my Father's cousin and enclosed was this copy of a very old recipe from his Great Aunts, for Sour Milk Doughnuts.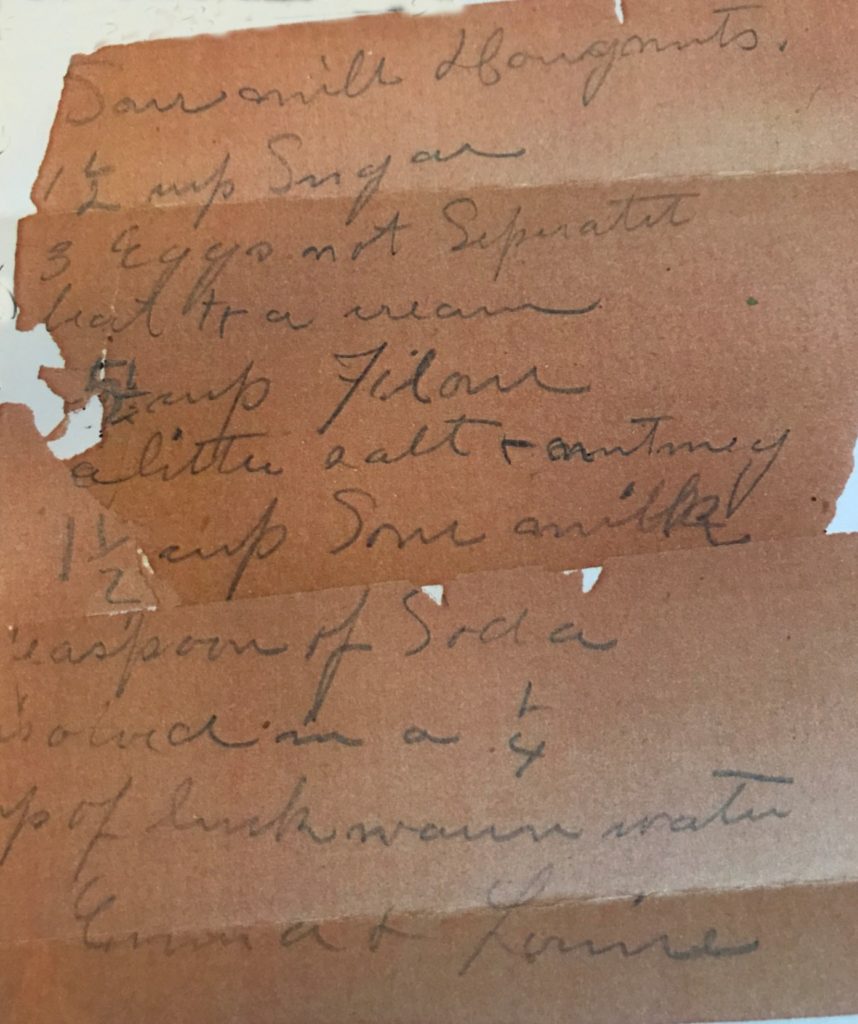 I'm guessing the recipe is from the late 1800s to early 1900's – it's a guess but based on what I know, that is probably close. They lived in Milwaukee, Wisconsin and lived a couple of blocks from where my grandmother grew up. My dad remembers visiting them as a little boy and knows that they were seamstresses and never married. Beyond that, I know very little but apparently, they made doughnuts!
I rarely make fried foods and even more rarely eat doughnuts, but, having this weathered, handwritten recipe, and knowing it was something my Great, Great Aunt's made, I just had to give it a try.
I got up a little early this Sunday morning to make these. Unlike yeast-raised doughnuts, these only need an hour and a half to rest before frying, but that is still enough time that you want to get a bit of a head start. Thinking about it, Aunt Emma and Louise probably made the dough before going to church and then fried them up as soon as they got home.
The first time I make any recipe, I make it exactly as it is written. I'll take notes if I need to and adjust it the next time. For this one, however, it needed a little adjusting as I went. The recipe called for 5- 1/2 cups of flour. It says more or less may be needed based on humidity, etc. I ended up using about 6 -1/2 cups of flour and it was still a really wet dough!
I'm thinking the eggs could have caused that. Who knows what size eggs they had back then. I had used large so maybe they added more moisture than the original recipe? The doughnuts rose beautifully and were nice and light so the extra flour didn't seem to cause any trouble.
I don't have a "doughnut cutter" either so I had to make do with a round cookie cutter and then cut the center out myself. The dough was pretty sticky but after the first couple of attempts, it worked well.
I used peanut oil to fry them. Anytime I deep fry, peanut oil is what I use. It has a high smoke point; meaning that it can heat to a high temperature without smoking and breaking down. I wanted to make sure I had the oil hot that so the doughnuts wouldn't be greasy. I used my other grandmother's old deep-frying thermometer to watch the oil and kept it between 375 ° F and 400 ° F.
The doughnuts took about 1-1/2 minutes per side to cook and then drained on a wire rack for a few minutes. I sprinkled them with some cinnamon sugar I picked up at Penzy's in the Strip District a few weeks ago.
Let's just say, these Sour Milk Doughnuts were delicious! They weren't greasy, or heavy. A light dusting with cinnamon sugar complemented the nutmeg in the batter. Will I make them again? Maybe someday. Right now, I need to find a way to preserve this recipe, and then send my Dad's cousin a note thanking her for sending me a piece of our family history!
UPDATE!!!! – If you enjoyed hearing about these and the family connection, check out my interview with Jared Levinson, at EatingEnLightenment. I had such fun talking with him about my love for learning about food and our food heritage! His Podcast delves into mindful eating, stress reduction, and many other topics around food. I can tell you for certain – these doughnuts are great for reducing stress!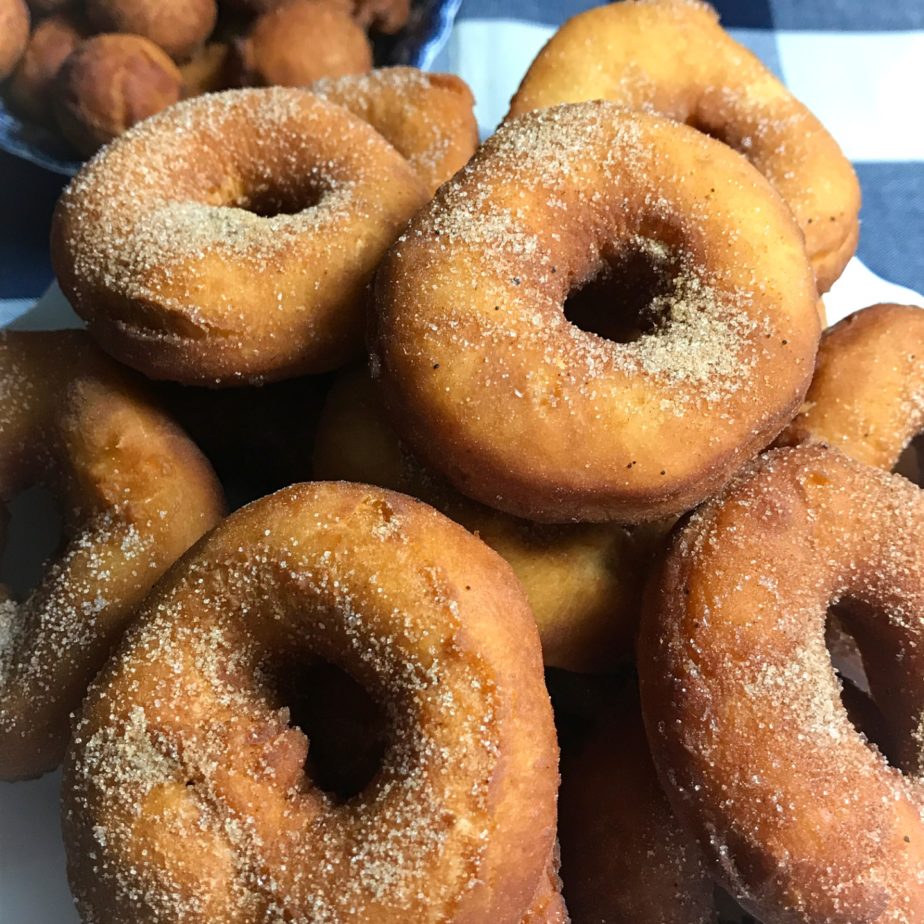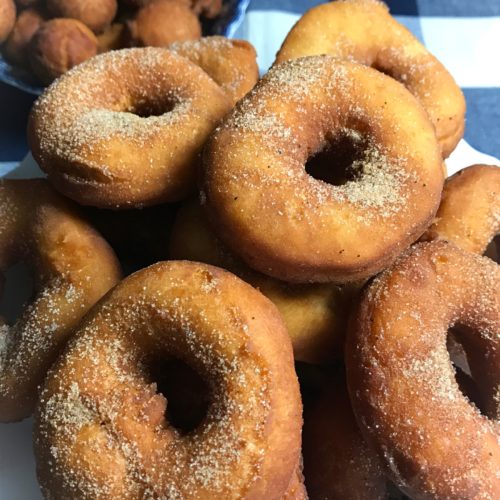 Sour Milk Doughnuts
This is an old family recipe that was passed down to me by my Father's cousin. It makes a couple of dozen doughnuts and countless doughnut holes and fritters!
Ingredients
1-1/2

cups

sugar

3

eggs

1-1/2

cups

sour milk

1

tsp

baking soda

3

Tbsp.

olive oil

1/4

cup

lukewarm water

5-1/2

cups

flour

more if the dough is wet

1/4

tsp.

salt

1/4 – 1/2

tsp

nutmeg
Instructions
In a large bowl, cream the sugar and the eggs.

Add the milk and olive oil and water.

In a medium bowl, mix the flour with the baking soda, salt and nutmeg.

Gradually add the flour mixture, about 1 cup at a time. Mix well after each addition until the dough pulls away from the side of the bowl and can be worked into a 1-inch thick disk.

Wrap the dough in plastic wrap and place in the refrigerator for about 1 – 1/2 hours.

Divide the dough in half, reserving the unused half in the refrigerator. On a well floured surface, with the top of the dough floured as well, roll the dough into 1/4 inch thickness.

With a floured doughnut cutter, cut out the doughnuts and the holes. (The dough does not re-roll well, so scrapes can be sliced into fritters. Roll and cut the second portion of the dough. The doughnuts can be held on a floured baking sheet until frying.

Heat the oil in a dutch oven to 360°F (at least – I heated it to 375°F). Fry the doughnuts, no more than 4 at a time, until they are golden brown, 1-1/2 to 2 minutes. With a spider or wooden spoon, flip the doughnuts over and complete the frying.

When the doughnuts are crispy, and golden brown, drain them on a cooling rack set over thick paper. It is important that you let the oil get back up to 360°F before frying again to let the doughnuts absorb a minimal amount of fat.