It's that time of year. I don't know about you but everyone in our office is sniffling, sneezing, and coughing and there is some nasty stomach bug going around. There is nothing better if you are feeling under the weather than a steaming bowl of your favorite chicken soup. So today I made my homemade chicken noodle soup with greens.
What really got me thinking about chicken soup this past week was that one of my college roommates asked me last weekend for a good chicken soup recipe. My answer was that I didn't really have one – I usually just make it up as I go! But, I hopped on the phone with her and gave her some ideas and I think she ended up with a delicious soup – at least the picture she sent me looked good! But, it made me think that I really should post a good chicken soup recipe.
My comment to her was truthful. I honestly don't think about a recipe when I make soup. I just use what I have in the fridge and pantry and make a soup! But there are some key ingredients and techniques that I think are important when making soup, especially a good classic like chicken noodle soup.
Key Ingredients
First, there are 3 main vegetables – carrots, onion, and celery. It's often called "the holy trinity" and in cooking terms, it's called a mirepoix – a fancy name for a group of vegetables that form the basis for most stocks, soups, and sauces. They are sauteed in oil or butter and is really the key to adding a lot of flavor to your soup.
Second, the stock or broth is key. You don't need to make your own. I usually do and have a "recipe" that I'll post later, but a packaged stock or broth works perfectly well and is something you can keep in your pantry. I typically look for a reduced-sodium broth which allows me to season it how I like it.
Third, vegetables. Anything you have in your refrigerator or that you like will probably work well. I like adding parsnips (they look like white carrots and are a little sweet), leafy greens like kale or spinach, and green beans or peas, but anything you have will work and add color and good quality nutrients too.
Fourth, seasonings. This is a personal preference and I say anything goes. Many people add fresh dill to the chicken soup but I typically add oregano and fresh parsley. I also add salt and a generous amount of pepper. Yes, salt. For soup, you really do need a little salt to bring out the flavor of the broth and the other ingredients, otherwise, it just tastes bland. So, I add a little salt, taste as I go and add just enough to bring out the flavors but doesn't end up too salty. (I also like sprinkling parmesan cheese over my soup before serving which adds a little saltiness .) How much of any seasoning you add is really up to you, but I recommend adding them all slowly and tasting the soup while you build it to get just the right amount.
Fifth, pasta! Pasta provides energy. It is considered a complex carbohydrate, so it is
absorbed and digested more slowly than simple carbohydrates. Not only does it provide
excellent energy for physical activity and sports but carbohydrates are also the main source
of energy for your brain. Although the brain represents only 2% of your body weight, it
needs more than 20% of the body's daily energy to function. For more about the nutritional benefits of pasta, check out Sharethepasta.org
Finally, the chicken. I typically make my chicken soup after I've made a roast chicken for dinner. I'll package up the leftover chicken meat for soup or a casserole. I also save the carcass and freeze it to make broth later. But, you can poach or bake chicken breasts or thighs just for the soup. I prefer not to cook the chicken in the soup but have it cooked ahead, cooled and shredded.
I always look in my fridge and see if there is anything that needs to be used up that might go well in soup. Greens, like spinach, escaole or even kale are great additions to soup. So in this version, I've added some baby kale that I needed to use up. Here is how I make my homemade chicken noodle soup with greens.
Making the soup
First, I saute the "holy trinity" in a little olive oil with some salt and pepper for about 5 minutes, just to soften them slightly and release their flavor.
Next, I add the additional hard vegetables, like parsnips, and let them sauté with the others for another 5 minutes.
Then I add the chicken stock, a little salt, and pepper and any dry herbs I'm using. I'll let this heat up and once it is hot – at least 165 ° F- then I add the cooked chicken. Continue heating until the chicken is heated through and reaches 165 °F when checked on an instant-read thermometer.
If you add noodles or rice to your soup, I recommend adding them just before you serve it so they don't get mushy and soak up all the liquid. One of my friends says she cooks them separately, places them in the bowl and pours the soup over top – that works great too! (If you are freezing the soup, make sure you add the noodles separately or they will soak up all the available broth.) I also taste it at this point to check the seasoning level. The flavor changes as the soup cooks, so testing it while it cooks and adding as you go helps prevent over or under seasoning.
Finally, if I'm adding a leafy green as I did with this one, I'll add that at the very end, giving it just enough time to wilt. I'll often serve it with a little parmesan cheese sprinkled over top. It adds just a little bite and saltiness that I love!
Whether it has any healing properties or not, homemade chicken noodle soup with greens is just good for the soul.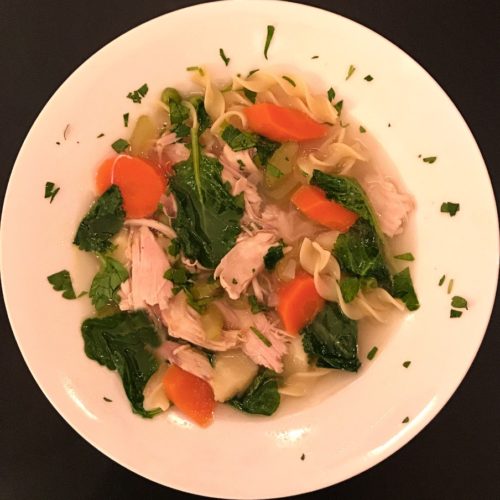 Chicken Noodle Soup
Whether chicken noodle soup has any healing properties or not, its a classic recipe that is simple to make and perfect for a cold winter night.
Equipment
8 qt Dutch Oven or sauce pan
Ingredients
1

tsp

extra virgin olive oil

1/2

cup

chopped onion

1

cup

diced celery

medium dice

1

cup

sliced carrots

1

cup

sliced parsnips

1/2

cup

peas

1/2

tsp

salt

1/2

tsp

ground black pepper

2

tsp

chopped fresh oregano

or 1/2 – 1 tsp dried

6

cups

chicken broth

2

cups

shredded, cooked chicken

1

cup

baby kale or spinach

3

cups

cooked egg noodles

medium

2

Tbsp

chopped parsley

fresh

1/4

cup

grated Parmesan cheese

optional
Instructions
Heat olive oil in an 8 qt. dutch oven or saute pan. Sauté the onions, carrots, and celery for about 5 minutes until just starting to soften. Add parsnips and sauté for another 5 minutes.

Stir in peas, salt, pepper and 1/2 the oregano.

Add broth and heat until steaming. Mix in chicken and continue to cook until chicken is hot but the soup is not boiling. The soup should be 165°F on an instant-read thermometer. At this point, taste and add more salt, pepper, and oregano if needed.

While the soup is heating, in a separate pan, boil water and cook the egg noodles until just al dente.

Just before serving, stir in the kale or spinach to wilt.

Place 1/2 cup egg noodles in a bowl. Spoon the soup over the noodles and serve.

Sprinkle with Parmesan cheese if desired and serve with a roll and salad.
Notes
If you make extra and want to freeze it for later, spoon it out into smaller containers and place directly in different parts of the freezer to freeze quickly.  Reheat it to 165°F when you serve it again.