Break – the – fast. You've probably heard for years that breakfast is the most important meal of the day. Did you know that incorporating kefir for breakfast will not only get your day off to a great start, and will also help get your GI tract, well, on track for the day?
Breakfast gives your body fuel to get the day going after fasting all night. While some people may argue that point, I think the research is pretty clear. A recent study that looked at 45 studies done through 2019, found an increased risk of obesity in people who skipped breakfast more than 3 times a week.
Another potential benefit to having breakfast, especially one that contains protein is improved energy and mental clarity throughout the day. The research around that is ongoing, but for me – well, I know I am much better on mornings where I have a healthy breakfast.
Now, that doesn't necessarily mean you need to eat something as soon as you get out of bed! Goodness knows I don't do that! However, I do have something small to eat or drink within a few hours of getting up.
That is where kefir comes in. It is a thick drink that has a fair amount of protein. Drinking a glass of kefir is quick, fills me up, and isn't overly filling either. You can use it in a smoothie or use it in overnight oats to replace milk. Any way you use it, you've got the energy to take on the day without feeling sluggish from a big breakfast.
In this article you'll learn what kefir is, the varieties of kefir you can find in your grocery store, why kefir is a smart choice for you and your GI tract, and some easy ways to add it to your breakfast.
What is Kefir?
Pronounced "Ku – FEAR" in Russia or by most Americans "Kee- fur," Kefir is a milk-based drink that is naturally fermented. Ok, so what exactly does that mean?
Fermentation is an old method of preserving food. Think about crocks of pickles or sauerkraut. Those foods are made by letting healthy bacteria feed on and colonize the food. As it goes through the fermentation process the food's structure and flavor change. Importantly, this fermentation process also works as a method of preservation, allowing a longer shelf life.
To make kefir, a "kefir grain", which isn't really a grain, but small cells that house bacteria and yeast, are added to milk and allowed to ferment at room temperature for a day. If you are familiar with making kombucha, the process is similar. The bacteria and yeast in the kefir grain are what help ferment and preserve the milk.
Today, kefir is widely available in most grocery stores so you don't need to try to make it at home…unless you really want to. If you want to give it a try, The Kitchn has some good information on how to do it and where to buy the "kefir grains".
What are the different varieties of kefir?
While milk-based products are the most commonly found varieties of kefir, there are some plant-based kefir products available too. Soy, almond, and other nut milk can also be fermented to create a kefir drink.
There are flavored kefir products available in most grocery stores that are great for smoothies or just to drink on their own. I love a berry-flavored version in smoothes and vanilla is perfect in my overnight oats.
For baked goods, the vanilla or plain version works the best unless you are going for a berry-flavored muffin, and well, why not?
What does kefir taste like?
Like yogurt, kefir is a bit tangy and has a little bite. That bite is coming from the acid in it. The "plain" flavor is pretty sour so I usually prefer a vanilla-flavored or berry-flavored version if I'm drinking it alone or even mixed in a breakfast smoothie or oatmeal.
Kefir is very thick and very smooth. The thickness may be surprising at first but it is soothing on your stomach and a really nice way to start off the morning – especially when you don't have a lot of time for breakfast.
How does kefir help your GI tract?
Like yogurt, another fermented dairy product, kefir contains healthy bacteria. Okay, I know that could sound kind of gross, but we are learning more and more about how those healthy bacteria are important for our GI system. They are called probiotics and there are millions of them.
These probiotics, or healthy bacteria, feed on fibrous food in our GI tract giving the healthy bacteria strength. The more healthy bacteria in our GI tract outnumber the bad bacteria keeping the lining of our gastrointestinal tract strong. This prevents bad bacteria from being absorbed, and they may help us digest food and some medications.
Why should you add kefir to your breakfast?
There is a lot of research going on now finding some real health benefits to using more fermented foods like kefir. Adding kefir and other fermented foods to breakfast is a great way to start your day because it provides some real health benefits.
Fermented foods seem to help with stress by allowing our body to release more serotonin and reducing the amount of cortisol, another hormone that increases stress. I talked a little about this last month in my post about stress!
Kefir is typically made from milk so it is rich in calcium and vitamin D as well as potassium. While yogurt is also fermented and has many of the same benefits it is often lacking in vitamin D, which is another reason I'm a fan of kefir.
Fermented foods may have a role in brain health. They may help reduce inflammation, which then helps increase blood flow to the brain.
They help with digestion by providing healthy bacteria that feed on fiber in our GI tract.
Dairy products that are fermented also seem to be well tolerated by people with lactose intolerance. The bacteria seem to break down the lactose sugar in the milk which helps people with lactose intolerance digest the fermented milk products.
How can you add kefir to breakfast?
Kefir is easy to add to breakfast dishes. Here are 5 ways you can add kefir to breakfast:
You can use it in place of yogurt, milk, and even buttermilk.
Many people commonly use kefir in overnight oats or smoothies.
Kefir is also great to use in pancakes, waffles, and scones, replacing either milk or buttermilk in those recipes.
Substitute it in muffins or scones for buttermilk. It has a tenderizing quality and is acidic so it interacts with baking soda to help with leavening which will make your muffins and scones light, fluffy, and the envy of all your friends.
Use it instead of buttermilk or cream in dressings or sauces for an egg breakfast sandwich or wrap. Or, if you like the zing of the plain, use it on its own as a sauce.
What are some good recipes using kefir?
I've just started using kefir more in my breakfast meals and really love it. While smoothies are probably the most common thing people make with kefir, as you can see above there are a variety of other ways you can incorporate it into your breakfast.
With that said, there are a few things to keep in mind when using kefir in some common breakfast foods:
Cooking with kefir
Kefir is a great substitute for buttermilk and works well in most recipes that call for it. I am going to work on some buckwheat pancakes and maybe some scones though so stay tuned for more on that! If there is anything else you'd like me to try using kefir, please comment below and I'll give it a go!
Does kefir lose its benefits when heated?
The healthy bacteria don't survive being heated for long. Keep that in mind if you decide to use it in a baked good or heat it in a sauce. Your best bet for getting the most bang for your buck is to use it in a smoothie or like I did in these overnight oats.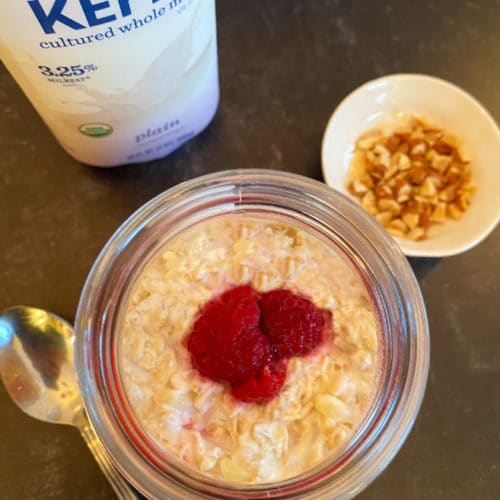 Raspberry Almond Overnight Oats
An easy breakfast to assemble the night before so it is ready to enjoy in the morning!
Ingredients
1

cup

unflavored or vanilla-flavored kefir

½

cup

dry oatmeal

½

cup

raspberries

1

tsp

honey

2

tbsp

toasted almonds
Instructions
Place ½ cup kefir in each mason jar and add ¼ cup of the oats. Stir to combine.

Add ¼ of the raspberries, ½ the honey, and ¼ of the almonds to each jar and gently stir them into the oatmeal. Top with the remaining raspberries and almonds

Seal the jars tightly and place the jars in the refrigerator for at least 6 hours. Remove and stir in the raspberries and almonds and enjoy.
Notes
You can substitute a low fat or a flavored kefir if you wish and add more or less honey to taste.
Nutrition
Calories:
290
kcal
Carbohydrates:
30
g
Protein:
10
g
Fat:
15
g
Saturated Fat:
4.5
g
Polyunsaturated Fat:
0.5
g
Monounsaturated Fat:
0.5
g
Cholesterol:
25
mg
Sodium:
105
mg
Potassium:
380
mg
Fiber:
5
g
Sugar:
12
g
Vitamin C:
8
mg
Vitamin D:
3
µg
Calcium:
240
mg
Iron:
1
mg
The takeaway message? Kefir is a great addition to your breakfast and will get you off to a great start for your day. Your brain, GI tract, and body will thank you! Want to learn more tricks and tips to improve your health? Sign up for my newsletter below!