This post contains affiliate links, meaning if you click on a link and purchase a product I will make a small commission at no additional cost to you.
I don't think I remember a more dreary and colder January than this year! Wow, what a month. I know that everything else that is going on is probably having a bit of an impact on this, but all I have wanted is to hunker down with hearty comfort food this past month.
This is precisely why I came up with this Thai Red Curry Vegetarian soup! It is warm, hearty, and comforting, and sneaking in some good healthy foods doesn't hurt. Anything to boost the mood, right?
I hosted a cooking class with a few friends last week and we made this soup. I wanted to see how it would work as part of a class and was curious what they would think of the flavor. The class was great – lots of chopping and some (hopefully) good tips, and we ended with a hearty soup ready for dinner.
They said they loved the fresh, bright flavor of this soup, and honestly, that is one of my favorite parts – although I remember it being spicier when I made it originally so I have adjusted the recipe slightly to add some extra heat for those who like it hot!
So, enough about that – it's soup – let's dive in!
What is Thai Red Curry?
Let's start at the beginning. If you aren't familiar with Thai cuisine, you may not have ever used this curry paste before. And if you are thinking of yellow, Indian curry, this seasoning is vastly different. What exactly is Thai red curry paste?
Thai Red Curry paste is made from red chili peppers, ginger, garlic, salt, and lemongrass. Some versions also contain cumin and coriander and many contain shrimp paste. It can be spicy depending on the peppers used and how much ginger is added but often also has a little sweet note.
The chili peppers are spicy red peppers, not the red bell pepper you often see in the grocery store. The picture below is close to what might be used to make this paste.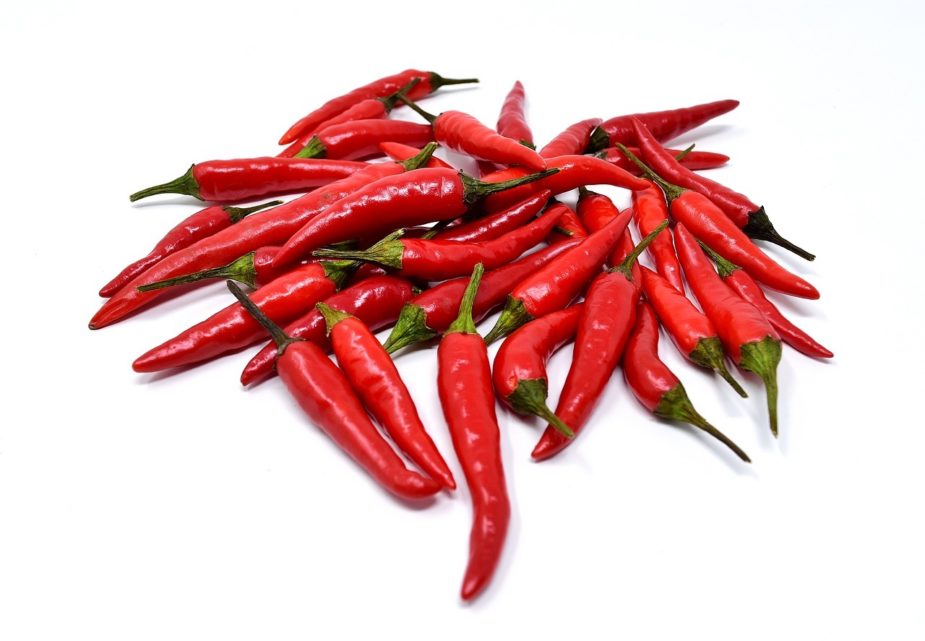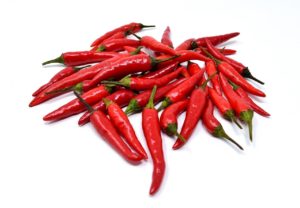 I like using the Thai Gourmet brand red pepper sauce because it is not overly spicy and doesn't have any shrimp paste added. Not that I don't like shrimp paste. Not having it means I can add fish sauce and season my dish how I want, and it also means I can use this in vegetarian recipes and it is gluten-free for people who need to worry about that.
What you need to make Thai Red Curry Vegetarian Soup
This soup really is pretty simple, even if you have never made Thai food before. As a matter of fact, it is probably a great way to ease yourself into Thai cuisine! 
Soup recipes are really forgiving. You can adjust and modify them to make something you love. Don't like chickpeas? Swap in chicken or shrimp. No vegetable broth? Use chicken broth!
The most difficult, or time-consuming part is chopping the vegetables and mincing the ginger!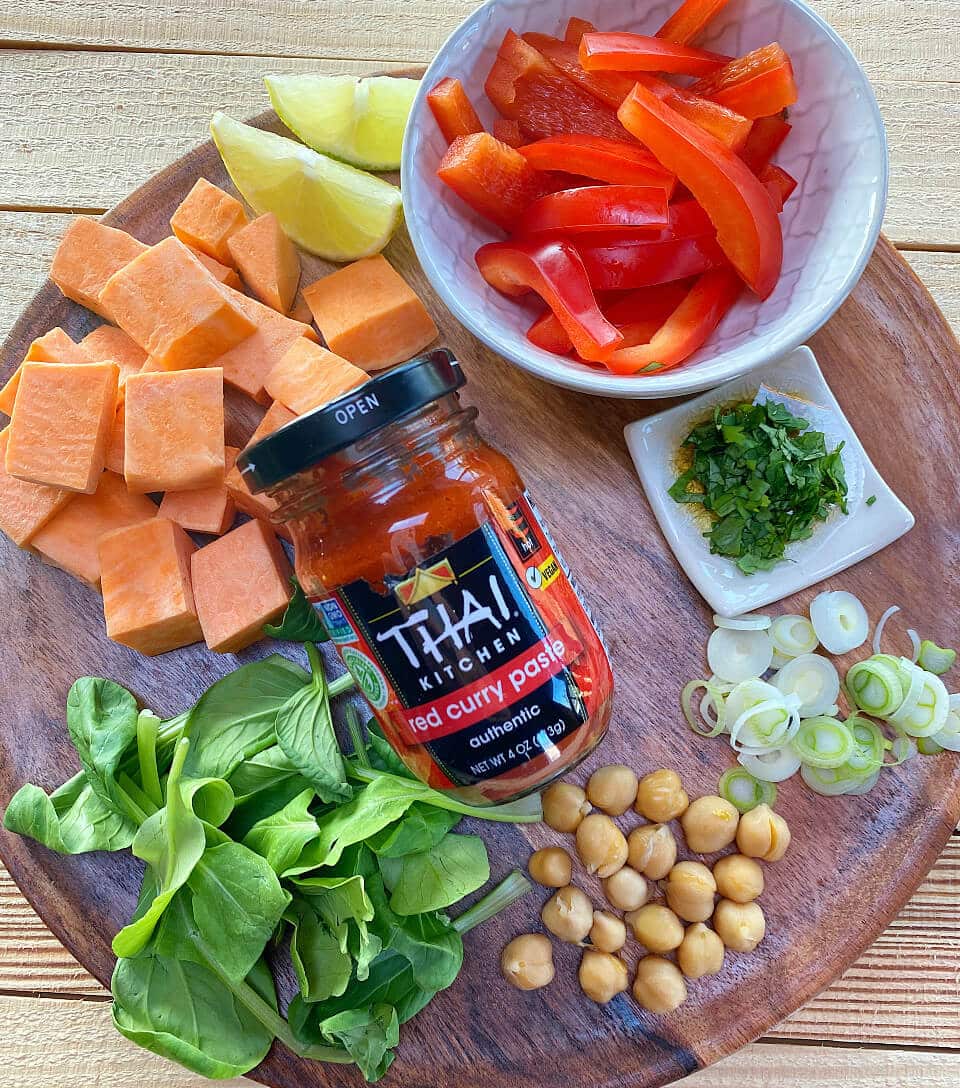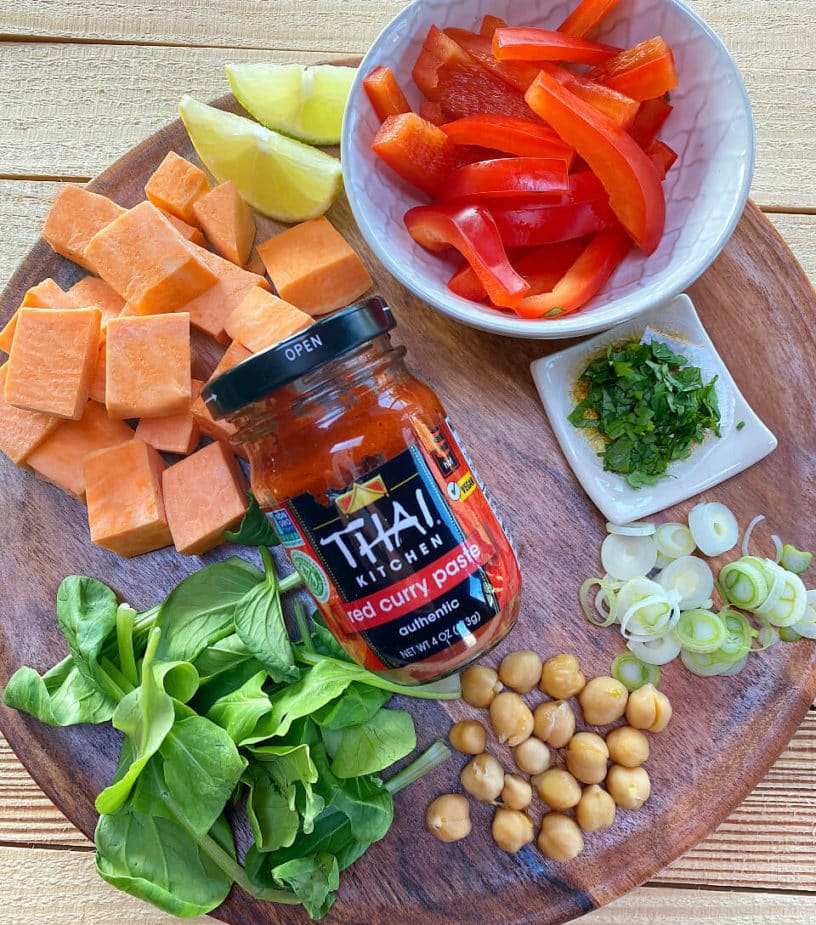 Grapeseed or canola oil
Sweet onion (you could also use a yellow or Spanish onion, but I prefer the sweeter note the sweet onion provides)
Sweet potato
Red bell pepper
Thai Red Curry paste
Chickpeas (also known as garbanzo beans)
Vegetable broth (I prefer a low-sodium version)
coconut milk (I prefer the "lite" version but regular works just fine too)
Ginger
Lime (you'll use both the zest and the juice)
Baby bok choy
Cilantro
Red pepper flakes – these are optional and something I added since making it again. I like my Thai food to have a little kick and without a few of these it wasn't hot enough for me, but play around with it to get the flavor you love.
Brown rice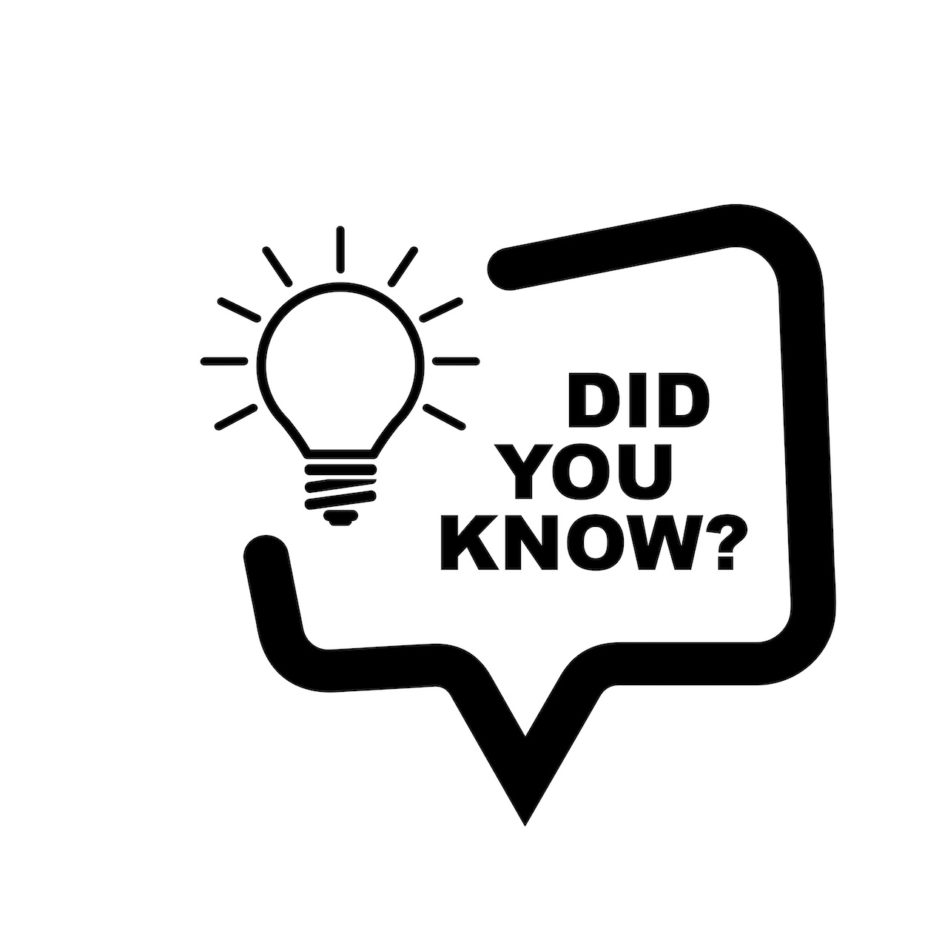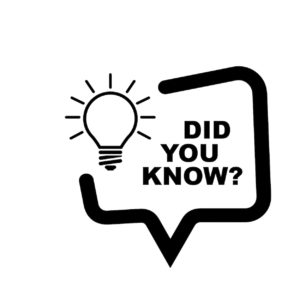 You can save the liquid from the chickpea can and use it as an egg replacer! It is called aquafaba and it is a great substitute for egg whites. Whip it with a little sugar and you have a perfect egg-free meringue!
How to Make It
As I mentioned, the hardest part of this recipe is chopping the vegetables! Once that is done, it comes together quickly.
So, I slice the onions into thin strips and do the same with the red pepper. You may want to cut the red pepper strips in half just to make them easier to eat.
Dice the sweet potato. To make this easier, I peel it and then slice it in half lengthwise. Then I have a flat surface to work with. I cut 4, 1-inch strips from each half and then dice them into about 1-inch slices.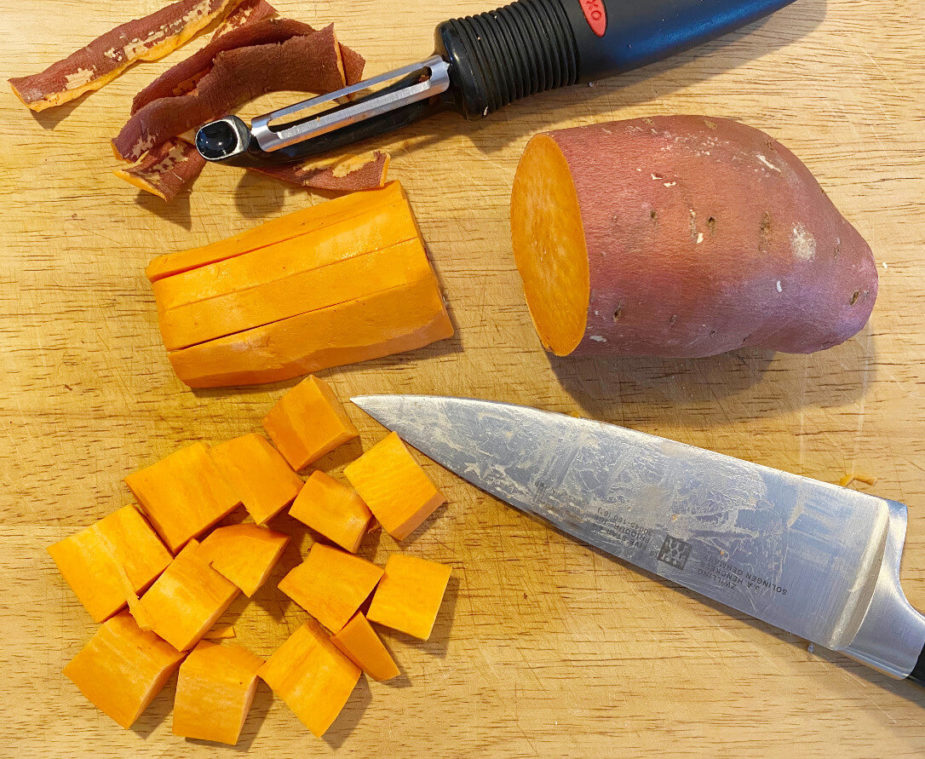 Then, peel a small piece of ginger (about 1-inch in length), slice it and chop it into small pieces.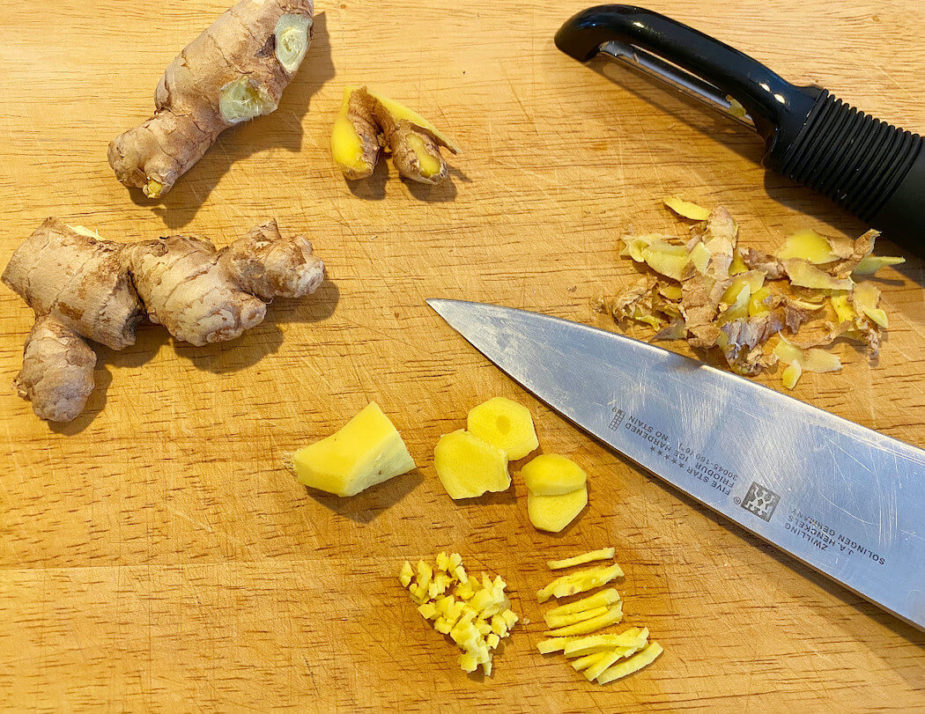 Now you are ready to get the stockpot and oil heating. Everyone's stove is different but bring the oil to medium heat. You don't want it sizzling, but want it hot enough to start cooking the vegetables.
Add the onions to the hot oil and cook, stirring until the onions start losing their color and are translucent. Then add the peppers and cook for a couple of minutes just to soften. Toss in the sweet potatoes and coat them with oil.
Next, I add the red pepper paste and ginger and cook it for a minute or two, stirring constantly. Basically, I want to coat the vegetables with the red pepper paste so that it is evenly distributed.
Add the coconut milk and broth and stir until it starts turning red. Stir in the chickpeas and bring it to a simmer – just so bubbles start forming around the side of the pan. Turn the heat down to low, cover the pan and let it cook for about 20 minutes, or until the sweet potatoes are cooked through. They should be soft when pierced with a knife. 
Just before you are ready to serve the soup, stir in the sliced bok choy, lime juice, and zest.
Variations
This is such a versatile recipe, you really can make it your own just by switching up a few ingredients.
For a non vegetarian verision swap the chickpeas with chicken or shrimp
Can't find bok choy? Sub in baby spinach
Replace the vegetable broth with chicken broth
Don't like cilantro? No problem, you can leave that out.
FAQs
Can you freeze Thai Red Curry Vegetarian soup?
Absolutely! See the storage tips below, but this soup will last in the freezer for up to 3 months.
What can you substitute for the rice?
This soup would be delicious served with noodles or just by itself too!
Can you make ½ a recipe?

You can. Just keep in mind that you will have extra chickpeas and coconut milk. The chickpeas can be roasted for a snack and you can freeze the extra coconut milk.
Can you double
this recipe?
Absolutely! This makes about 6 good size servings, but you can certainly double it for a large crowd, or so that you end up with plenty of leftovers!
Why do you wait to add the lime juice and zest until the end?
Adding the citrus right before serving really brightens up this dish. If you add it too early I think you lose a lot of that freshness.
Other Recipes You'll Love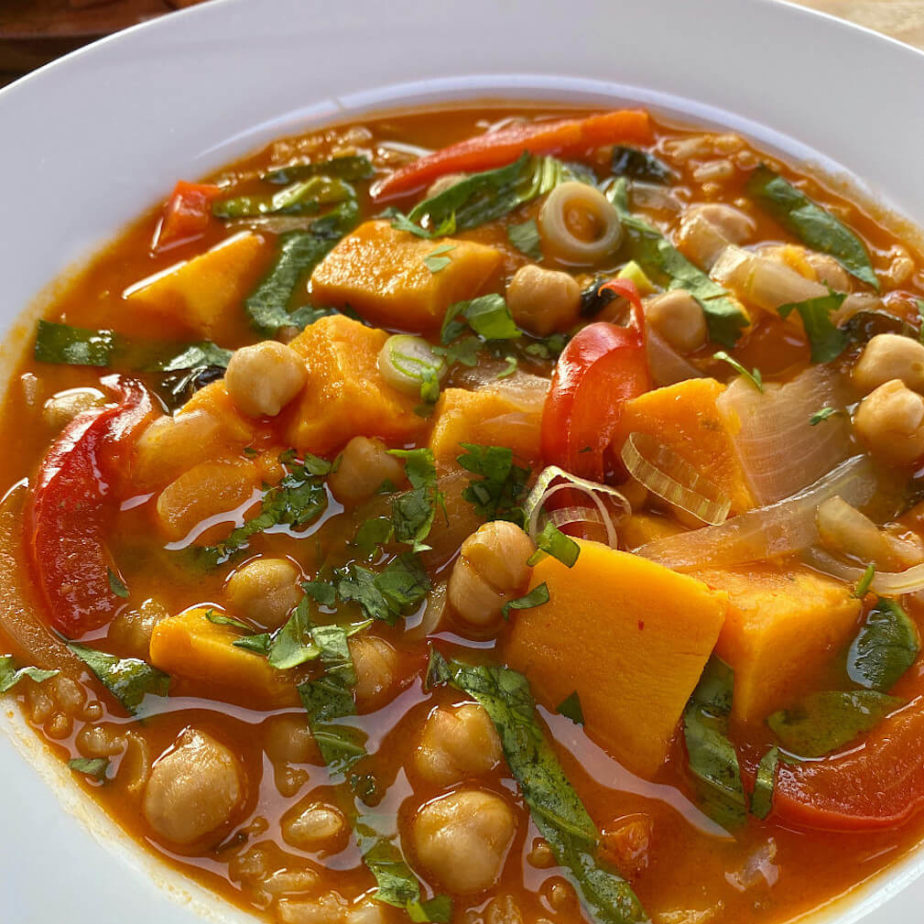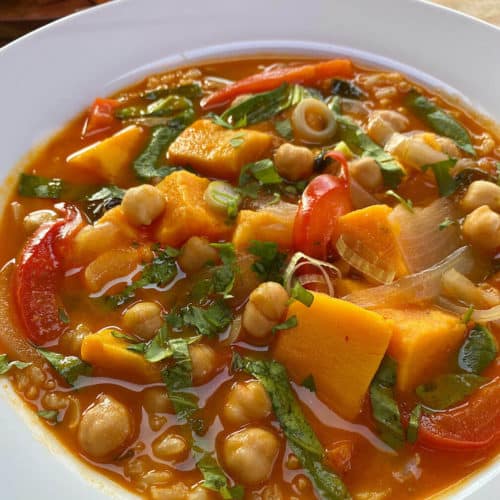 Thai Red Curry Vegetarian Soup
This spicy soup is perfect on a cold winter night. Pull it together ahead of time so you have a quick weeknight meal.
Equipment
1 Strainer

1 zester

1 knife

1 Wooden Spoon

1 juicer
Ingredients
1

tbsp

grapeseed oil

½

sweet onion

sliced

2

cups

peeled and cubed sweet potato

about 1 medium potato

1

cup

sliced red pepper

2

tbsp

red curry paste

I like Thai Gourmet brand

½

tbsp

chopped fresh ginger root

4

cups

vegetable broth

1

1

can

light coconut milk

1

can (16 oz)

chickpeas, drained and rinsed

1

tbsp

freshly squeezed lime juice

1

tsp

lime zest

1

tbsp

chopped cilantro

2

cups

sliced baby bok choy

2

cups

cooked brown rice
Instructions
In a large stockpot, heat the grapeseed oil over medium heat until just hot but not sizzling. Add the onion and cook, stirring to prevent browning until just softened and slightly translucent. Add the sweet potato and red pepper and toss to combine to cover with the oil.

Stir in the red curry paste and ginger, making sure both are well distributed through the vegetables.

Gradually add the vegetable broth and coconut milk, stirring until the mixture begins to turn slightly red. Add the chickpeas and cover. Bring the soup to almost boiling then turn the heat down to simmer. (You should see small bubbles forming around the edge of the pot but not a full boil.) At this point, if you want your soup to be a bit spicy, add about ¼ teaspoon of red chili peppers.

Cook the soup for about 15 minutes over simmer, or until the sweet potatoes are cooked through and soft when pierced with a knife.

Once the soup is hot, stir in the bok choy, lime juice and lime zest and heat just long enough to wilt the bok choy.

Place ½ cup of rice in the bottom of a bowl and top with soup. Sprinkle with cilantro if you'd like and serve.
Nutrition
Serving:
460
g
Calories:
280
kcal
Carbohydrates:
48
g
Protein:
7
g
Fat:
7
g
Saturated Fat:
3
g
Polyunsaturated Fat:
2
g
Monounsaturated Fat:
0.5
g
Sodium:
1020
mg
Potassium:
265
mg
Fiber:
5
g
Sugar:
8
g
Calcium:
55
mg
Iron:
2
mg