Wednesday night is typically pasta night in our house. For my husband, pasta and meatballs on Wednesdays and Sundays were a tradition. While I love the simplicity of a plate of spaghetti and meatballs, sometimes I like to mix it up a bit which is why I love this hearty Italian Sausage Pasta Bake filled with lots of heart-healthy vegetables.
Even now that we are both working from home most days, weeknights can still be hectic and we need quick, easy meals that are still healthy and filling.
That is what I really love about this casserole. I can prep all the ingredients ahead and then pull it together quickly in the evening. While it is baking in the oven, we pull together a salad, pour a glass of wine and it is then ready to enjoy! And, best of all, I can freeze the extras and we have a meal ready to go down the road!
All About Pasta
So, let's talk about pasta.
Pasta is a staple of the Mediterranean diet and an excellent source of complex carbohydrates – our main energy source. It provides us with a "slow-release" carbohydrate, meaning it is digested slowly. It is low in the glycemic index and doesn't cause your blood sugar to rise quickly.
And, it really is all about the serving size too. A 2 oz. portion is about 1 cup of cooked pasta. When you combine that with vegetables and some lean protein you have a nice meal. Add a salad on the side and you've got a good, healthy dinner.
There are many varieties of pasta available today including whole grain which provides extra fiber and is slightly lower in carbohydrates than white, enriched pasta. Whole-grain pasta can be made from whole wheat, brown rice, Kamut, and quinoa.
Pasta is fortified with a number of B vitamins including folic acid which is critical in preventing some birth defects. B vitamins have also been linked to reduced inflammation, protecting your brain and heart! You can find out lots more about pasta at the National Pasta Association.
You can also find a variety of pasta shapes made from beans, like chickpeas and lentils. These are a good way to add some extra protein and they are gluten-free and a good source of fiber.
Ingredients you need for the Italian Sausage and Pasta Bake
Now, let's get to the subject at hand – how to whip together this Italian Sausage Pasta bake!
You can see below that this isn't just pasta and sauce with a lot of meat. I've added baby kale, mushrooms, and red peppers to boost up the nutrition and cut back on the meat a bit. The mushrooms add a nice savory flavor and the kale and peppers, along with the onion, garlic, and tomatoes boost up the antioxidant content of this dish nicely.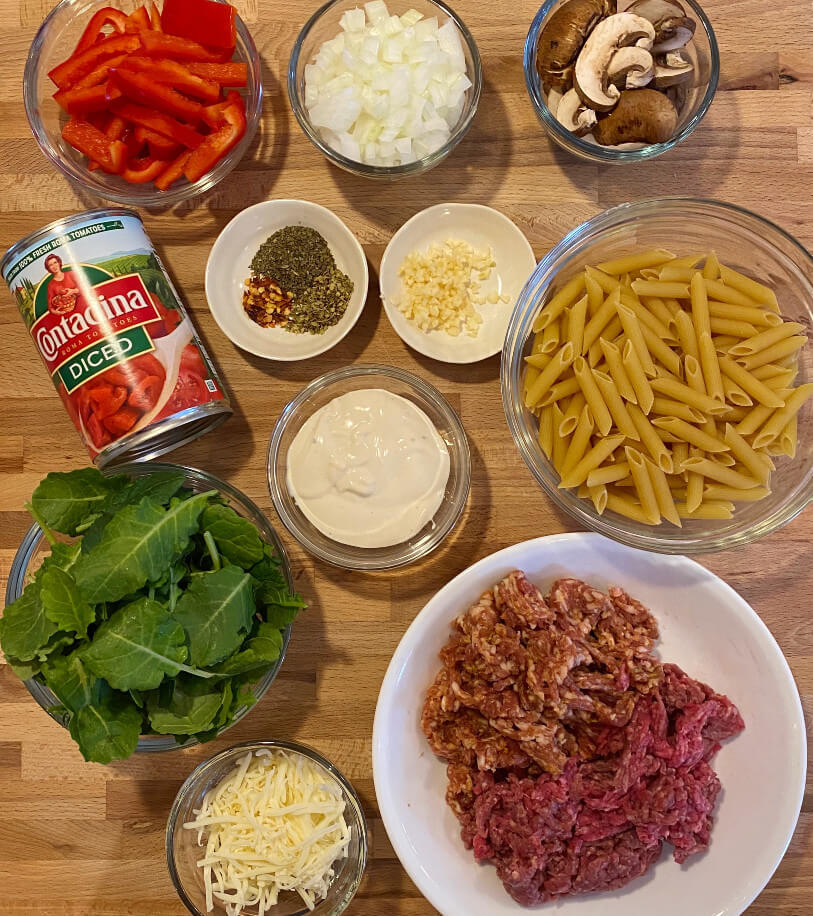 Chopped onion – I prefer a sweet onion like a Vidalia but a yellow onion would work as well
Red pepper slices
Sliced crimini mushroom
Garlic clove
Canned diced tomatoes
Italian sausage and ground beef blend (I use a 93% – 95% lean ground beef to balance out the heaviness of the sausage)
Jarred alfredo sauce
Penne pasta – regular or whole grain
A blend of Italian spices including basil, oregano, and red pepper flakes for a little kick
Baby kale
Some shredded mozzarella cheese – part skim is best
How to Make this Italian Sausage and Pasta Bake
As with so many things, start by sauteing onions in some olive oil, and then add the garlic, red pepper, spices, and mushrooms and continue cooking until the pepper just begins to soften and the mushrooms start to brown.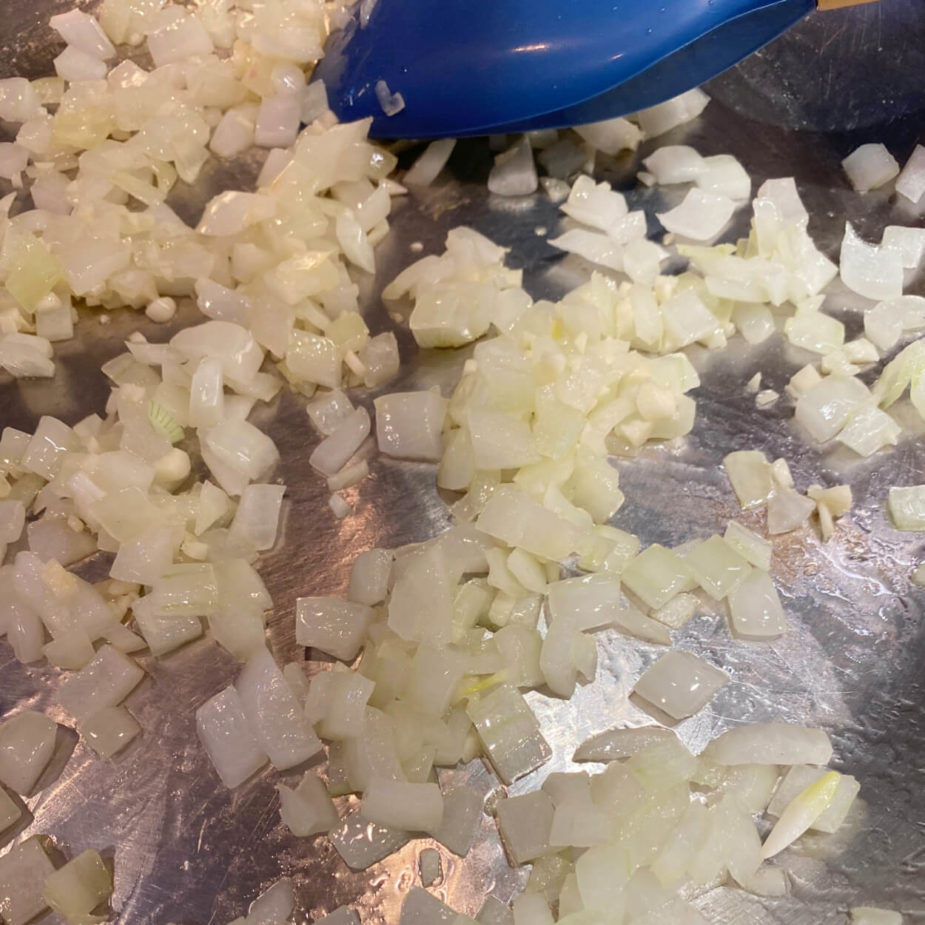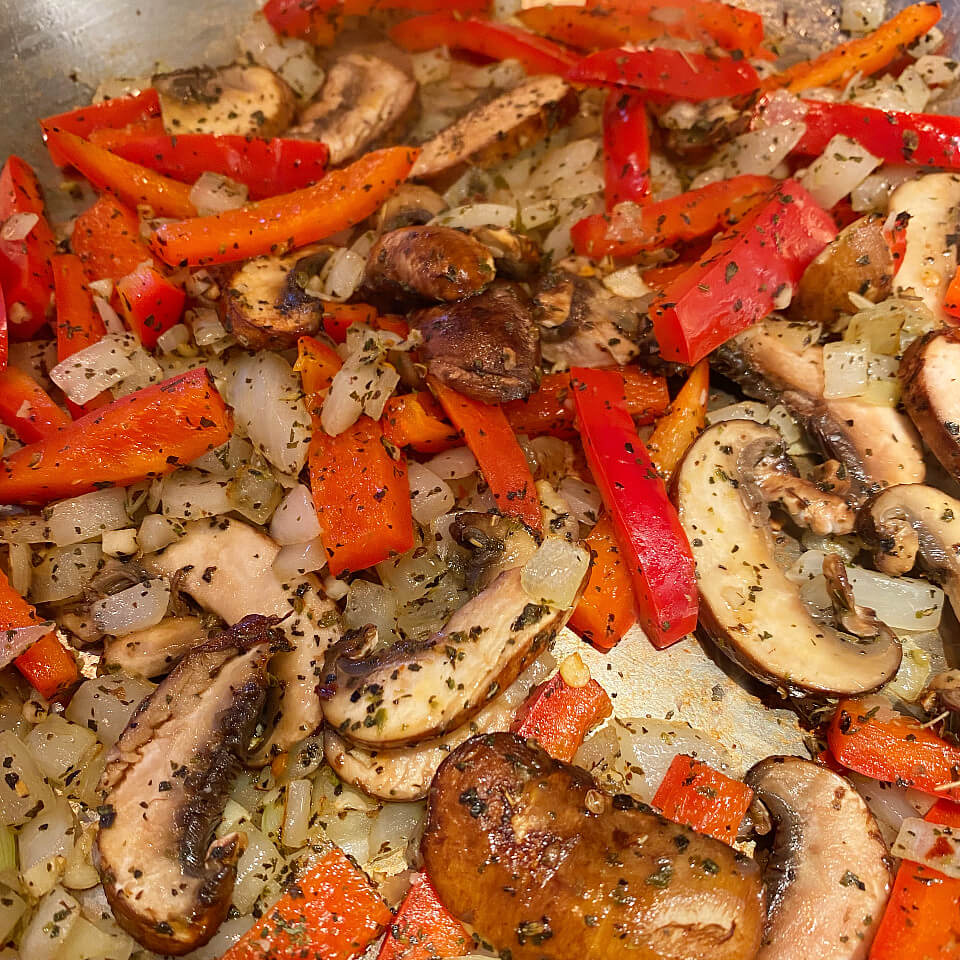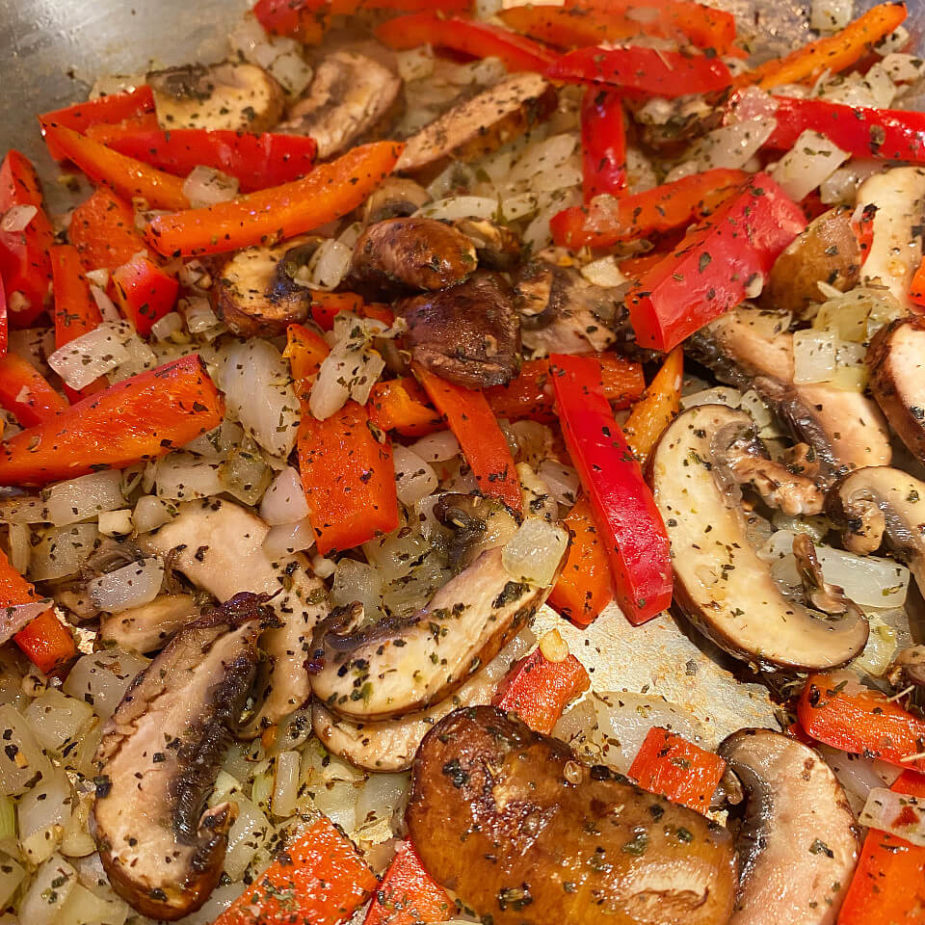 While the onions and peppers are cooking you can get the pasta water going and start the pasta so it is done when the sauce is ready to go.
Then add the ground beef, and sausage and break them apart. Continue to cook until the meat is cooked through.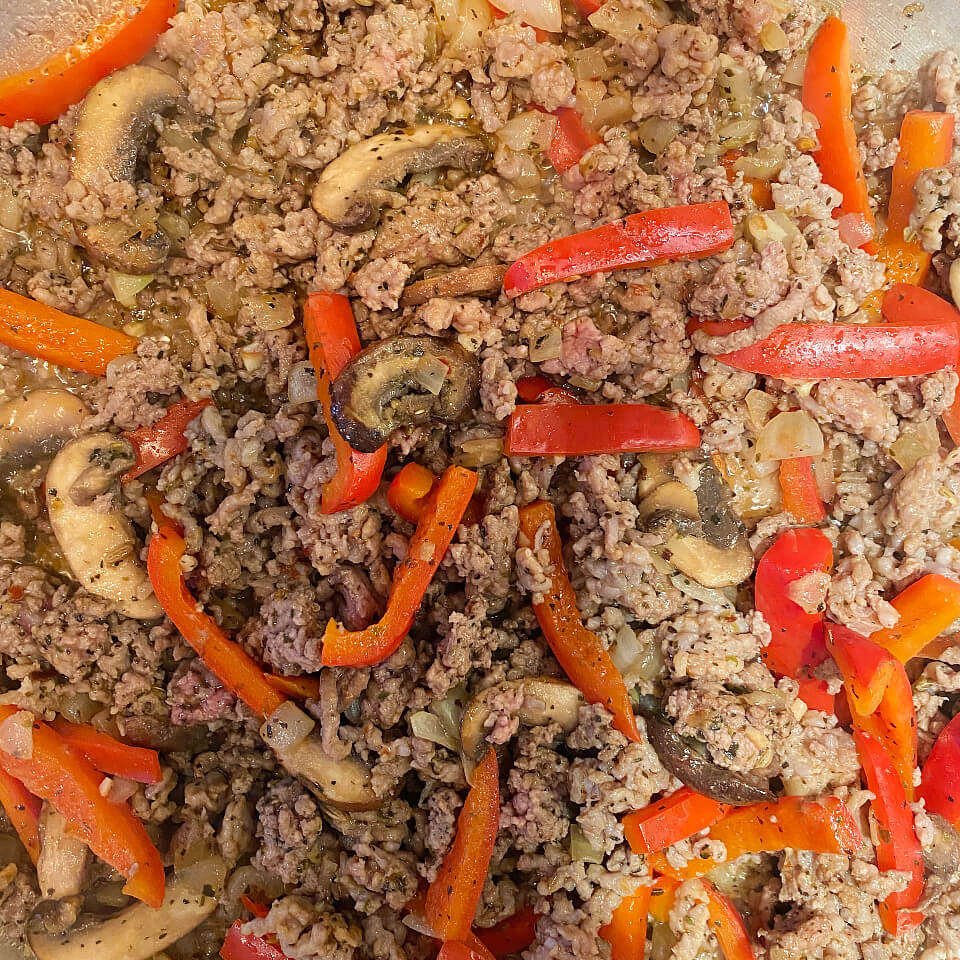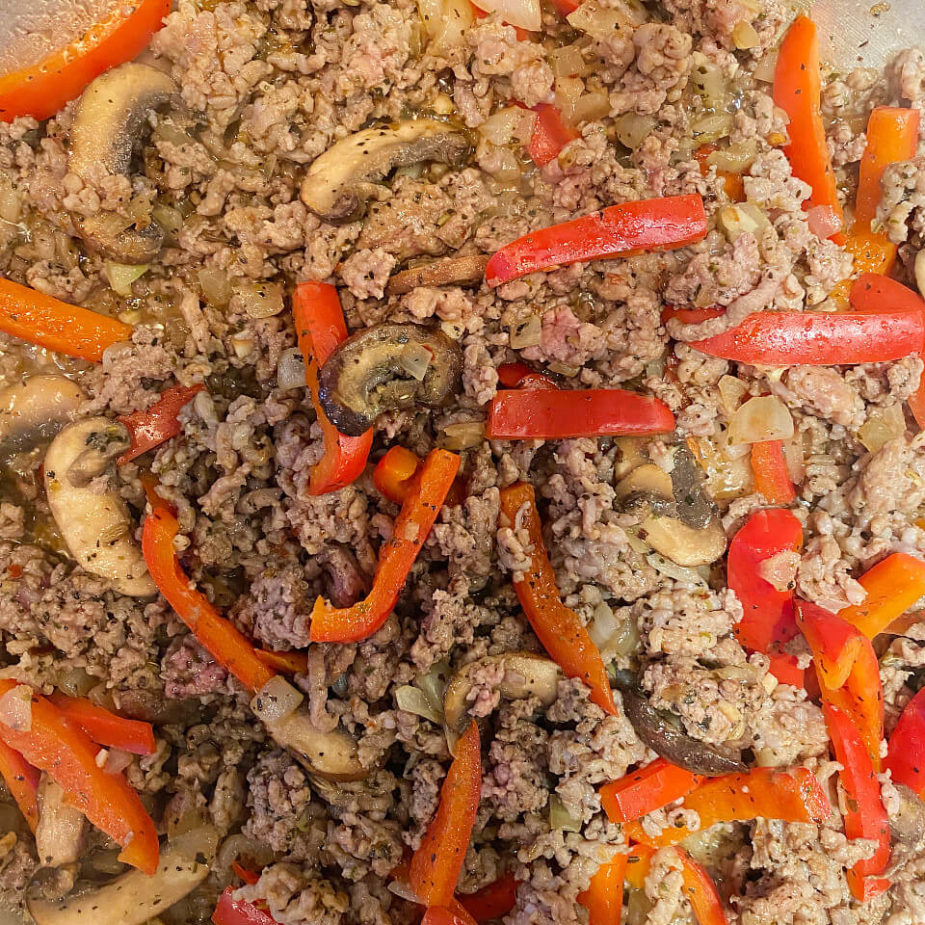 Then add the diced tomatoes and just 1/4 cup of alfredo sauce. You don't need much to make the sauce creamy. At this point, you may want to mix in a little of the reserved pasta water. It adds a little extra creaminess and thins the sauce so that it will really coat the pasta and keep it moist in the oven.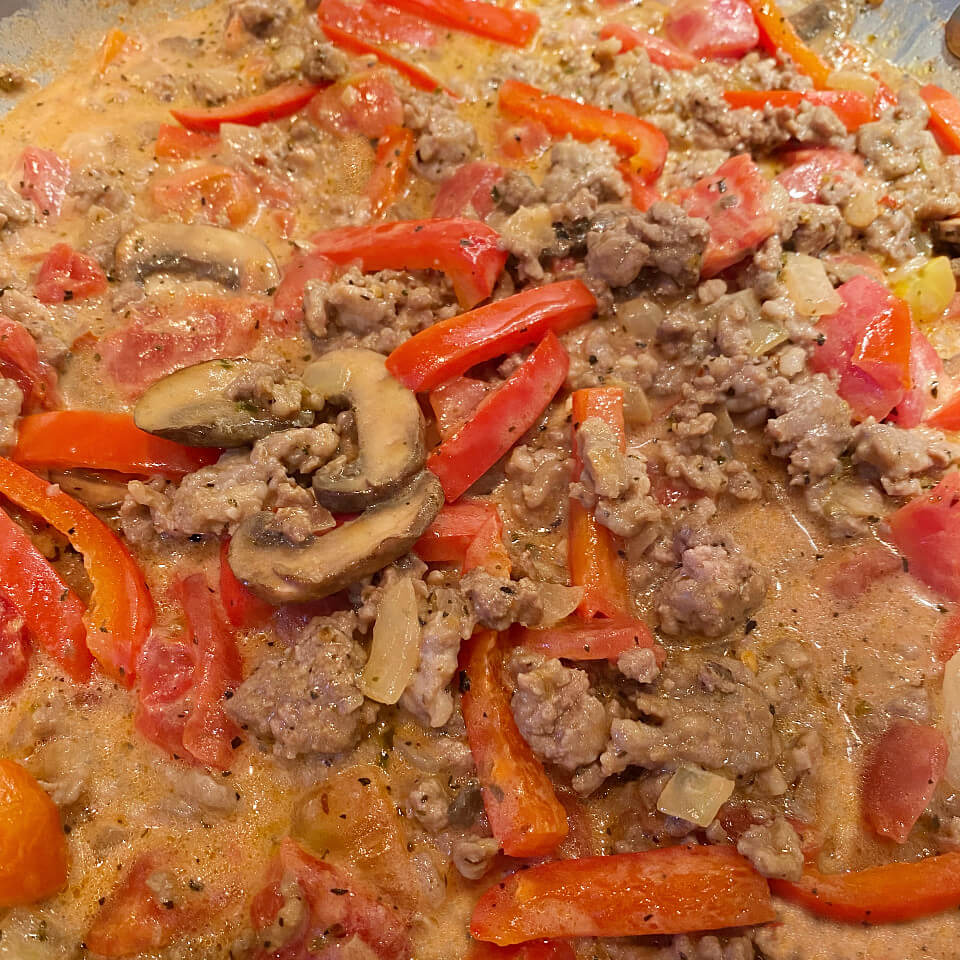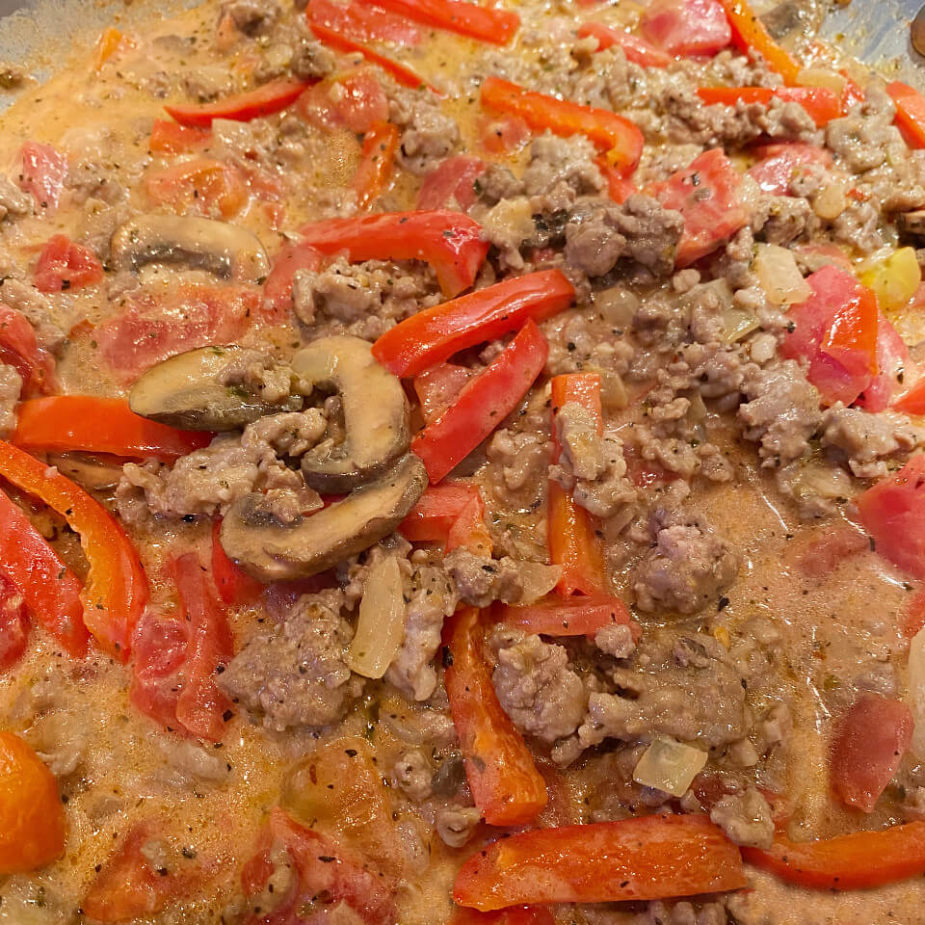 Now it is time to finish up the sauce and get the pasta bake ready for the oven.
Add the baby kale to the meat and sauce and toss it all together to coat everything with the sauce. The kale should just begin to wilt. Then mix in the pasta and stir it well to get all that delicious meat sauce distributed throughout!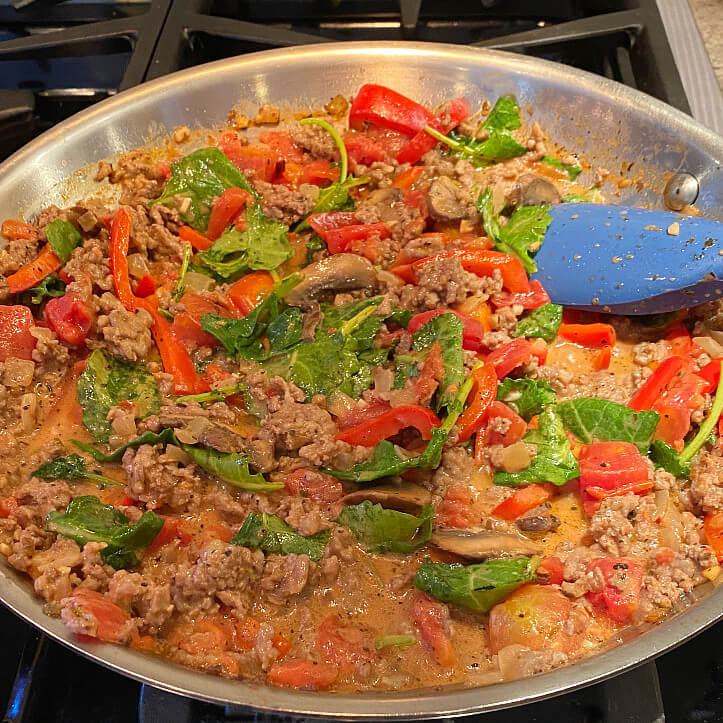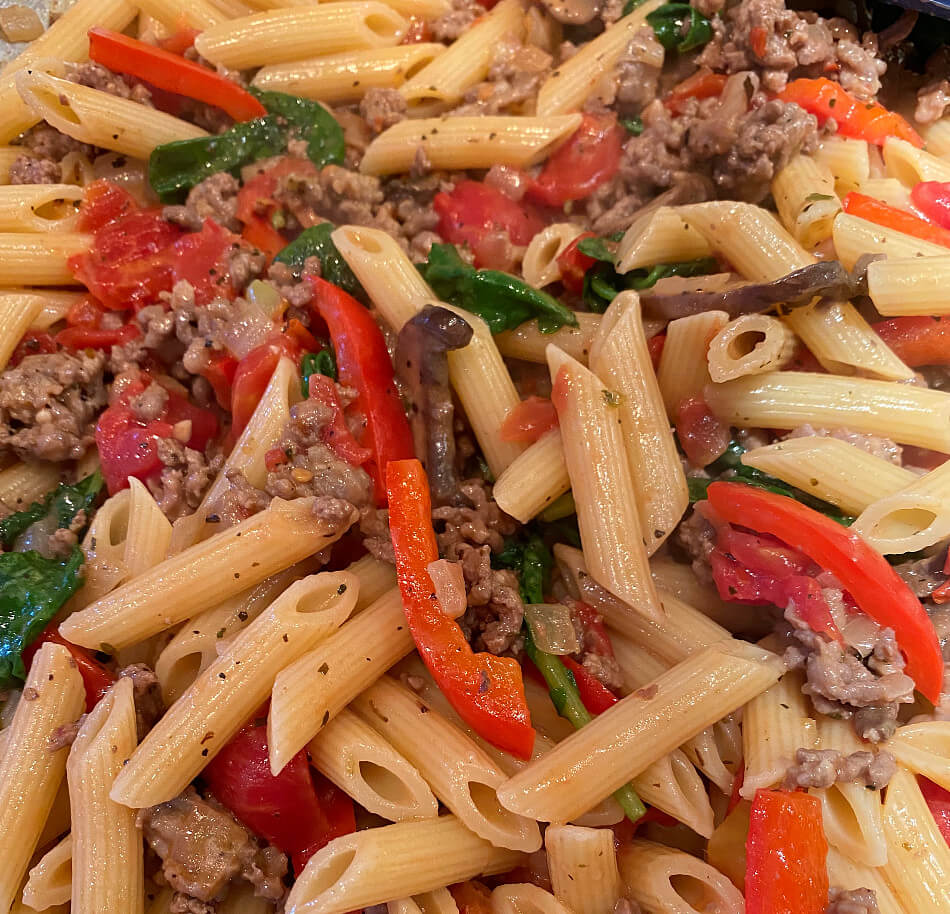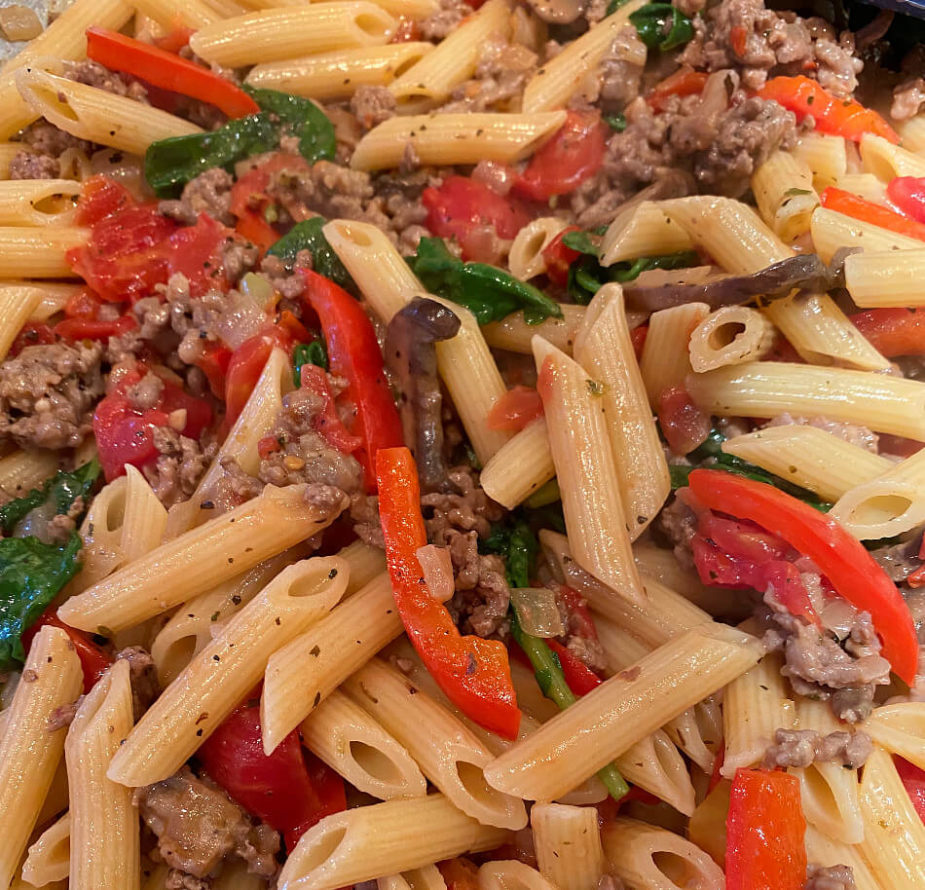 Now we're ready for the final step – layer the pasta mixture in the casserole dish with a little shredded mozzarella cheese and bake it for 20 minutes in the oven. Your Italian Sausage Pasta bake filled with hearty vegetables is ready to enjoy! Serve it with a salad and nice glass of red wine!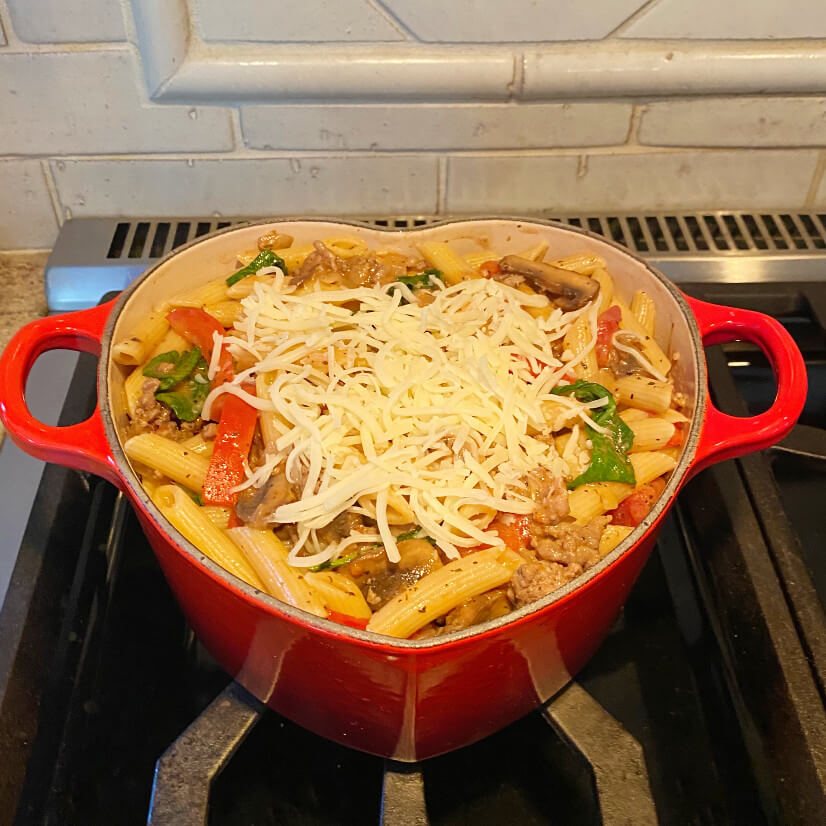 Variations
Shredded fontina cheese adds an extra depth of flavor if you want to get fancy. Use it in place of the mozzarella.
Try a chickpea-based penne noodle for a fiber boost or to make this gluten-free.
Swap the kale with baby spinach or arugula.
Add yellow or orange peppers in place of red, or in addition to the red peppers.
Swap the beef with ground turkey.
If you can find ground chicken sausage, you can substitute it for sweet Italian sausage.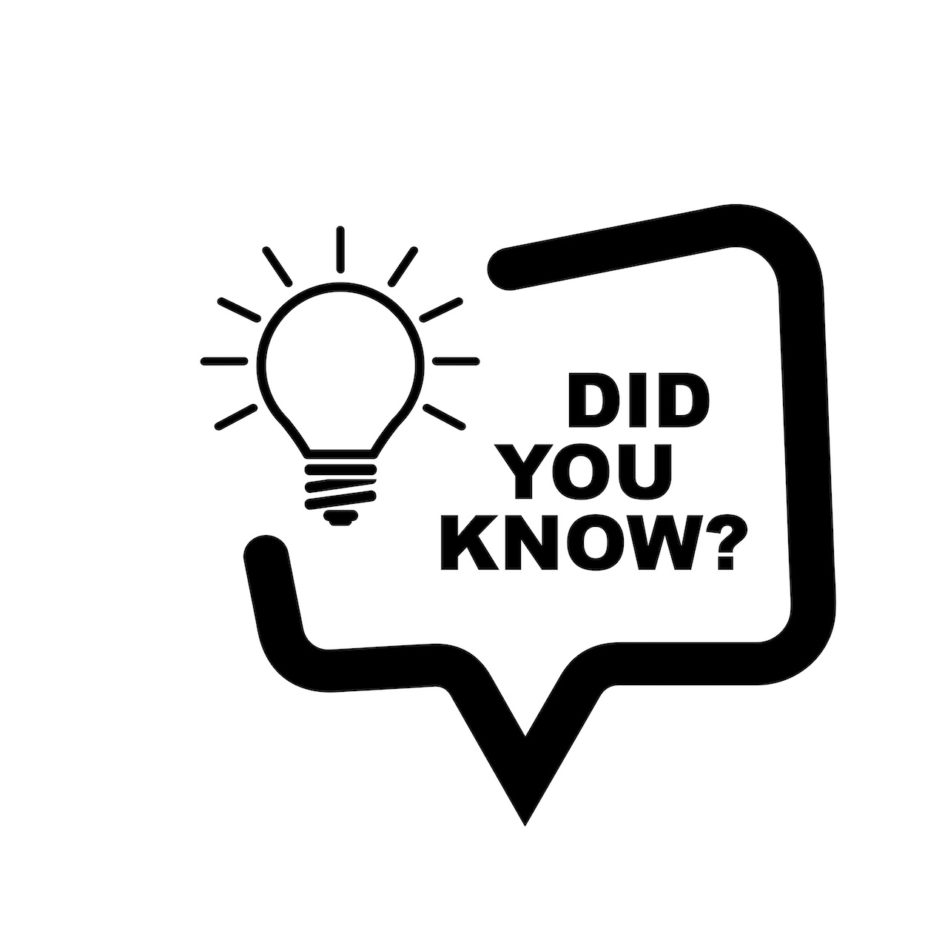 Adding a little water from the pasta pot and mixing it into the sauce will make a nice, creamy, and smooth sauce that clings to your pasta.
FAQs
Why do you only cook the pasta to the al dente stage?
The pasta will continue to cook in the oven. If you boil it too long you will end up with mushy pasta!
Do you recommend adding salt to the pasta water?
I do add a little salt to my pasta water to help flavor the pasta. I find it to be bland without it, even with the sauce. However, if you are watching your blood pressure or following the MIND diet I do recommend leaving it out!
Can you make this ahead and reheat it?
Yes! Just assemble it but leave the cheese off and put it in the refrigerator until you are ready. I like to take it out of the fridge for about a half-hour before putting it in the oven. Then add the cheese and bake it for about 30 minutes or until the sauce is bubbling and it is heated to at least 140°F.
Can you freeze this Italian Sausage Bake?
Yes! Assemble it but leave the cheese off. Then cover it tightly to seal out any extra air and freeze it. Thaw it in the refrigerator before baking.
Can you freeze the extra alfredo sauce?
Yes! It will change the consistency a bit when you thaw it so the frozen sauce is best used mixed into soups or sauces rather than having it alone. Just portion the extra sauce into amounts you might use in resealable plastic bags. Label them with the date and amount and seal, leaving just a little bit of room to allow it to expand.
How long does frozen alfredo sauce last?
It will last for up to 3 months in the freezer.
Can you skip the alfredo sauce?
Certainly. I like using a little to add just a bit of creaminess and I think it adds just a bit of flavor but you can certainly leave it out.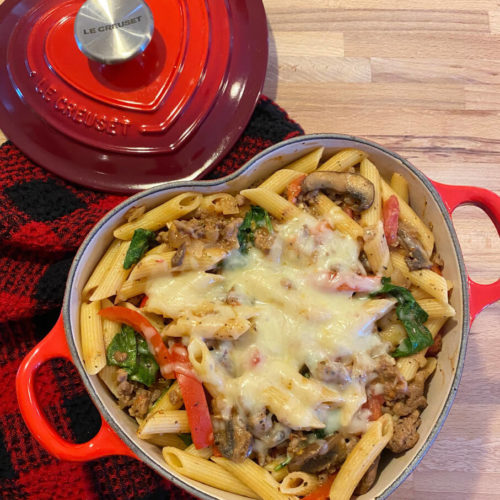 Italian Sausage Pasta Bake
A blend of Sweet Italian Sausage and ground beef with a hearty dose of vegetables makes this hearty dish a perfect, slightly indulgent winter meal.
Equipment
1 Large skillet

1 2 – 3 quart casserole
Ingredients
2

tsp.

extra virgin olive oil

½

cup

chopped onion

sweet

2

cloves garlic

minced

1

cup

sliced red peppers

1

cup

sliced crimini mushrooms

1

tsp

dry basil

½

tsp

dry oregano

¼

tsp

red pepper flakes

½

lb.

sweet Italian sausage

¼

lb.

ground beef

at least 93% lean

14.5

oz.

diced tomatoes including juice

(1 can)

¼

cup

alfredo sauce

2

cups

baby kale

½

cup

shredded mozzarella

part skim

½

lb.

penne pasta
Instructions
Preheat the oven to 350°F.

Over medium heat, heat the olive oil. When hot but not sizzling, add the onion and saute for 3 minutes, until translucent. Then add the garlic and saute for 1 minute, being careful not to burn it.

Add the peppers, mushrooms, and spices and cook for at least 3 minutes, or until the mushrooms are just beginning to turn brown.

Add the ground sausage and ground beef and cook until the meat is cooked through and no longer pink.

Stir in the tomatoes and their juice and the alfredo sauce and continue cooking for 2 minutes, until just boiling. Then turn off the heat until the pasta is ready.

In a separate pot, cook the pasta for 8 – 10 minutes, until al dente – meaning it still has a bite to it. Drain, reserving some of the pasta water to add to the sauce.

Stir the kale into the meat mixture, adding a little pasta water if the sauce is thick, and toss it well to wilt the kale. Add the pasta and mix to coat with the sauce.

Add ½ the pasta mixture to the casserole dish and top with ¼ cup of the shredded cheese. Add the remaining pasta mixture and top with the remaining cheese.

Cover the dish and place it in the preheated oven and bake for approximately 20 minutes, until the sauce is bubbling and the dish is hot.
Nutrition
Serving:
2
cups
Calories:
360
kcal
Carbohydrates:
29
g
Protein:
27
g
Fat:
15
g
Saturated Fat:
6
g
Polyunsaturated Fat:
1
g
Monounsaturated Fat:
5
g
Cholesterol:
60
mg
Sodium:
800
mg
Potassium:
550
mg
Fiber:
3
g
Sugar:
4
g
Vitamin C:
65
mg
Calcium:
240
mg
Iron:
4
mg
Other Recipes You Might Love
If you tried this and loved it, please add a rating above and explore more recipes on this site! Here are a few that I think you might really like!
Italian Sausage and Artichoke Pasta