It always happens this time of the year, my eyes are bigger than my stomach! Those bags of grapes in the store look so delicious, and I buy way more than we will ever be able to eat!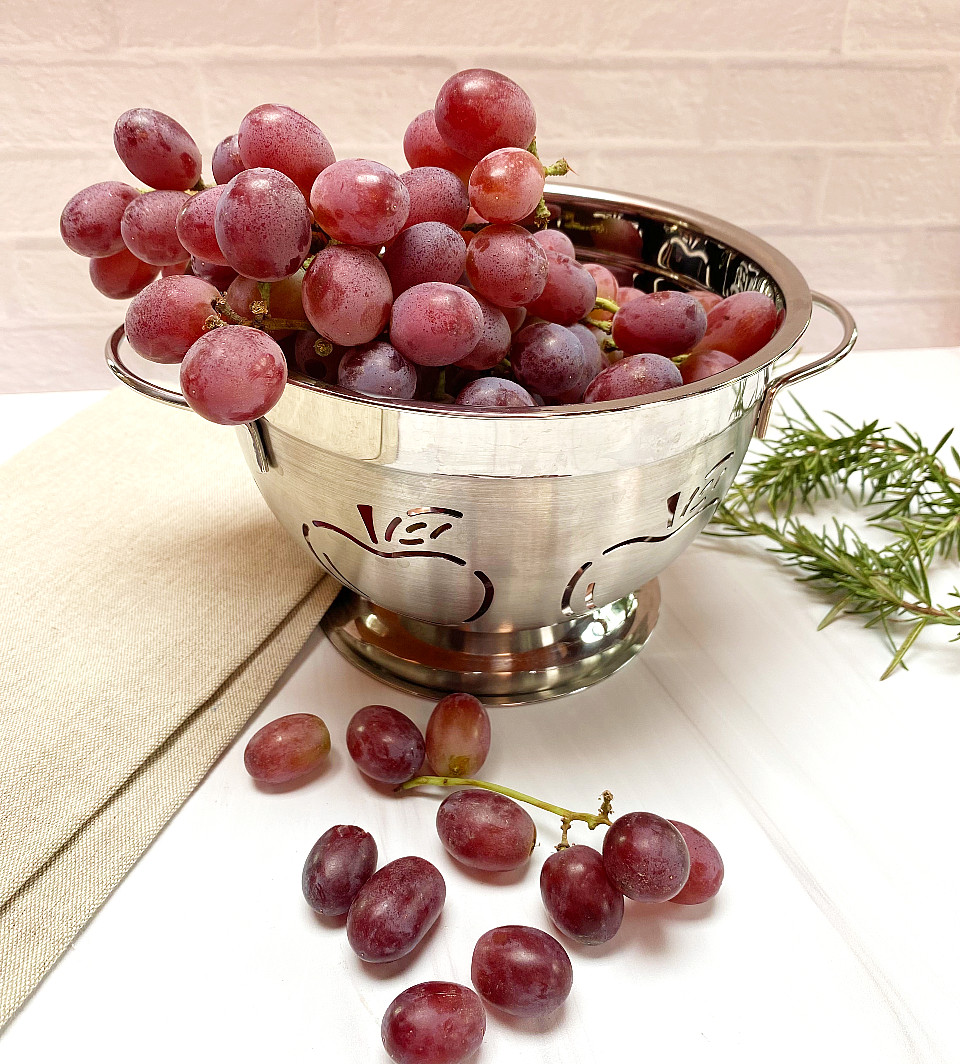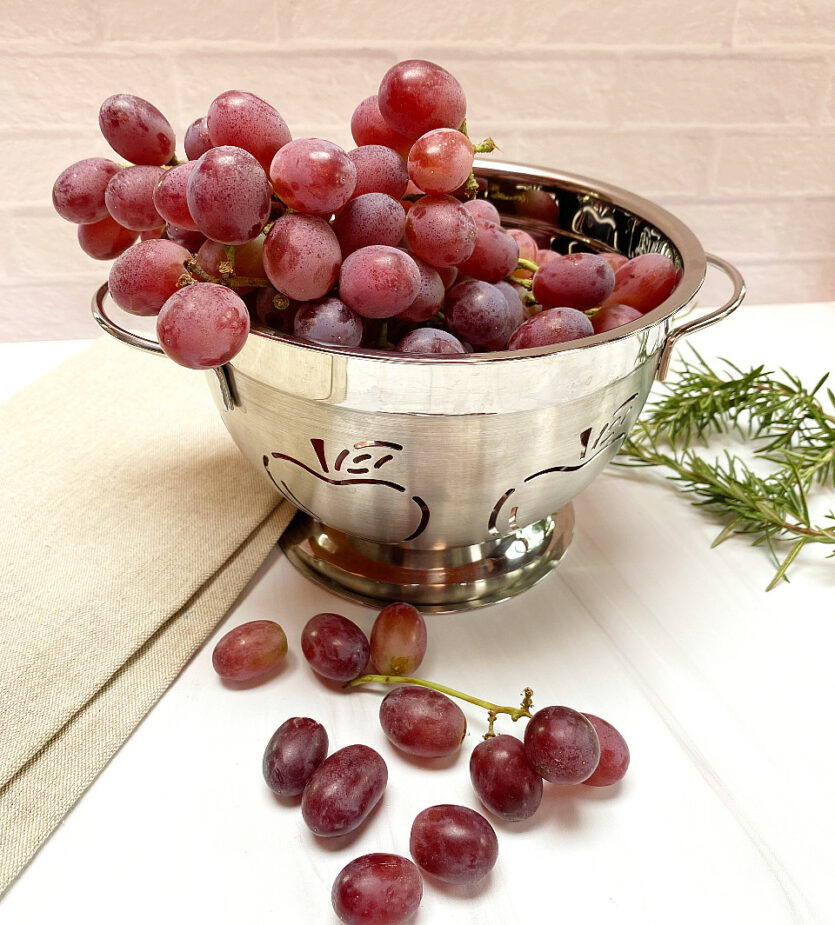 What do you do with extra grapes? You can cut them up and toss them in a chicken salad – yes, I love that, but did you know you can also roast them? Yup, that's right…just like vegetables, roasted grapes (and other fruits) are absolutely amazing.
When you heat the grapes at a high temperature, the natural sugars concentrate and the flavor intensifies. The grapes become sweeter and a bit more savory as well.
I've roasted grapes before and tossed them in a salad, but I decided to try them this time with chicken. Chicken with roasted grapes and rosemary – sweet and savory – is a perfect fall meal that cooks in one pan!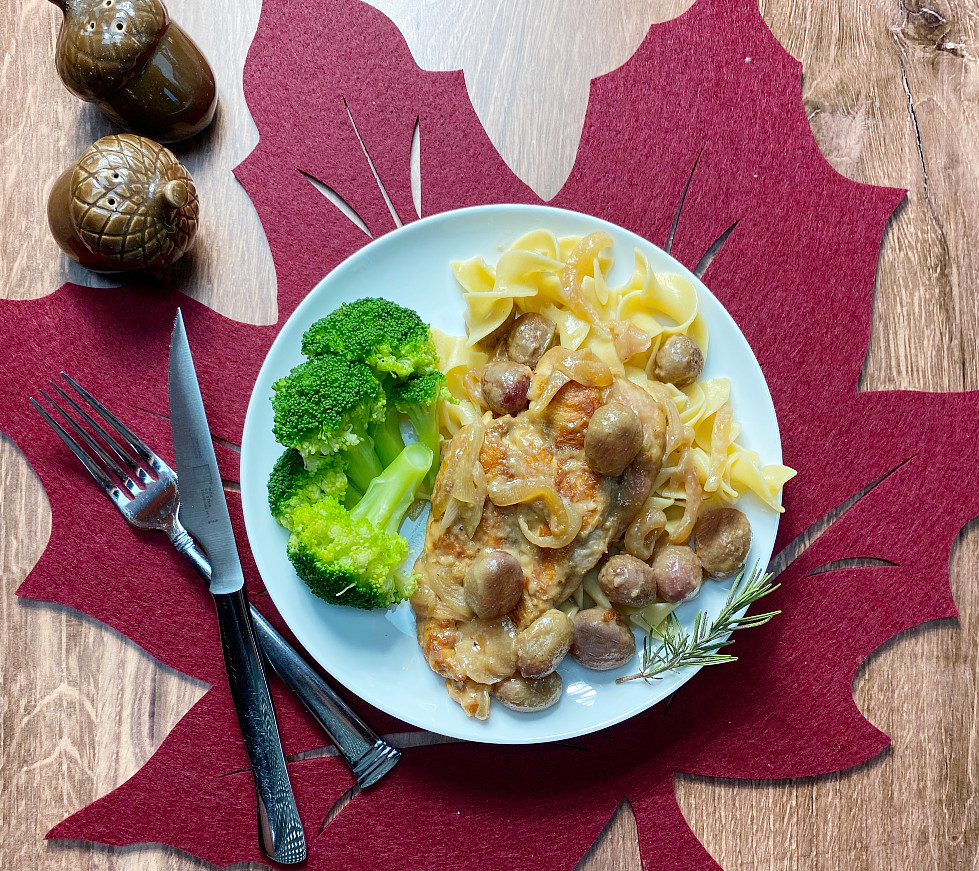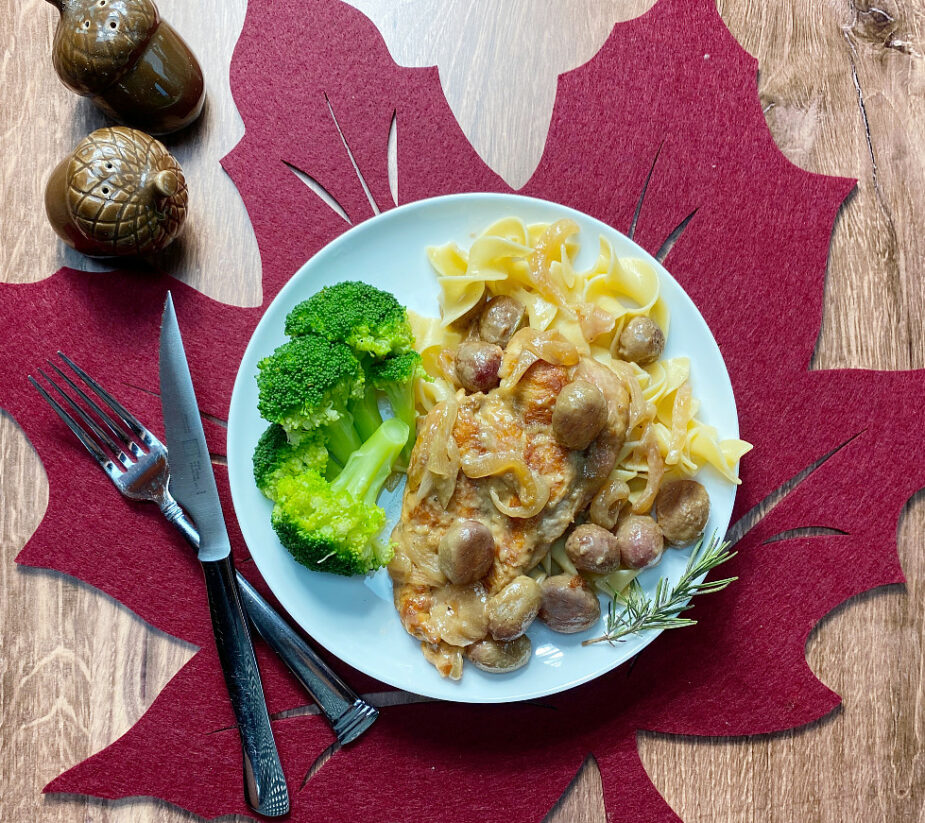 What You Will Need to Make This: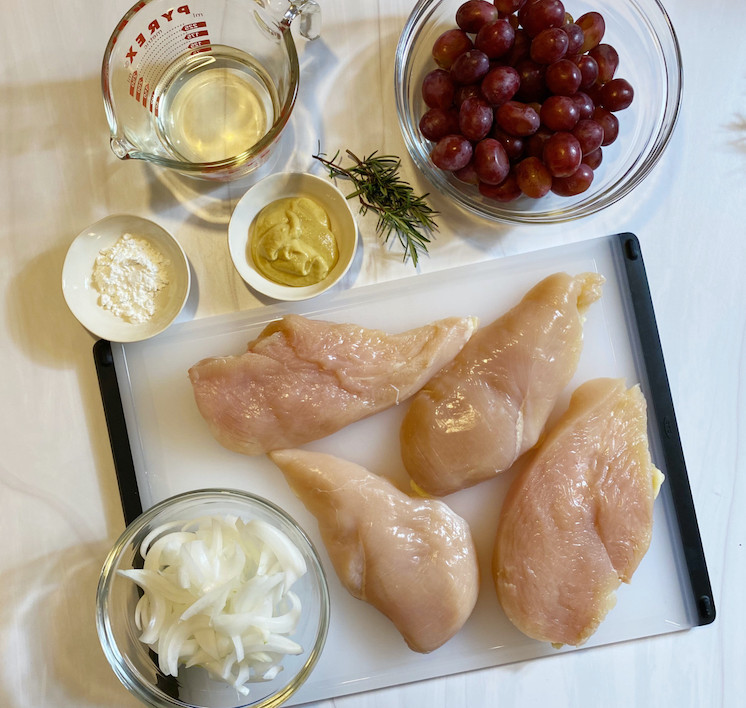 Chicken Breasts
I used 2 large chicken breasts cut in half. You can cut them in half, or slice them in half lengthwise and pound them thin like scallopini. I tried them both ways and cutting them in half was easier and allowed the grapes to roast a bit longer becoming sweeter. If you are short on time, slicing them lengthwise works well too.
Red Grapes
I love the contrast that the red grapes give this dish, but you could use green or a combination of the two, but my favorite is the red seedless grapes, also called "flame seedless." You can find them in any grocery store and are good through the fall. They lose a bit of their bright red color when you roast them but still have a nice pink color when served.
Sweet Onion
By now you've probably learned that I use a lot of sweet onions in my cooking. I prefer their mellow flavor and in this dish, they complement the grapes and don't overpower them.
Rosemary
Fresh rosemary really is best in this dish. I always have a bunch growing in my garden that I can clip to cook with but if you only have dried, go ahead and use that. Keep in mind that dried herbs have a more concentrated flavor, you'll need less, so cut the amount down to about 2 teaspoons instead of 2 tablespoons.
Dijon Mustard and White Wine
I made dijon mustard and white wine sauce that the chicken and grapes cooked in. (So I guess technically the chicken and grapes aren't so much roasted as simmered in but let's not major in minors here!)
Those are the main ingredients that really give the dish all of its flavors. Of course, I used some salt and pepper to season the chicken before cooking it, grapeseed oil for browning the chicken, and a little cornstarch to help thicken the sauce.
How to Make Chicken with Roasted Grapes and Rosemary
This really is pretty easy to pull together and while the chicken and grapes are roasting you can boil some water for egg noodles and clean up the kitchen while you wait for them to be done.
First, heat the oil in a large saute pan. Add the onions and saute them over medium-low to medium heat until they are translucent. Be careful not to let them brown.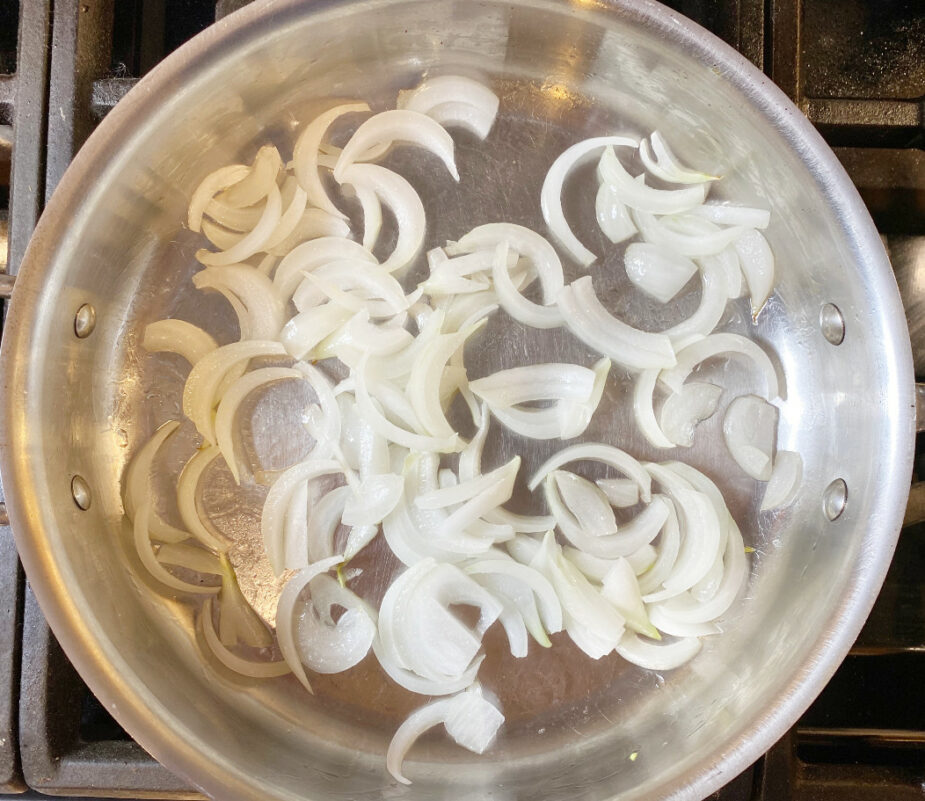 Remove them from the pan to a small plate.
Add a little more oil to the pan and turn the heat up slightly. Wait for the oil to sizzle a little and then add the seasoned chicken breasts. Sear them on both sides.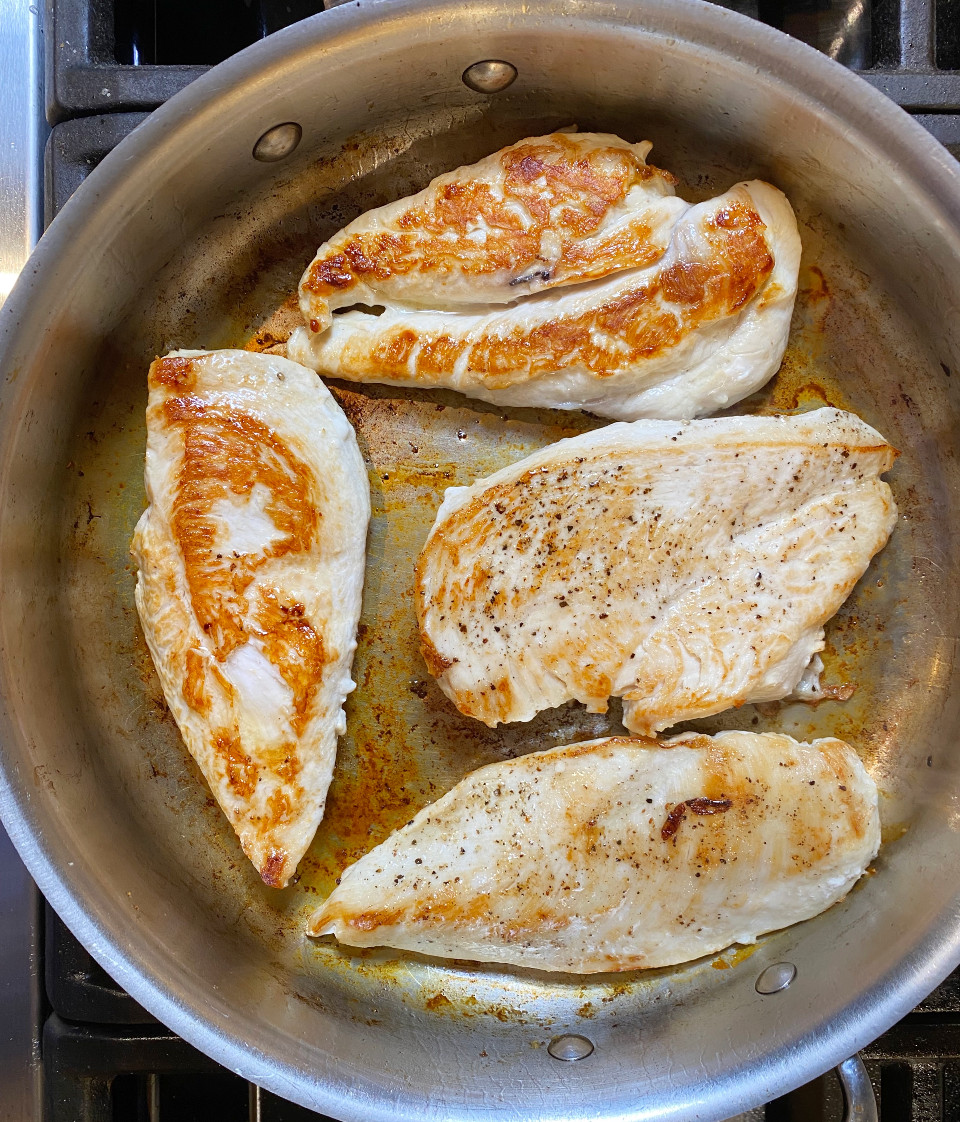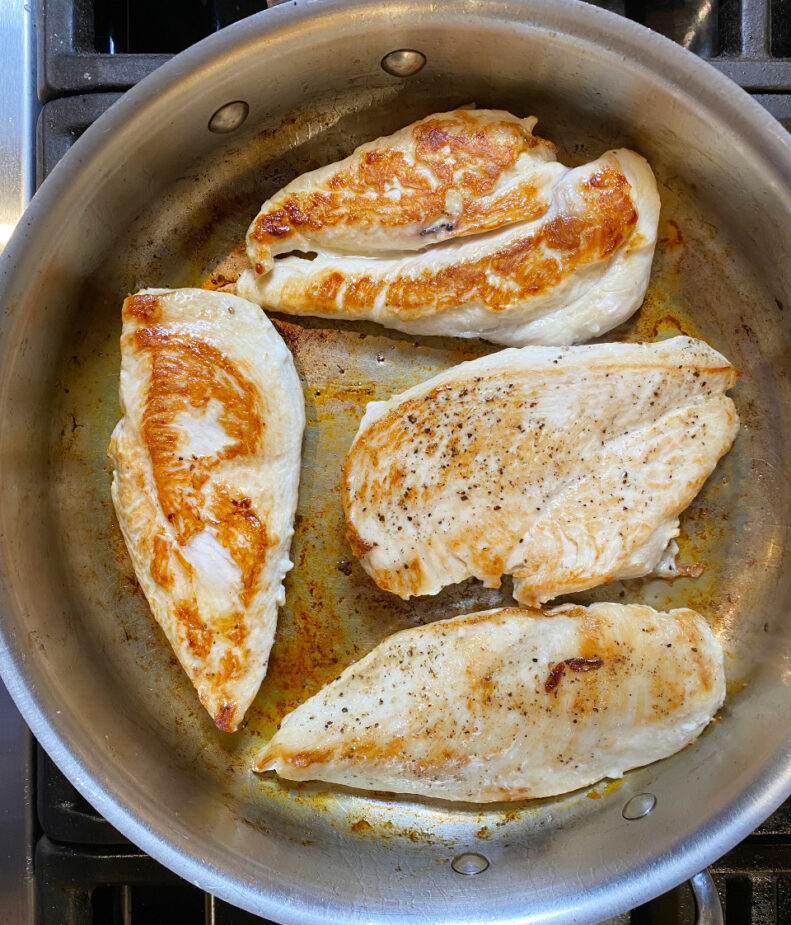 While the chicken breasts are searing, whisk the dijon mustard with the cornstarch and white wine in a small bowl.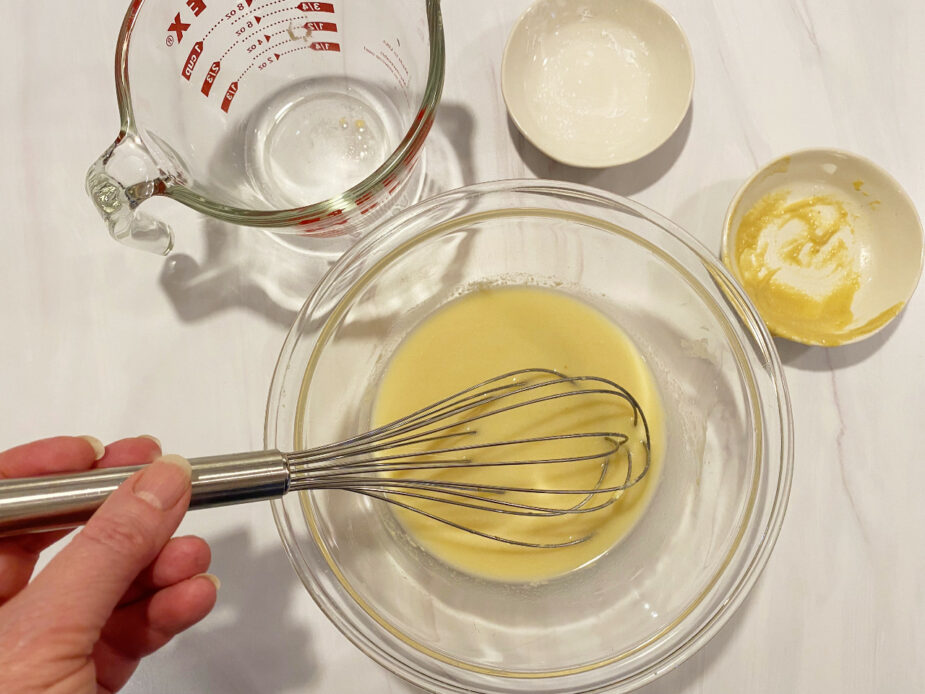 Place the pan in the oven and roast for about 20 minutes, or until the grapes start to burst and the chicken reaches an internal temperature of 165°F. (Use an instant-read thermometer inserted into the middle of the chicken to make sure it is cooked through) Note that a thicker chicken breast will take longer to cook to temperature.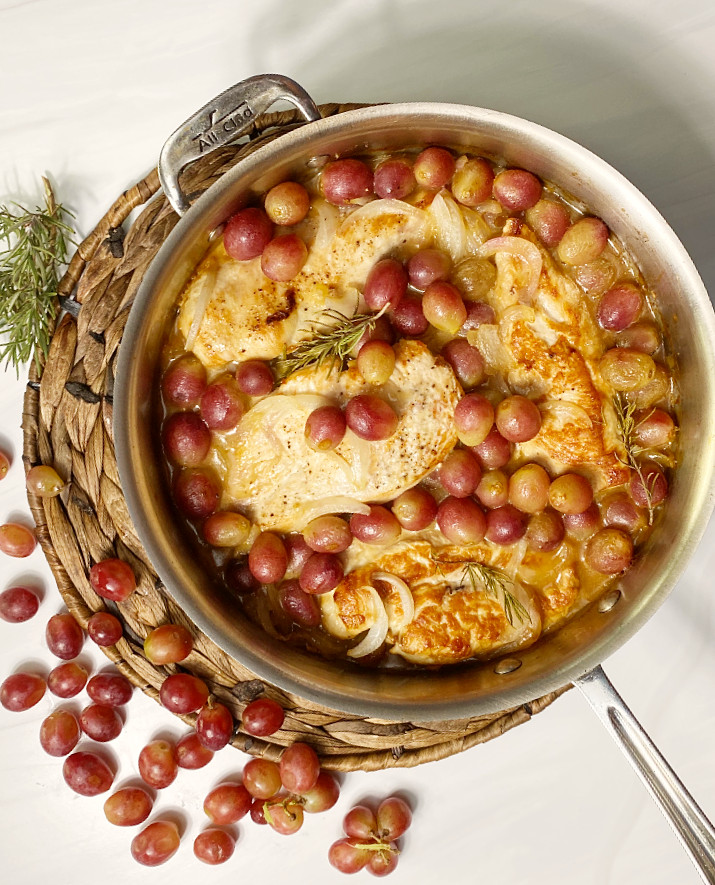 FAQs
What types of grapes are the best for roasting?
You can roast any type of grape. A red or black grape will retain more of its color and look the prettiest in recipes but green grapes are delicious too.
What herbs pair best with roasted grapes?
I like rosemary with grapes because I think it complements the sweetness of the grape but thyme or fennel are also commonly paired with roasted grapes.
How do you sear chicken breasts to get a nice brown crust?
There are three tricks to perfectly seared chicken.
First: heat your pan before adding the oil.
Second use a high-quality oil that has a high smoke point like grapeseed or canola oil and let get it hot before adding the chicken.
Third, and probably most importantly – patience! Resist the temptation to move the chicken breast around the pan or try to turn it too soon. Wait until the chicken easily releases from the pan before turning it. If it sticks, it isn't ready yet!
Storage Tips
Store any leftovers in an air-tight container in the refrigerator and use them within a day or two.
You can easily make a double portion of this and freeze it for another night when you need a quick meal. The grapes may lose some of their texture but the flavor should still be good.
Other Recipes you will love
If you like roasted grapes you might like trying them in a salad or as part of a savory appetizer dish. Here are two of my favorites!
Roasted Grape and Couscous Salad
Roasted Grape and Mascarpone Crostini
Note: this post contains affiliate links, meaning if you click on a link and make a purchase I will make a small commission at no cost to you.
Chicken and Roasted Grapes with Rosemary
Ingredients
4

each

chicken breasts, sliced in half

4-5 oz. each

¼

tsp

salt

¼

tsp

black pepper

2

tsp

grapeseed oil

divided

1

cup

sliced sweet onions

2

tsp

cornstarch

2

tbsp

Dijon mustard

½

cup

dry white wine

chardonnay or pinot grigio work well

2

cups

red grapes

stemmed and washed

2

tbsp

chopped fresh rosemary

divided
Instructions
Preheat the oven to 425°F. Season chicken breasts with salt and pepper.

Heat 1 tsp of oil in a large saute pan. Add the onions and saute for 3 -4 minutes until they are translucent. Be careful not to burn them. Remove them to a plate.

Add the remaining oil to the saute pan and heat it over medium-high heat. When hot, add the seasoned chicken breasts and sear on both sides to brown them.

In a medium bowl, whisk the cornstarch and mustard. Gradually whisk in the wine until smooth.

When the chicken is browned on both sides, add the onions and grapes to the saute pan and spread them over the chicken. Pour the wine over the chicken, onions, and grapes, and add half of the chopped rosemary.

Place the saute pan in the middle of the preheated oven and roast for 20 minutes. The grapes will begin to pop. The chicken will be done when it reaches an internal temperature of 165°F.

Sprinkle chopped fresh rosemary over the chicken just before serving.

Serve over egg noodles or rice.
Nutrition
Calories:
360
kcal
Carbohydrates:
19
g
Protein:
45
g
Fat:
8
g
Saturated Fat:
1.5
g
Polyunsaturated Fat:
2.5
g
Monounsaturated Fat:
2
g
Cholesterol:
120
mg
Sodium:
410
mg
Potassium:
585
mg
Fiber:
1
g
Sugar:
14
g
Vitamin C:
5
mg
Calcium:
40
mg
Iron:
2
mg