There is something about a cool salad on a hot summer night. Hearty grains combined with sweet juicy fruit and crunchy nuts. Such a refreshing salad in the heat of the summer.
That is one thing I love about this zesty quinoa salad. Not only does it have sweet juicy cherries, but tossed with a zesty orange dressing makes it refreshing and super flavorful.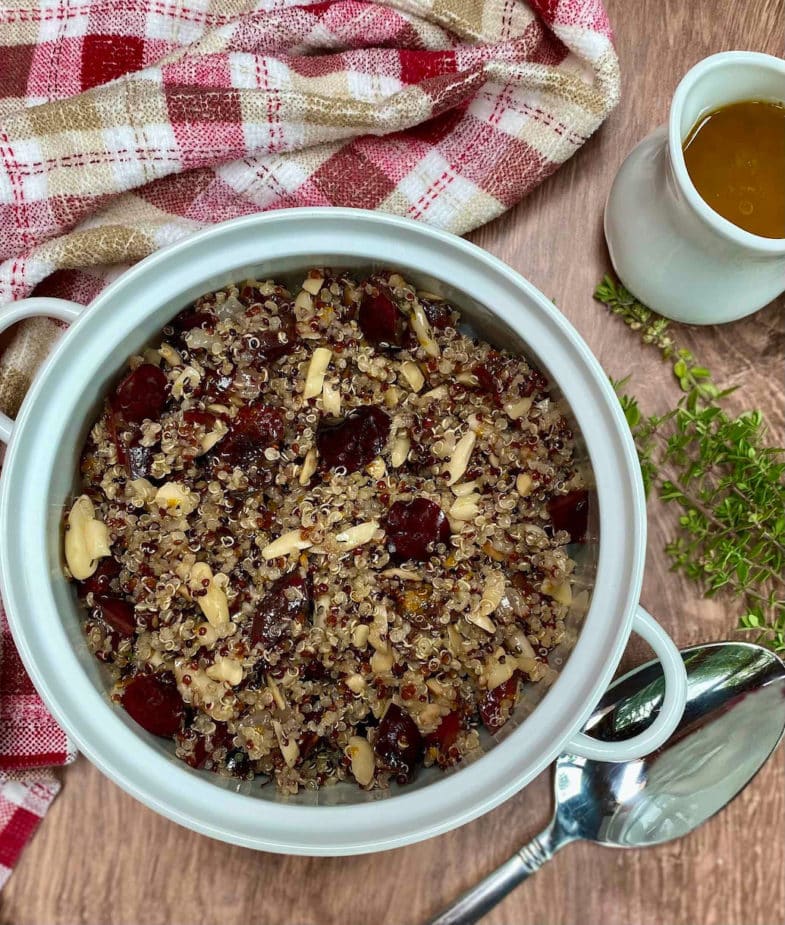 Cherries are honestly one of my favorite fruits so I was super excited to receive a box of about 20 lbs of cherries from the Northwest Cherry Growers a couple of weeks ago!
Now, 20 pounds is a lot and since it is just the two of us, I did give a few away so they wouldn't go to waste, but boy have I had fun playing with the rest of them! I've come up with all sorts of ways to use cherries, besides well, just popping them in my mouth!
My favorite recipe so far has been this zesty quinoa salad. It's sweet with just enough zest.
It was delicious alongside grilled salmon the other night. As a matter of fact, the orange dressing I made serves double duty as a marinade. If salmon could sing…it definitely did!
Back to the salad…
The most time-consuming part of this dish is pitting the cherries. You can use a cherry pitter like this one from OXO (one of my favorite utensil brands) or just cut them in half and scoop the seed out.
What You Will Need to Make the Salad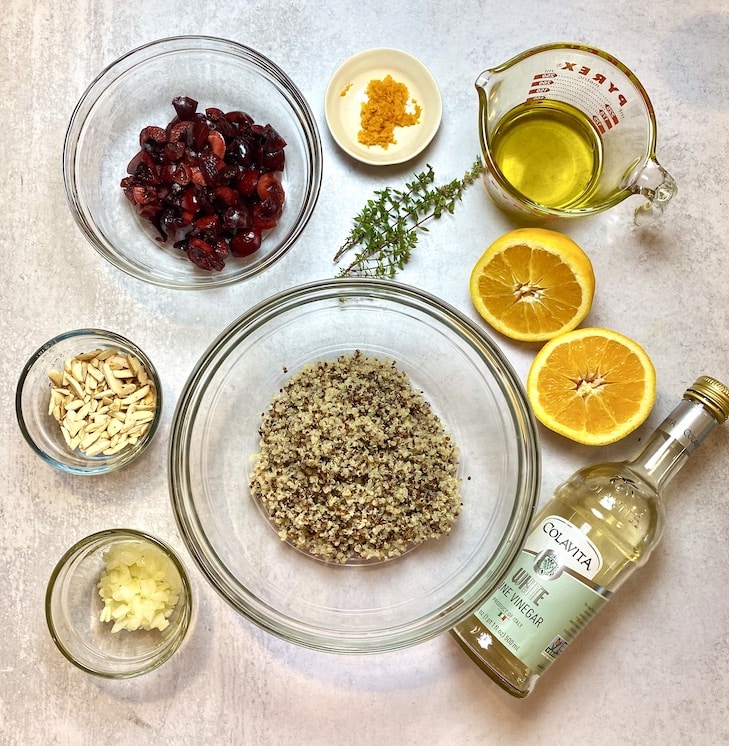 Quinoa – I like the multicolored quinoa – red, white, and brown but just white will work as well. Use what you have!
Onions – Sweet onions are best for this. You don't want anything with too much of a "bite."
Almonds – Toasted almonds are so good with cherries. Yes, take the extra few minutes and toast them. You'll get so much more flavor! You can watch my video here if you aren't sure how to toast nuts.
Cherries – Well, of course! I used Ranier cherries for this and they are juicy and so sweet. Pit them, and then chop them so they are in smaller pieces and easier to eat. If you have smaller cherries, cutting them in half is probably just fine.
Orange Zest – This gives it a bit more of a zesty flavor. The dressing is good, but I found the extra zest added right to the salad made it much more flavorful!
Thyme – Fresh thyme leaves if you have them. Thyme adds a savory and almost citrusy note to the salad.
Orange – I used one navel orange to make the dressing and to add some zest to the dressing and the salad.
Vinegar – White wine vinegar is best for this. It is a little sweet and not overly bitter like plain white vinegar can be.
Extra Virgin Olive Oil – I prefer using olive oil in this dressing but you could try a more mild flavored oil like canola or grapeseed if you prefer. A mild oil will let the orange really shine through. I just love the grassy note from olive oil!
Then the usual, salt and ground black pepper for seasoning. I prefer to use kosher salt because it is lower in sodium than regular table salt.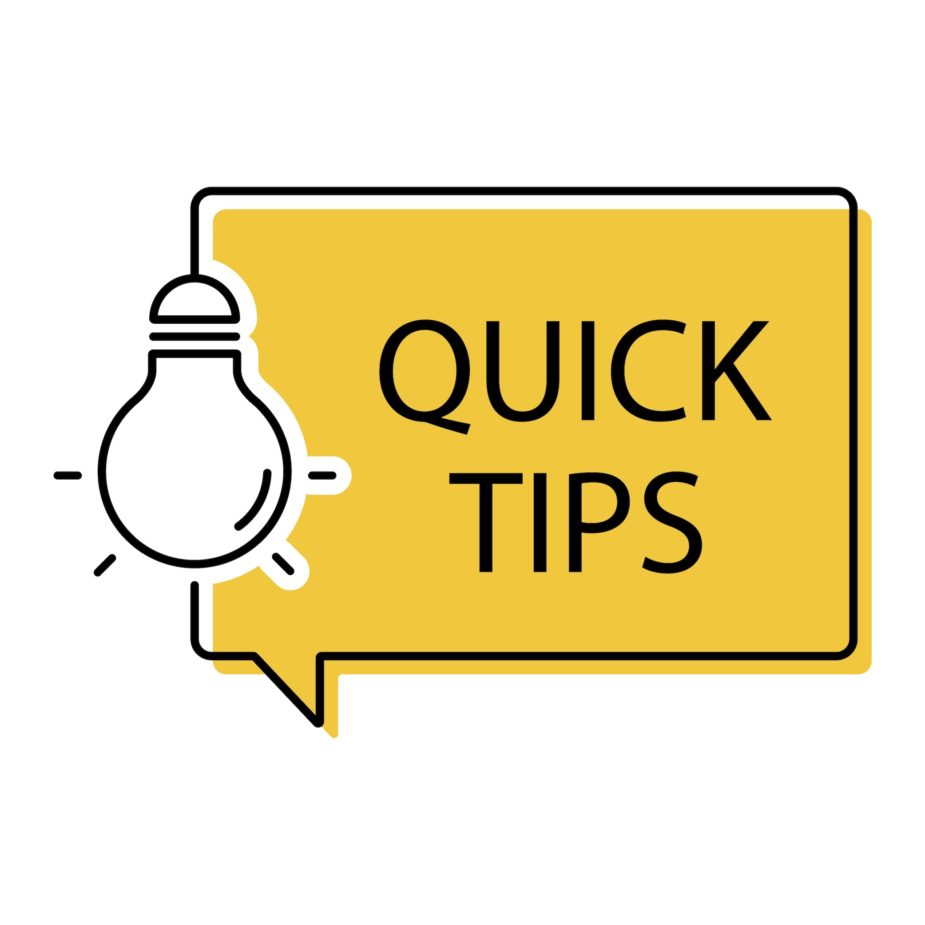 Make a big batch of quinoa (or any other grain) ahead and store it in the refrigerator. It is ready to use throughout the week for salads or side dishes. This makes pulling together a meal super easy and fast!
How to Make the Salad
It's best to make this salad at least three hours ahead of time. That gives the flavors time to really blend together and sink into the quinoa.
If you have time, make the salad in the morning or even the night before you plan to serve it. But if you don't, pulling it together right before dinner will work too.
The first step is to make the dressing. This recipe makes about ¾ of a cup and you will only use about ¼ of it for the salad. The rest makes a great marinade and I'd recommend using it up that way
Zest the orange and set the zest aside. Then juice the entire orange. You need ¼ cup of fresh juice and you should get at least that much from one orange.
Place the orange juice in a medium glass bowl with the vinegar, salt and pepper, and 1 teaspoon of the orange zest. Whisk it all together well.
Gradually drizzle in the olive oil, whisking while you add the oil. Whisk the mixture until it thickens slightly and the ingredients are well combined. This short video will show you how to make the vinaigrette.
To Make the Zesty Quinoa Salad
First, wash, stem, pit, and chop the cherries. This is one thing you can also do ahead of time to save time. Place them in a resealable bag and keep them in the refrigerator overnight.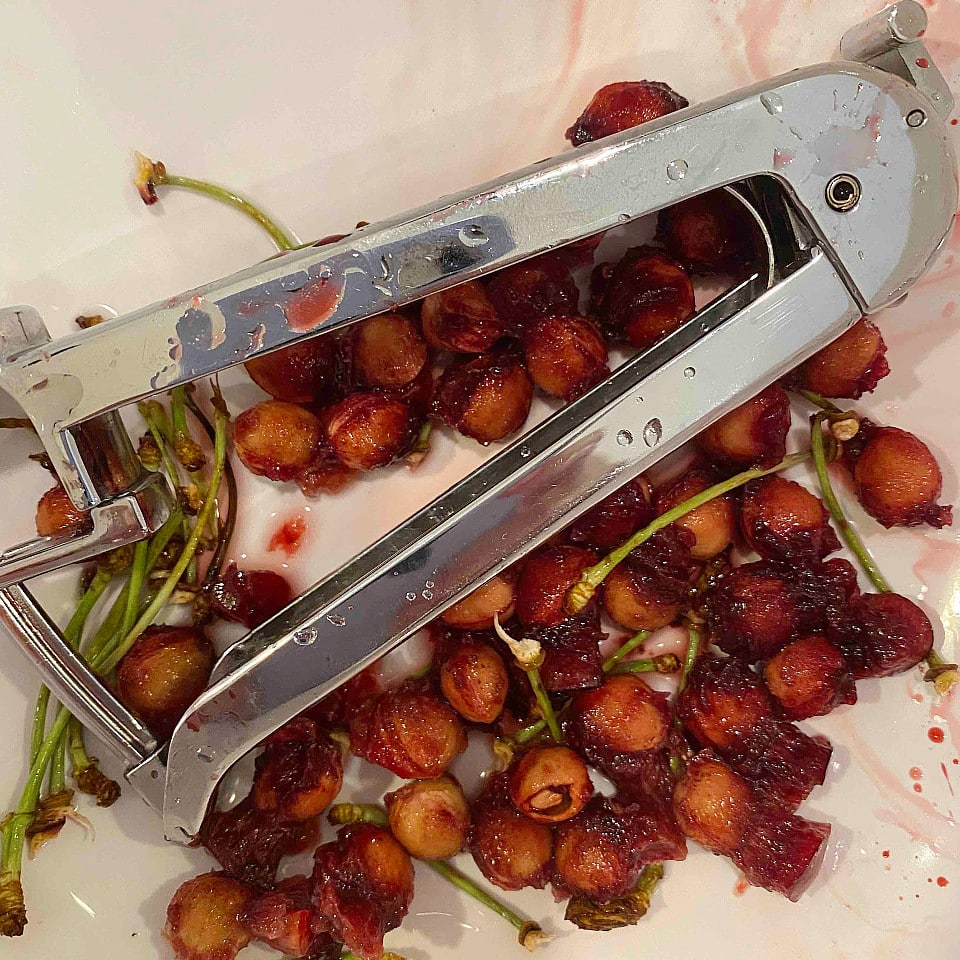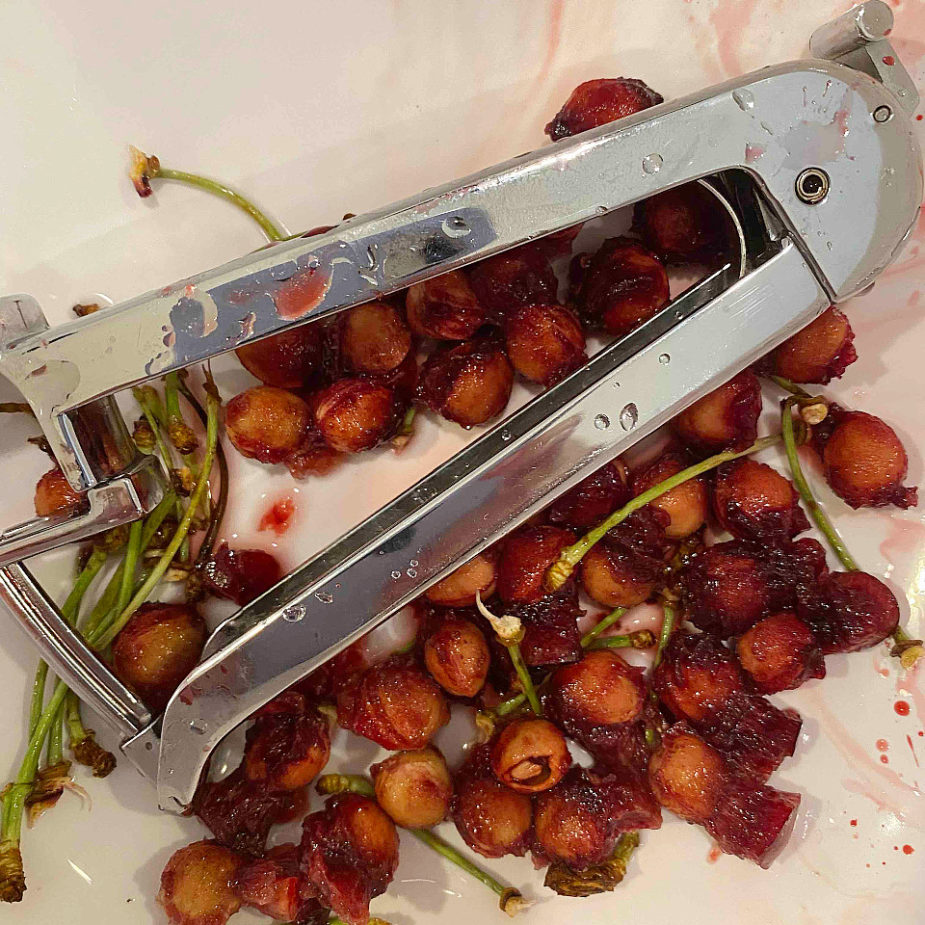 Toast the almonds. I do this in a small non-stick skillet and it takes about 5 minutes. You do need to stand over the stove and stir them to make sure they don't burn. Remove them from the skillet as soon as they start to brown or they will overcook. Watch my short video on how to toast almonds here.
In that same skillet, heat a little olive oil and gently saute the onion until it is translucent. Another 3 – 5 minutes and then remove them from the heat.
Place the quinoa, onions, cherries, and almonds in a medium bowl and toss gently to combine. Add the chopped thyme, remaining orange zest, and a little salt and pepper.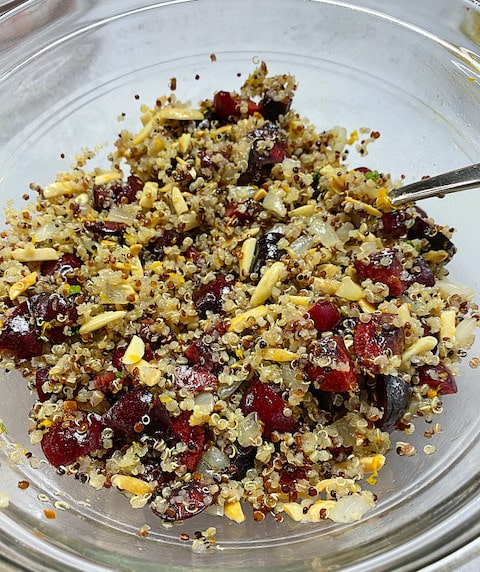 Next, slowly pour in ¼ cup of the citrus dressing and toss the ingredients together making sure to get the dressing all in there.
By coating everything with the dressing the quinoa won't clump while it cools in the fridge
Cover it and place it in the refrigerator for a couple of hours.
Serving Suggestions
Salmon – As I mentioned, the extra dressing is a perfect marinade. Place a few salmon fillets in a resealable bag or in a glass or ceramic dish and pour the rest of the zesty orange dressing over top. Allow them to sit in the dressing for about an hour. Then grill or bake them.
Chicken – The marinade would work well on chicken too and you could get it ready in the morning before you start your day. Then grill or roast it when you're ready.
This would be great on top of a green salad. You could add some goat cheese for some protein or toss it together with some leftover grilled or rotisserie chicken.
FAQs
Is there another grain you could use in place of quinoa
Absolutely, you could try brown rice or a wild rice blend in place of the quinoa or farro would work nicely here.
Can eating cherries help with sleep?
Yes, some research has shown that eating just 25 cherries a day may help improve sleep quality. Some other small studies have shown tart cherry juice has also been shown to help with getting a good night's rest in some people. Some research suggests that cherries may decrease cortisol levels which can help with sleep as well as anxiety and mood.

Can eating cherries help with arthritis?
Cherries are rich in anthocyanins, compounds that can help reduce inflammation. Some studies have shown reductions in uric acid levels and reduced incidence of gout attacks (a form of arthritis) in some people. While it has been thought that eating cherries or drinking cherry juice may help reduce inflammation in arthritis the research is limited and more needs to be done.
Storage Tips
This keeps well for a couple of days in the refrigerator. Store it in a non-reactive, airtight container and add a little extra dressing right before serving.
Other Recipes you will love
If you like this here are a couple of other recipes you might like as well!
Rice "stuffing" for Turkey – a wild rice pilaf that is a great option for holidays
Citrus Winter Farro Salad – another hearty salad using a citrus dressing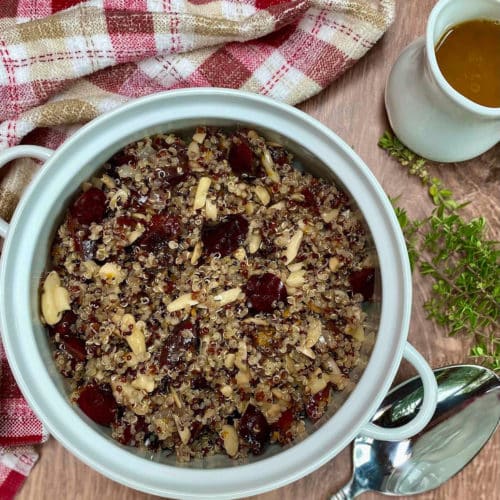 Quinoa Salad with Cherries
This cold quinoa salad with cherries and toasted almonds is tossed in a zesty citrus vinaigrette. It is an easy make-ahead side dish that is delicious alongside grilled salmon or chicken. You can marinate either protein in the citrus vinaigrette too.
Equipment
1 citrus juicer

1 microplane grater

1 small frying pan

1 small bowl

1 medium bowl

1 cherry pitter
Ingredients
Quinoa Salad
½

cup

slivered almonds

toasted

1

tsp.

extra virgin olive oil

¼

cup

chopped sweet onion

2

cups

cooked quinoa

1

cup

chopped cherries

½

tsp.

ground black pepper

1

tsp.

chopped fresh thyme

1

tsp.

orange zest

½

tsp.

kosher salt
Orange Citrus Vinaigrette
¼

cup

freshly squeezed orange juice

1

tsp.

orange zest

2

Tbsp.

white wine vinegar

½

cup

extra virgin olive oil

¼

tsp.

kosher salt

¼

tsp.

ground black pepper
Instructions
Orange Citrus Vinaigrette
In a small bowl, mix orange juice, orange zest, vinegar, salt, and pepper

Slowly whisk in EVOO and whisk until thickened.
Quinoa Salad with Cherries
Place almonds in a small non-stick frying pan. Gently heat them over medium heat, stirring to toast them. As soon as they begin to brown remove them from the heat and place them in a small bowl and set them aside.

In the same small frying pan, heat a teaspoon of olive oil over medium heat. Add the onions and cook for about 3 minutes until translucent. Remove from heat.

Place the quinoa in a medium bowl. Add the onions, almonds, cherries, orange zest, thyme, salt, and pepper and stir to combine.

Drizzle in 1/4 cup of the orange citrus vinaigrette and toss to coat. Reserve the rest of the vinaigrette for something else or to use as a marinade for chicken or seafood.
Notes
I like to make a batch of quinoa over the weekend and use it throughout the week to make salads or grain bowls. If you haven't cooked it ahead, you will need to add 20 – 30 minutes to your prep time and give the quinoa time to cool before mixing everything together.
The vinaigrette recipe makes 3/4 of a cup. You'll only use 1/4 cup for the salad but the rest makes a great marinade for chicken or seafood.
Nutrition
Calories:
210
kcal
Carbohydrates:
22
g
Protein:
5
g
Fat:
13
g
Saturated Fat:
1.5
g
Polyunsaturated Fat:
3
g
Monounsaturated Fat:
8
g
Cholesterol:
30
mg
Sodium:
190
mg
Potassium:
190
mg
Fiber:
4
g
Sugar:
6
g
Vitamin C:
4
mg
Calcium:
40
mg
Iron:
1
mg