It wouldn't be summer without cookouts and family gatherings and what goes better with a burger and dogs than a creamy pesto pasta salad? I know, potato salad is the king, but sometimes the simplicity of a simple pasta salad is a nice alternative. Plus, it's a great way to sneak in some extra veggies.
The other thing that makes pasta salad so nice is that you don't spend hours making it in a hot kitchen. An easier and faster side dish, that you can make ahead works beautifully. This dish takes all of 15 minutes to whip together; 20 – 30 if you want to make your own pesto.
What Shape of Pasta is Best for Pasta Salad?
There are so many varieties of dried pasta to choose from today! Rotini and farfalle seem to be classic choices but my favorite and the one I've been using most recently for my pasta salads is Cavatappi. I love the swirls and all the "nooks" and ridges that the dressing can cling to.
Any short pasta that has lots of twists and turns, like rotini, fusilli, or macaroni will work. You want a pasta shape where the sauce can get into all the nooks and crannies so that each bite delivers a burst of flavor!
How Long do You Cook the Pasta?
Ahh, the number 1 question… al dente or tender? I prefer al dente – just a little bite. Once you drain the pasta, it will continue to cook a bit making it perfect when you are ready to serve.
For the best directions on the best way to cook pasta check out Sharethepasta.org. You'll find everything you need to cook your pasta perfectly.
FAQs about Pasta
How Much Water Do You Need to Boil a Pound of Pasta?
4 – 6 quarts of water per pound is the amount you should boil. Don't try to squish it all into a small pan. The pasta needs room to move around and cook evenly.
Should you Add Salt to the Pasta Water?
Yes, always add a good amount of salt to the water when heating it. Many chefs say that the water should be as salty as seawater. I find that a bit much, but adding salt to the water will prevent bland pasta! And even sauce can't cover up bland pasta!
Should you add oil to the Pasta Water?
Do NOT add oil to the pasta water – no matter what your mother told you! Why? the sauce won't stick to the pasta. You want the sauce to cling to the pasta, otherwise, what's the point?
Should save your pasta water?
Yes, try to save at least some of the water from your pasta. The reserved water has a lot of starch in it so it is great to add to the sauce to help thicken it or to add to stews or other dishes that might benefit from a little thickening.
Can you freeze leftover pasta water?
You can definitely freeze any water you save. Pour it into an ice cube tray and freeze it. Then pop the cubes into a freezer bag for saving. You'll be able to pull one or two cubes out when you need them
Can you freeze pasta?
You can freeze cooked pasta but it is best to not cook it all the way and add some sauce to it before freezing. When you reheat it the pasta will continue to cook so if cook it all the way initially you'll end up with mushy pasta when you reheat it.
Ingredients you'll need for the Pesto Pasta Salad
Pasta salad is an easy dish to modify and use what you have on hand. For this one I used:
1 pound of pasta
lots and lots of broccoli
kalamata olives
a pint of grape tomatoes (2 might be better!)
little mozzarella balls (or cubed fresh mozzarella)
Pesto (I had some in the freezer. You can use store-bought or homemade – either works!)
Mayonnaise – I prefer real mayonnaise instead of salad dressing. Salad dressing is too sweet for me and I don't think it works well in pasta salads, but use what you like best! Hellmann's Mayonnaise made with olive oil is my go-to.
A little salt and pepper
Mix it up and add other vegetables too. Zucchini and yellow squash would be delicious in this. Red and Yellow peppers would add some more color and sweetness to it. Look in your fridge and add what you like. I liked the olives – they added a little sharpness and saltiness which I thought was a nice addition but you could skip them if they don't float your boat.
The Pesto
I used some homemade pesto I had in the freezer. I made a toasted walnut arugula pesto and it added a nice peppery bite to this salad. But a store-bought or homemade basil pesto would work beautifully too. Just mix the pesto with mayonnaise and your dressing is ready to go.
How Long Does Pasta Salad Keep?
Pasta salad will keep for a few days, covered tightly, in the fridge. The nice thing about this pasta salad is that it actually is better if it is made ahead. You can make it the day of, but making it a day ahead allows the flavors to really pull together! The bonus is that it frees you up and keeps you out of a hot kitchen the day of the event! A quick tip – reserve some of the dressing to mix in right before serving so the pasta stays nice a creamy.
So, if you are heading to a summer bbq, give this salad a try. It is sure to satisfy a hungry crowd!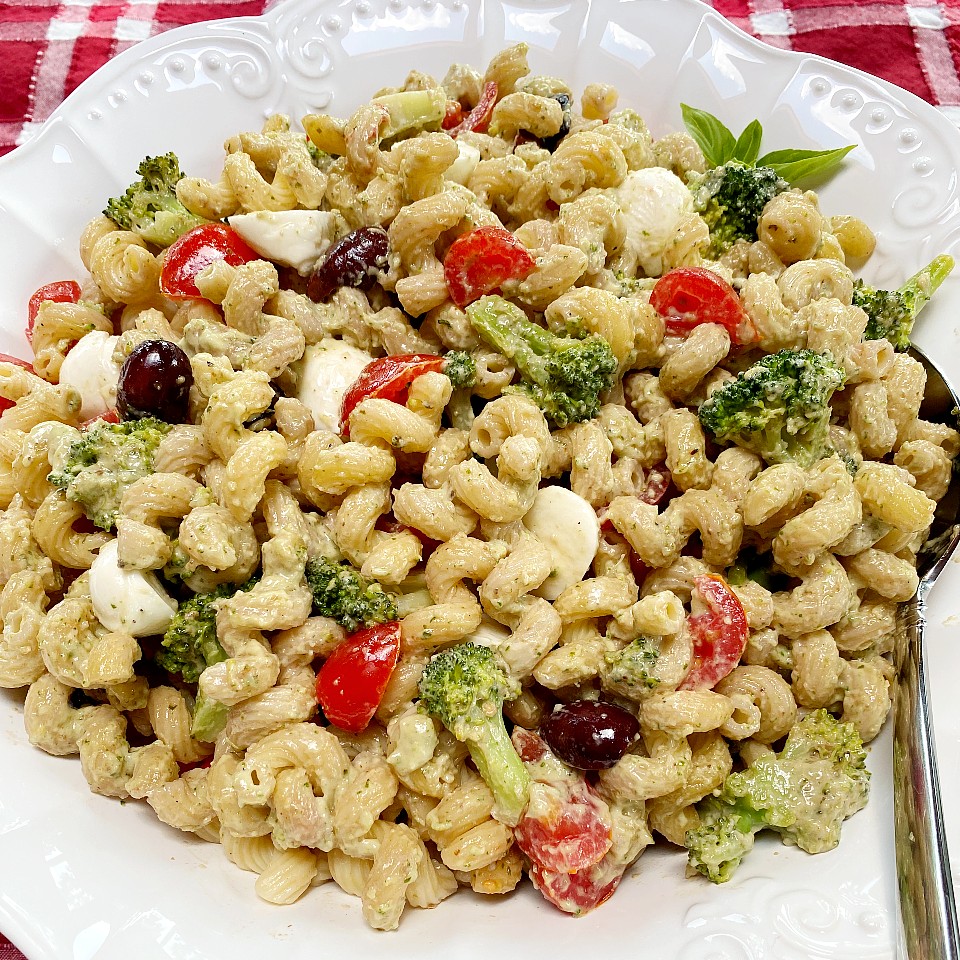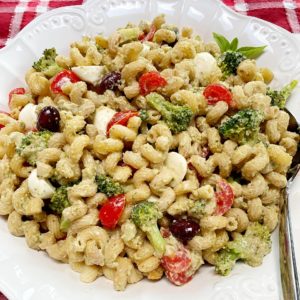 Creamy Pesto Pasta Salad
A creamy pasta salad filled with veggies and cheese. Perfect for summer cookouts!
Ingredients
1

lb

short, curly dry pasta

rotini, cavatappi, fusili work well

6

cups

chopped broccoli

1

cup

light real mayonnaise

½

cup

pesto

¼

cup

kalamata olives

halved

1

pint

grape tomatoes

halved

8

oz.

mozzarella balls

halved
Instructions
Cook pasta according to package directions to the al dente stage. During the last 2 minutes of boiling the pasta, add the chopped broccoli to cook slightly.

Drain pasta and broccoli and place in a large bowl.

Mix mayonnaise and pesto together. Add 1/2 the mixture to the cooling pasta and broccoli. Reserve the rest to mix in later. Cover and place pasta and broccoli in the refrigerator to cool for 30 minutes to 4 hours.

Remove from the refrigerator and mix in the tomatoes, olives, and mozzarella pieces. Add the remaining mayonnaise and pesto sauce and mix together thoroughly.
Notes
You can mix this up and add other vegetables, some toasted pine nuts, or chopped walnuts.  Use this as a guide and make it your own. 
The recipe makes ~ 16 cups of pasta salad, with a serving = 1 cup (Nutritionals are based on the recipe as written and used my walnut arugula pesto. Store-bought pesto may change the nutritional information)
Nutrition
Serving:
1
cup
Calories:
200
kcal
Carbohydrates:
26
g
Protein:
5
g
Fat:
9
g
Saturated Fat:
1
g
Polyunsaturated Fat:
3.5
g
Monounsaturated Fat:
3
g
Cholesterol:
5
mg
Sodium:
640
mg
Potassium:
100
mg
Fiber:
1
g
Sugar:
2
g
Vitamin C:
20
mg
Calcium:
25
mg
Iron:
1
mg