You've probably seen cauliflower everything for the last few years. Am I right? From cauliflower rice to pizza crusts it seems almost anything can be made with cauliflower.
These spicy little crispy cauliflower bites are an easy appetizer or side dish. They are ready in no time for a snack to munch on while you sit back and watch a big game or for a quick veggie that will spice up a weeknight dinner.
What is it about cauliflower that makes it so special anyway? Why do you need this recipe?
What's so Special About Cauliflower?
Okay, so maybe I'm a bit late to hop on the cauliflower "love train" but to be perfectly honest, cauliflower has never been high on my list of favorite veggies. But that is changing and here's why.
Nutrition Facts for Cauliflower
This white vegetable may not seem like it is full of nutrition, but that is just the opposite. While it only has 25 calories in a cup it's packed with vitamins, minerals, and antioxidants. According to UDSA 1 cup of raw cauliflower has almost all the vitamin C you need in a day, not to mention its fiber content of 3g per cup. Here's a quick look at what a cup provides:
Calories: 26
Fat: 0g
Carbs: 5.3g
Fiber: 3g
Sugar: 2g
Protein: 2g
Vitamin C: 52mg (87% of the daily value – DV)
Potassium: 320mg (7% DV)
Vitamin B6 42% DV
While you may have heard to eat the rainbow to get all those antioxidants and vitamins, well, white is also a "color" and this veggie is packed full of many of the same nutrients found in broccoli and Brussels sprouts. So consider it part of your rainbow!
Now the important part – cauliflower is high in a nutrient called Choline. For me, this is really the important part. Choline is essential for our brain health! It forms the neurotransmitter, acetylcholine, that keeps the communication system between our brain and heart, lungs, and muscles healthy. It also works in the part of our brain that is responsible for our memory and mood.1
What You Will Need to Make Crispy Cauliflower Bites
This is the easy part! These little crispy cauliflower bites only need 4 ingredients! Super easy
Cauliflower – I buy a head of cauliflower and then break it up into flowerets. What I don't use, I'll shred or grind and use as "rice." The extra "riced" cauliflower freezes easily and I mix a little into a cup of brown rice to stretch it and get some extra veggies.
For this recipe, I use about 4 cups of cauliflower flowerets. It usually ends up being ½ a large head or ¾ of a smaller one.
Egg – Whisk 1 large egg in a bowl. To this, I'll add the hot buffalo sauce. The egg helps the buffalo sauce "stick" to the cauliflower allowing the breadcrumbs to adhere. It's kind of like dipping a chicken breast in an egg before coating it with breadcrumbs!
Hot Buffalo Sauce – You can use any hot sauce you like but I prefer Frank's Red Hot Buffalo Sauce. (yes, this is an affiliate link, so I'll make a small commission if you make a purchase)
Panko Bread Crumbs – Why panko breadcrumbs? I think they make a crispier crust on the cauliflower, but if you only have regular bread crumbs go ahead and use those too!
How to Make Them
This is really pretty simple to make but there are a couple of tips that will help make sure you end up with awesome, crispy cauliflower bites.
Tips for making Crispy Cauliflower Bites
First – cut the cauliflower flowerets into about the same size pieces. Not exact, but get them as close to the same size as possible. This will assure they cook evenly and you won't end up with some burnt bites and others that aren't quite done!
Second – preheat the oven and make sure it is at the right temperature (400 – 425°F) before you put the cauliflower in!
Third – Let the excess egg and buffalo seasoning drip off before you coat the cauliflower in the bread crumbs. If there is too much egg mixture left on the cauliflower, the breadcrumbs will fall off and you'll just have roasted cauliflower.
Okay, diving in, here's how you make the crispy cauliflower bites!
Preheat the oven to either 425°F or 400°F if you have a convection oven. Line a baking sheet with parchment paper – trust me, this will make cleanup a breeze!
Cut the head of the cauliflower into ~ 2-inch pieces. If you have a bag of precut cauliflower, that's great! Just make sure to use the bigger pieces and save the small ones for a salad or grain bowl.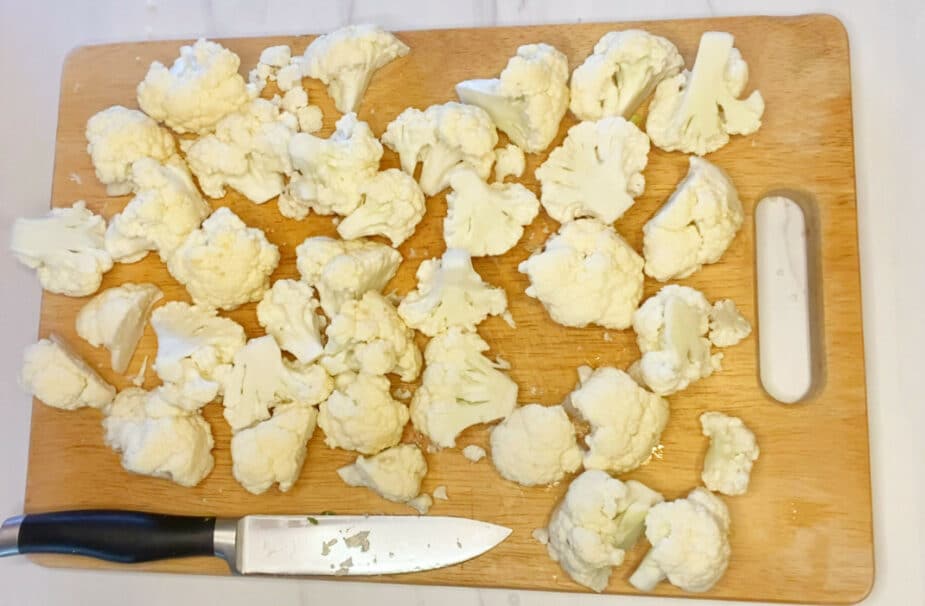 Next, whisk the egg in a medium bowl and add the hot buffalo sauce and whisk until they are combined.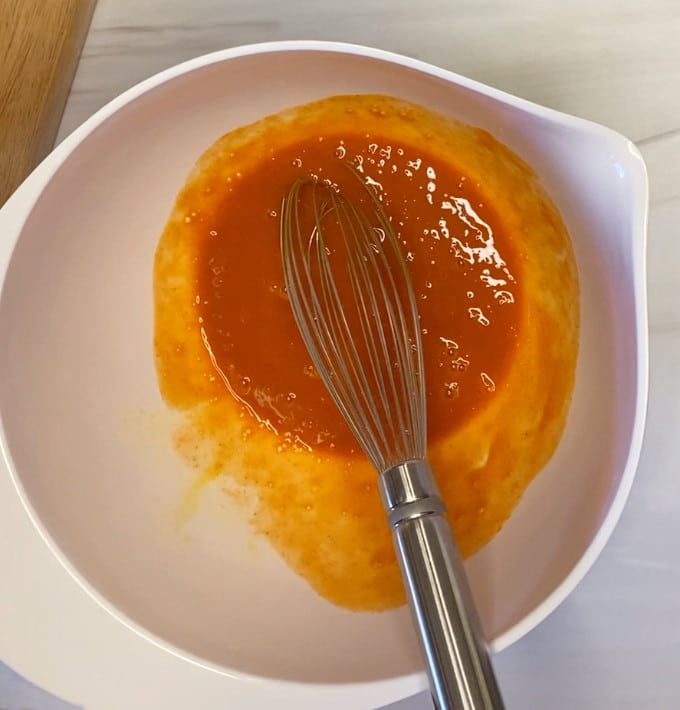 Place the breadcrumbs in a bowl or a shallow, rimmed dish.
Spoon a few cauliflower pieces into the egg and hot sauce mixture. Toss them to coat them completely with the sauce. Using a slotted spoon, remove them from the egg sauce mix and let the excess liquid drain off.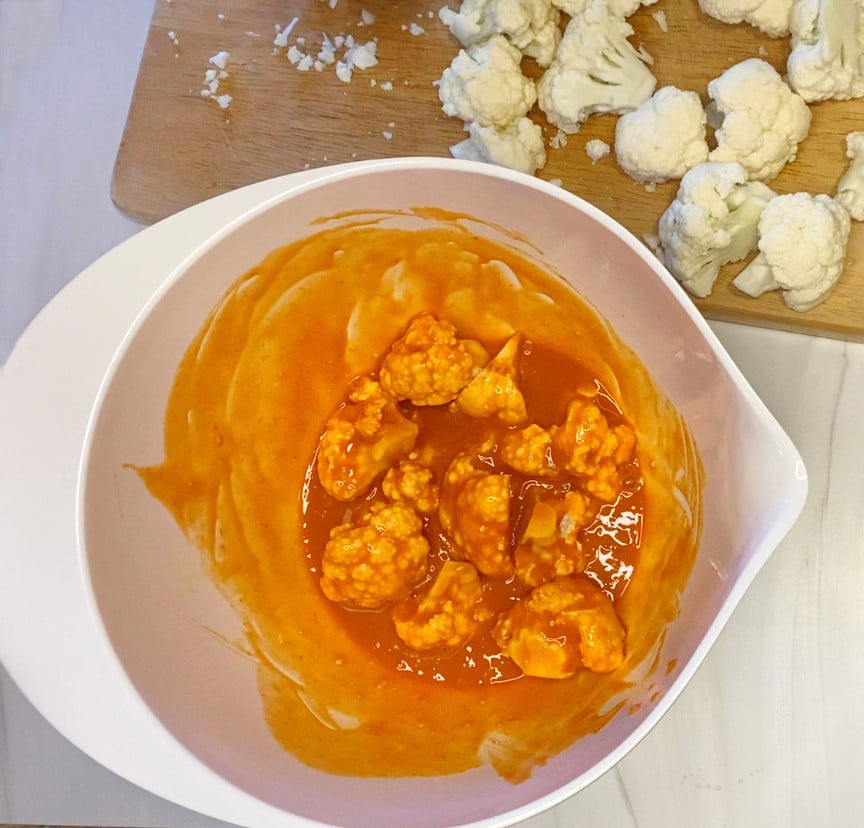 Place the coated cauliflower in the breadcrumbs and toss to cover completely. Place the cauliflower pieces on the parchment-lined baking sheet.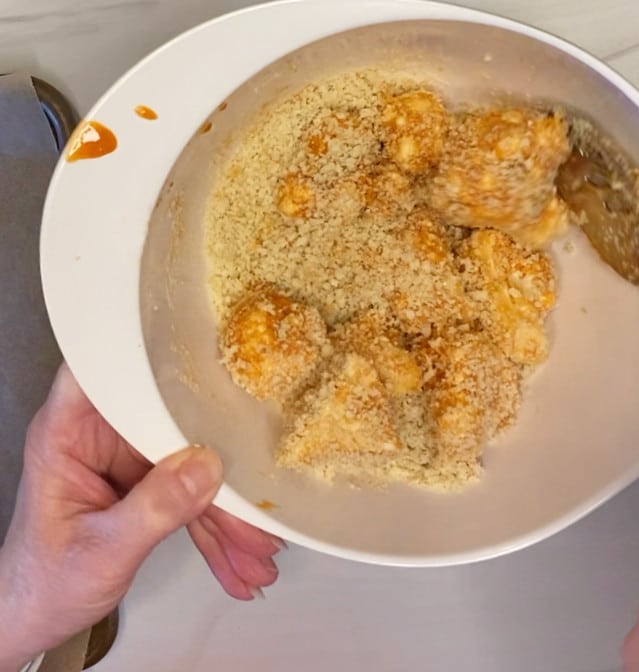 Repeat with the rest of the cauliflower. Leave space on the baking sheet between each piece so the heat is evenly distributed.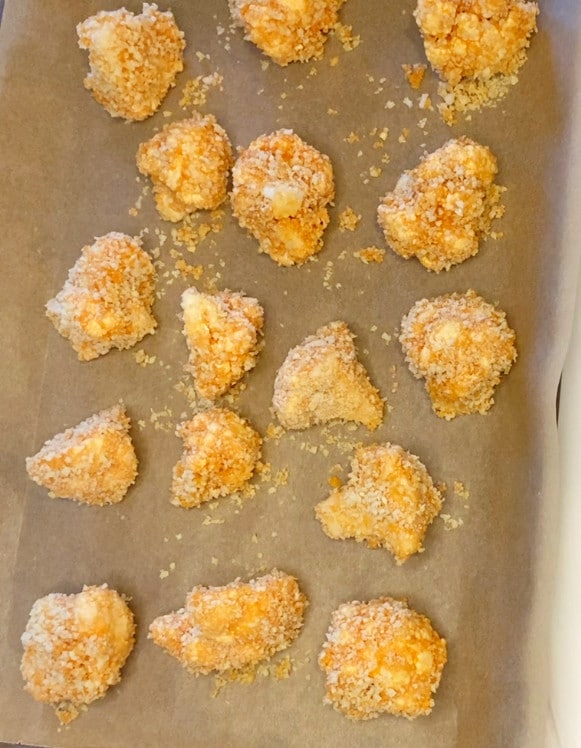 Bake in the middle of the oven for 20 – 25 minutes. The edges should be crispy and the cauliflower stems should be tender when pierced with a knife.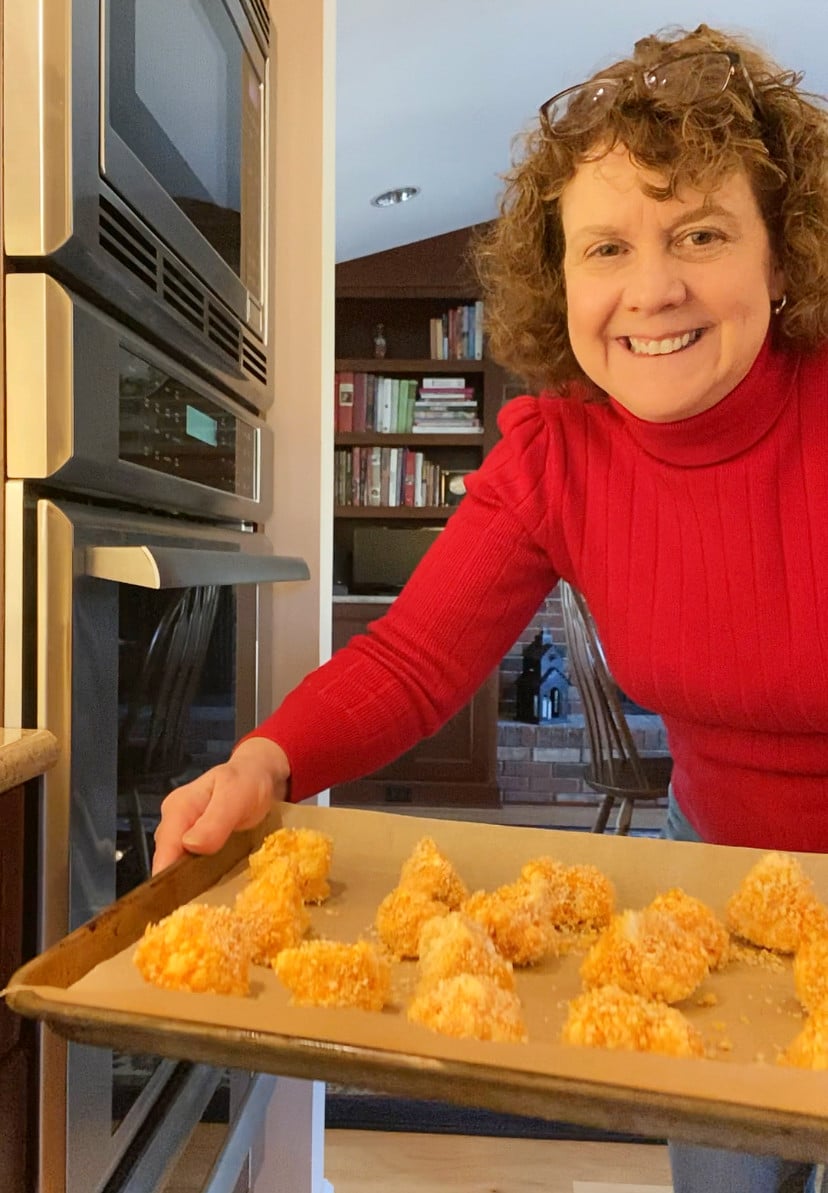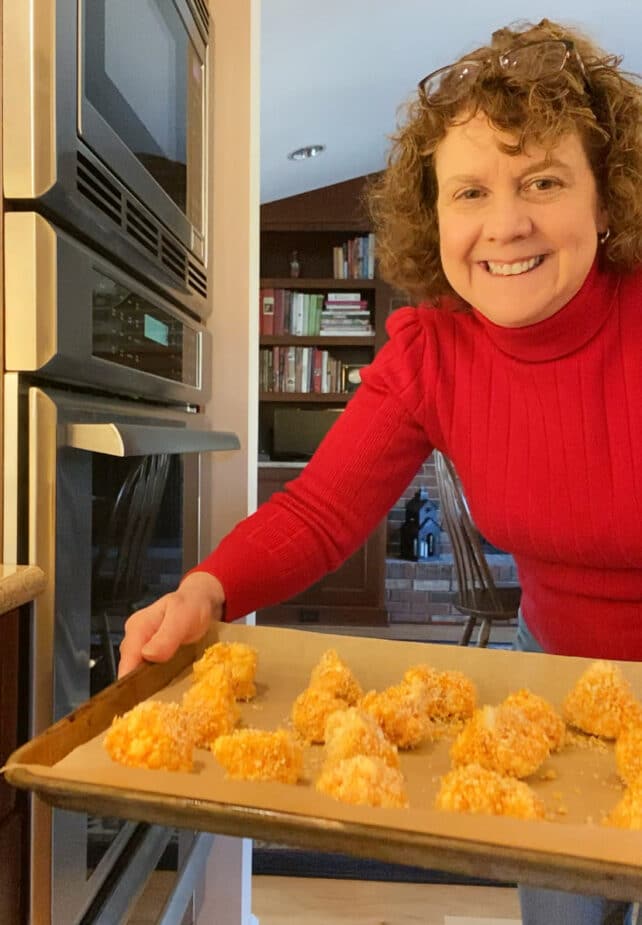 Serve with ranch or blue cheese dressing on the side.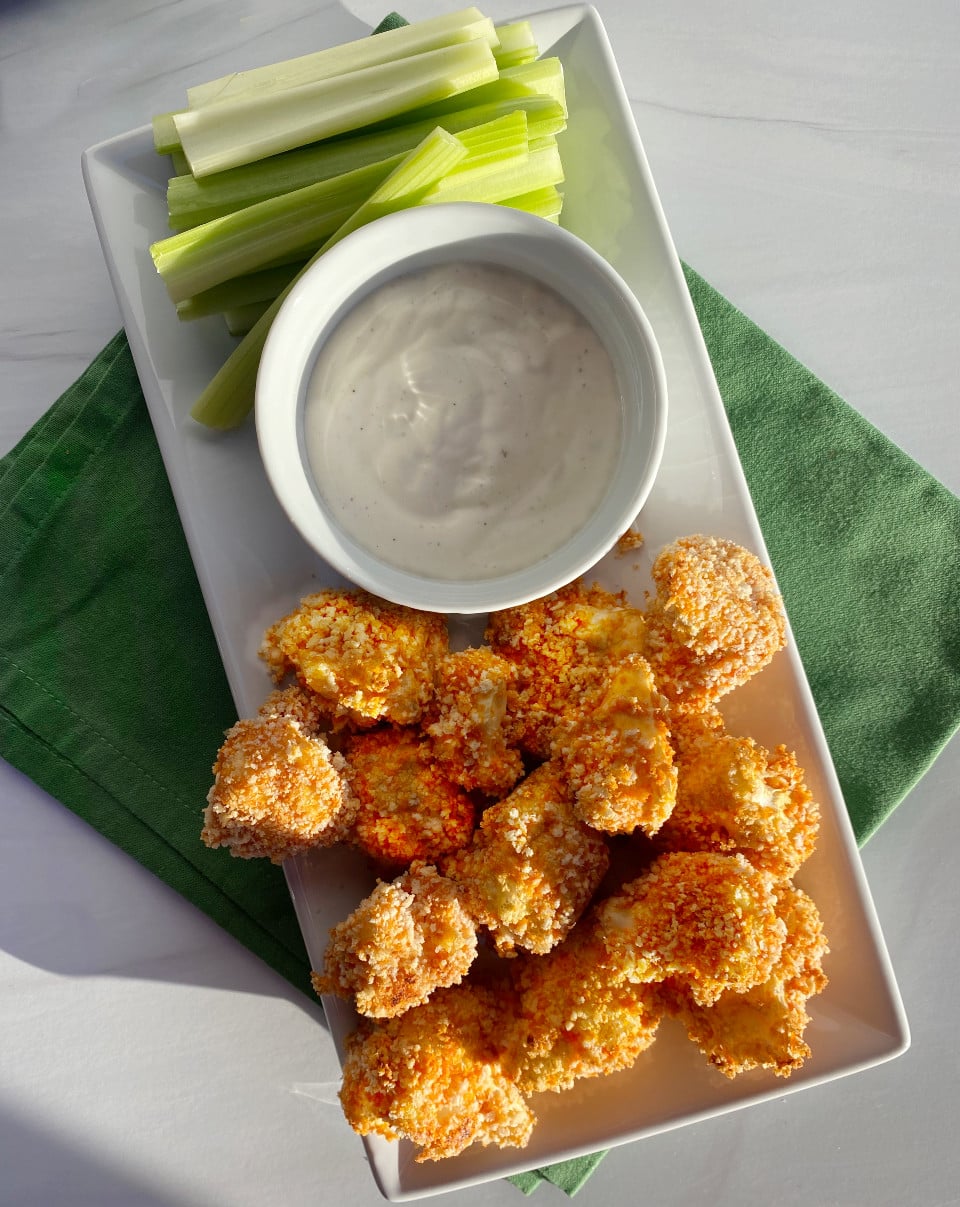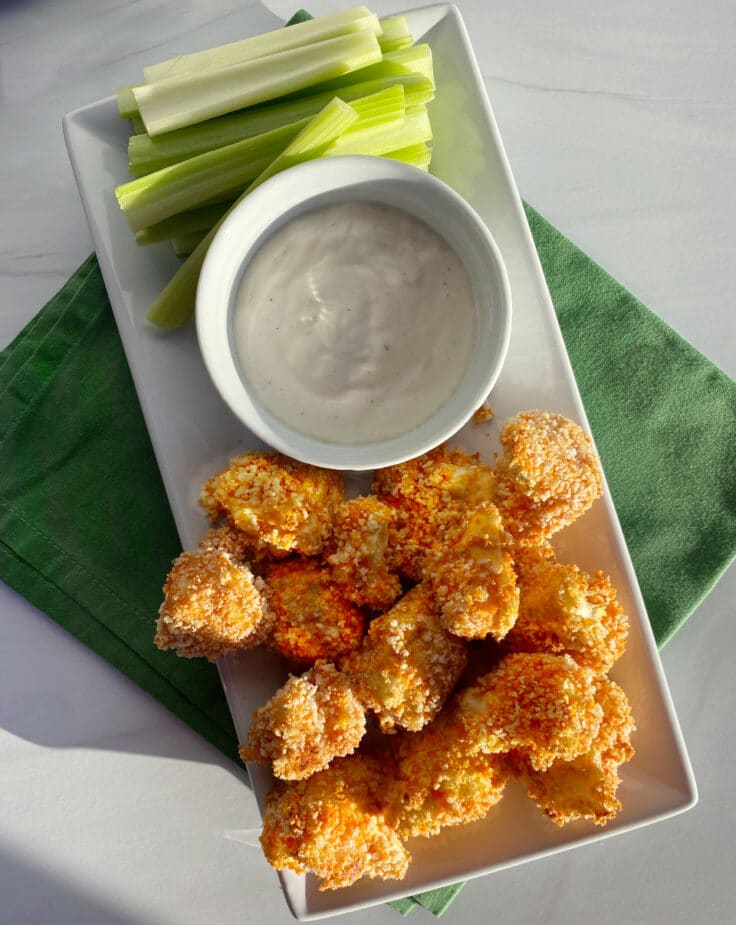 Variations
Need a gluten-free version? Use gluten-free panko bread crumbs. Double-check your buffalo sauce, but most are just made with vinegar and cayenne pepper sauce. They may have some natural flavors and xanthan gum so if you aren't sure if it is gluten-free, call the company to confirm.
FAQs
Can you cook cauliflower in an air fryer?
Yes, cauliflower cooks nicely in an air fryer. Depending on the size of your air fryer you may need to cook them in smaller batches and toss the cauliflower part way through the cooking process. I also sprayed them lightly with a little avocado oil spray before putting them in the air-fryer to help them crisp up and keep the breadcrumbs attached. 
Can you reheat these in the microwave?
You can reheat these in the microwave but they will lose some of their crispness. But if you are in a hurry, place them on a microwave-safe plate and heat them for 1 – 2 minutes at 70% power.
Can you use regular hot sauce in place of buffalo sauce?
Hot sauce and buffalo sauce are not the same. While both are made from cayenne pepper and vinegar, buffalo sauce is thick and has a buttery texture and flavor. This helps it blend with the egg and tones down the spiciness a bit. You can try hot sauce in place of buffalo sauce, but you'll likely want to cut back on the amount of hot sauce and add a little oil or melted butter to the egg and sauce mixture.
Storage Tips
These little bites will keep in the refrigerator for a couple of days. Place them in an airtight container and when you are ready to enjoy them place them on a sheet pan and reheat them in a 350°F oven for 10 minutes.
You can try to freeze these and reheat them from frozen as above.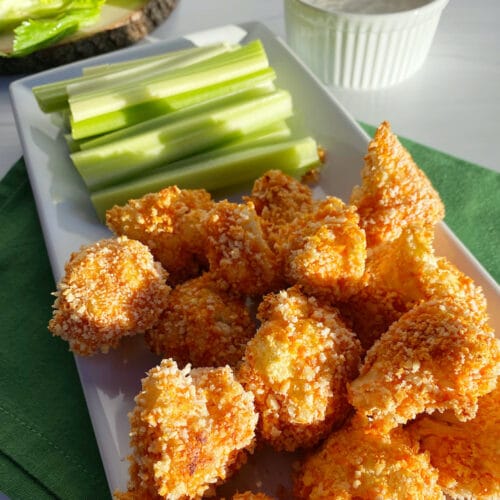 Crispy Buffalo Cauliflower Bites
Ingredients
4

cups

fresh cauliflower flowerets

about 1/2 head of cauliflower

1

ea

egg

½

cup

hot Buffalo sauce

like Frank's

1 ½

cup

panko bread crumbs

1

cup

ranch or blue cheese dressing
Instructions
Preheat the oven to 425°F (or air fryer to400°F*). If you have a convection oven, heat it to 400°F. Place the rack in the middle of the oven.

Line a baking sheet with parchment paper.

Cut the cauliflower into flowerets, no more than 2-inch pieces.

In a medium bowl, whisk the egg until well-blended. Add the buffalo sauce and whisk.

Place the panko in a separate bowl or plate.

In batches, toss the cauliflower in the egg and buffalo sauce and coat it thoroughly and then let the excess sauce drip off.

Place the cauliflower in the breadcrumbs and toss to coat. Then place them on the baking sheet, leaving at least 1-inch space around each piece.

When all are coated with breadcrumbs, place the baking sheet in the middle of the oven and cook for 20 minutes, flipping the cauliflower ½ way through. The edges should be lightly browned and the stems soft when pierced with a knife.

Serve with a side of ranch or blue cheese dressing.
Notes
*If using an air fryer, place the coated cauliflower in the basket of the air fryer, being careful not to overcrowd it. You want the air to move around each piece of cauliflower. You'll likely have to cook multiple batches. Cook for 12 – 15 minutes, tossing ½ way through. Cook time depends on your air fryer so check it after 12 minutes so you don't overcook them.
Nutrition
Serving:
1
cup
Calories:
70
kcal
Carbohydrates:
12
g
Protein:
4
g
Fat:
1
g
Cholesterol:
30
mg
Sodium:
680
mg
Potassium:
225
mg
Fiber:
2
g
Sugar:
1
g
Vitamin C:
34
mg
Calcium:
20
mg
Iron:
1
mg
Other Recipes you will love
Maple and Balsamic Brussel Sprouts
Beef and Mushroom Burger – These would be a perfect side dish
References
Sanders, L. M., & Zeisel, S. H. (2007). Choline: Dietary Requirements and Role in Brain Development. Nutrition today, 42(4), 181–186. https://doi.org/10.1097/01.NT.0000286155.55343.fa