I love Ina Garten. You can just tell she has fun and loves what she does. I love her approach to cooking and entertaining and wish I could be more like her! Plus, anytime I make one of her recipes, it always turns out and is delicious!
She has come to Pittsburgh on both of her last book tours and I've been able to hear her both times.
So, what does this have to do with vanilla extract? Well, the last time she was here, someone from the audience asked what brand of vanilla extract was her favorite and she mentioned making her own. She said she always has a huge jar of it going in her pantry. Well, why not I thought? That way you'd always have an endless supply!
The thing about making vanilla extract is that it takes a while, which is why having a big jar of it sitting in your pantry all the time is such a good idea! And after all my holiday baking I did I'm about out, so I decided to make my own batch to get ready for spring!
I picked up vanilla beans at my local Penzy's. 3 beans come in one jar and that is the perfect amount for making 8 oz. of extract. You can always order them online as well. Beanilla looks like another good source for beans. They carry a variety and you can order just as many as you need and the type you want.
You may have a little sticker shock if you haven't purchased the beans before – they are expensive! But, when you understand how they are grown and processed, it's a lot easier to spend the money.
What does an orchid have to do with it?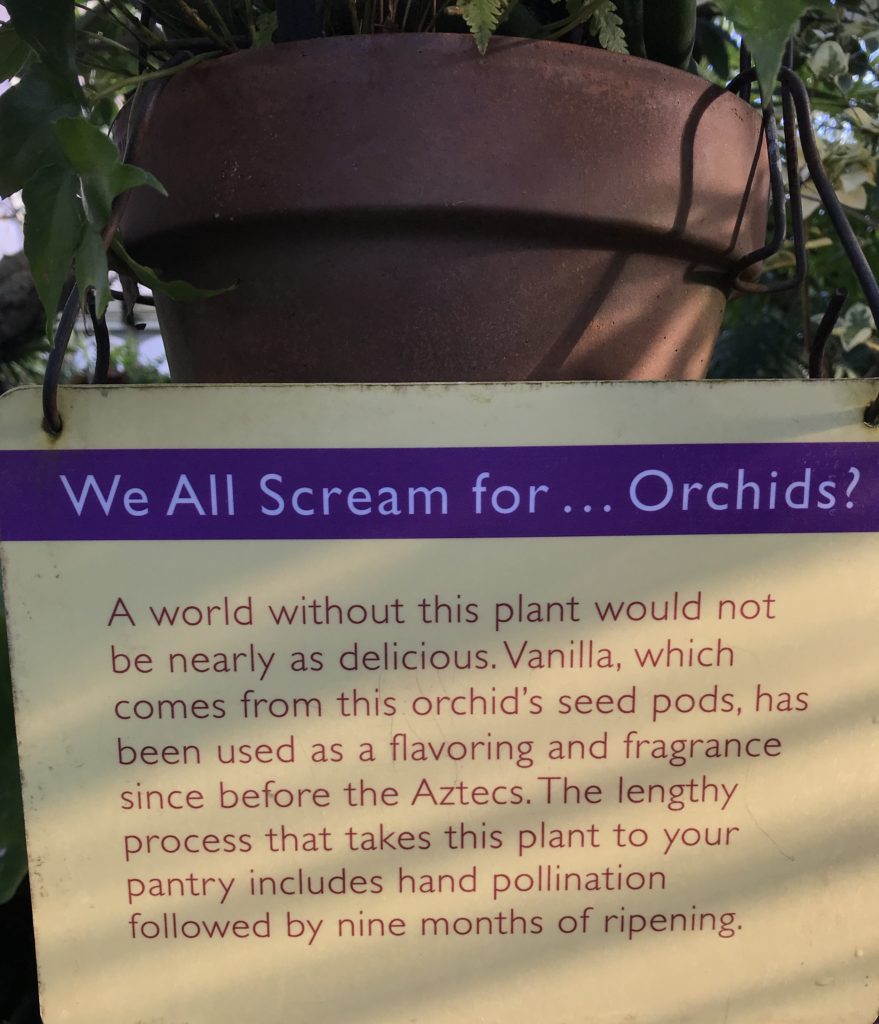 I was reminded of that orchids are where vanilla beans come from on a recent visit to Phipps Conservatory in Pittsburgh. Apparently, it is a climbing orchid, not the houseplant most of us have. When the flower on this plant blooms it is hand-pollinated. They have just one day to do this as the bloom dies quickly. The pods slowly grow and develop and are then harvested after 6 – 9 months. They are dried to just the right moisture content and vacuum sealed or sealed in a glass jar and sold. They can dry out quickly so when you are purchasing them, make sure they look moist and pliable, not dry and cracked and plan on using them right away.
I prefer Madagascar beans. First, that is the type of vanilla extract I've always purchased so I'm used to it and I think it has a smooth vanilla flavor that is perfect for baking. But if you like a richer, deeper flavor than Mexican vanilla might be right for you. There are other types of beans including Tahitian, Indian and Indonesian, but the most common I've found are Madagascar beans.
To Make Vanilla Extract
Get a clean bottle (make sure it is clean and sterilized* before using it) and put 2-3 of beans in. I like these swing top bottles the best. They are pretty and if you decide to give any away, they make a nice gift too. The number of beans depends on how big a jar you have. For this 8 oz. jar I used three beans. Add about 7 oz. of vodka (a decent quality vodka is fine) seal it up and put it in a dark place for a month or longer. You'll see it gradually turn to a beautiful dark brown and when you open the top will get a sweet vanilla scent.
Making your own is really easy and I now wonder why I didn't make my own all along. I'm sure it's not any less expensive making it myself, but there is something about knowing I'll never run out! When I open this jar, I'll get another one started so no matter how much baking I do, I'll always have a fresh jar ready to go!
To sterilize the jar, run it through the dishwasher (as long as it is dishwasher safe) or place it in a pot of warm water, covering the jars and bring the water to a boil. Allow it to boil for at least 10 minutes. Turn off the heat and let it cool slightly. Remove the jar from the water with tongs and place it on a clean towel to air dry.