There is nothing that screams fall more than something pumpkin-flavored, am I right? I know many of us can't wait for the start of the PSL season, right? That's why I thought these healthy baked pumpkin oat bars would make a perfect healthy breakfast – and satisfy my need for pumpkin spice.
Now, you may think we've gone a bit overboard on the pumpkin spice trend, and I have to agree. I've seen everything from the now-standard pumpkin-spiced lattes to pumpkin-flavored popcorn and seltzer water. Yeah, those two were a bit over the top for me too, but these bars hit a sweet spot.
I'm always looking for healthier breakfast options that satisfy my need for some protein, carbs, and flavor and break me out of my yogurt and fruit routine.
What You Will Need to Make These Healthy Oat Bars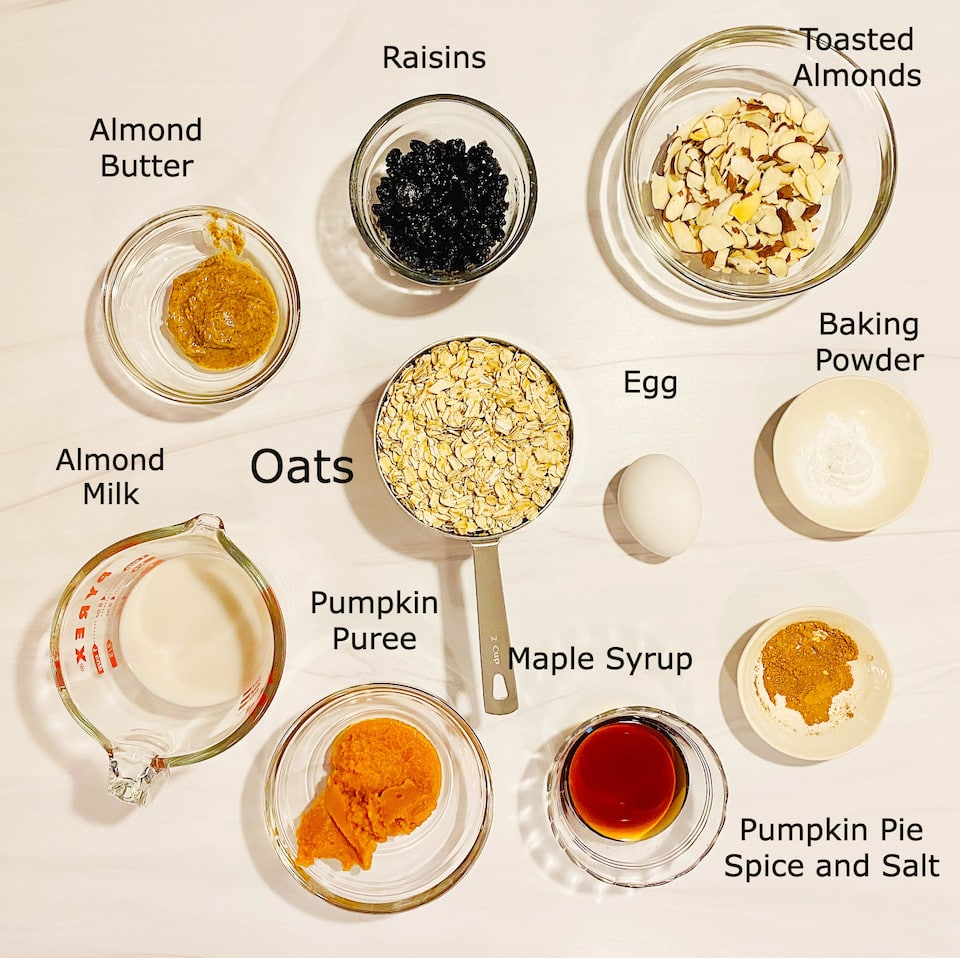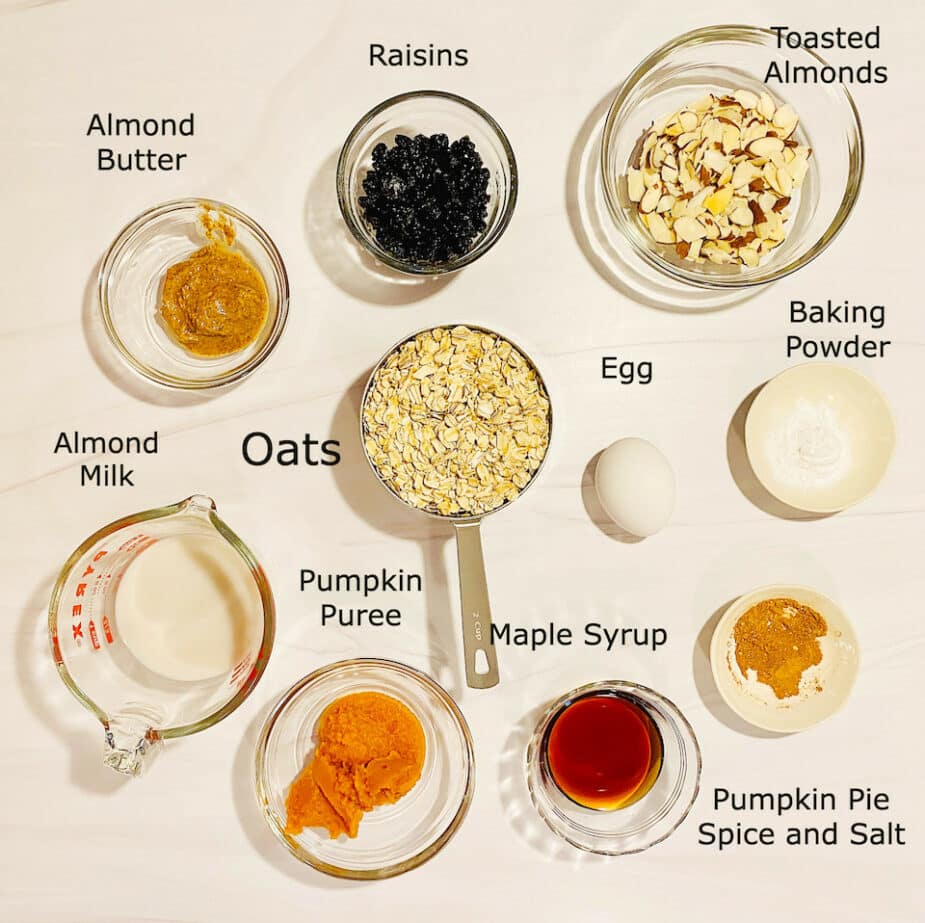 Oats – Old-fashioned oats are the way to go here. They will hold up to the liquid and baking and won't become mushy. I love having oats for breakfast and baking them in these bars is an easy, make-ahead" breakfast treat.
Oats are rich in soluble fiber, specifically beta-glucans, which are associated with lowering cholesterol and slowing sugar absorption, which helps stabilize blood sugar.
Soluble fiber pulls in liquid along with sugar and cholesterol in your GI tract which results in slower transit and less absorption of those nutrients. It also helps fill you up, which can help with weight control.
As a registered dietitian, oats are one of those foods I recommend including often, whether for breakfast or as part of a snack!
Pumpkin Puree
Aside from its delicious fall flavor, using pumpkin puree in a recipe is a great way to replace or minimize the use of butter in baked goods. You can replace a tablespoon of butter with a tablespoon of pumpkin puree.
I'm using it mainly for its "fall-ish flavor" and all the healthy antioxidants it provides. But I also love the added bonus in this recipe of helping me cut back on some of the saturated fat from butter that I would normally use in baked oatmeal.
Almond Butter
Almond butter is a great way to add protein to this breakfast bar and it contains healthy fats, vitamin E (an antioxidant vitamin), and a number of minerals that help keep your heart and bones strong! Just 1 ounce of almond butter has 6 grams of protein and 3 grams of fiber, providing 6% of your DV for calcium.
Some recent research (funded by the California Almond Board) has shown eating almonds daily can help reduce wrinkles in postmenopausal women.
It makes sense. Almonds are rich in vitamin E, and earlier studies found that taking daily a supplement of vitamin E, along with vitamin C, lycopene, soy, and fish oil helped reduce wrinkles as well.
Egg – An egg adds some extra high-quality protein and helps bind this bar recipe together.
Almond Milk – This adds the moisture needed to pull the bar together, and using almond milk adds a touch of almond flavor, but it's very mild. This also makes this recipe dairy-free for anyone who needs a dairy-free breakfast option, but you can certainly use regular milk in its place.
Maple Syrup – Pure maple syrup works best in this. I used ¼ cup for just a bit of sweetness and maple flavor.
Baking Powder – This just helps give the bars a little lightness and lift. They really would be incredibly dense without it!
Spices – Can you think of anything that goes better with a pumpkin than cinnamon and nutmeg? Me either! I used pumpkin pie spice in this, but you can mix up your own with cinnamon, nutmeg, ground cloves, and a bit of ginger.
I also added ½ teaspoon of salt to my mix. The salt is really necessary. It helps round out all the flavors and believe it or not, it helps bring out the sweetness from the maple syrup. If you really need to watch your salt intake, you can eliminate it, but one bar has 200mg of sodium.
Almonds – I love the crunch from the nuts and these just help accentuate the almond flavor in the recipe.
Raisins – Adding dried fruit is a great way to get extra fruit and fiber into your diet. These are optional. Personally, I like the little burst of sweetness they provide, and it makes me feel like I'm eating an oatmeal cookie in the morning!
How to Make These Bars
You can scroll down to the full recipe card for the complete recipe and directions. Here is a quick overview of how easy this is to pull together.
First – Start by preheating the oven and spraying an 8 x 8 pan with non-stick cooking spray.
Second – Mix together the oats, baking powder, spices, and salt.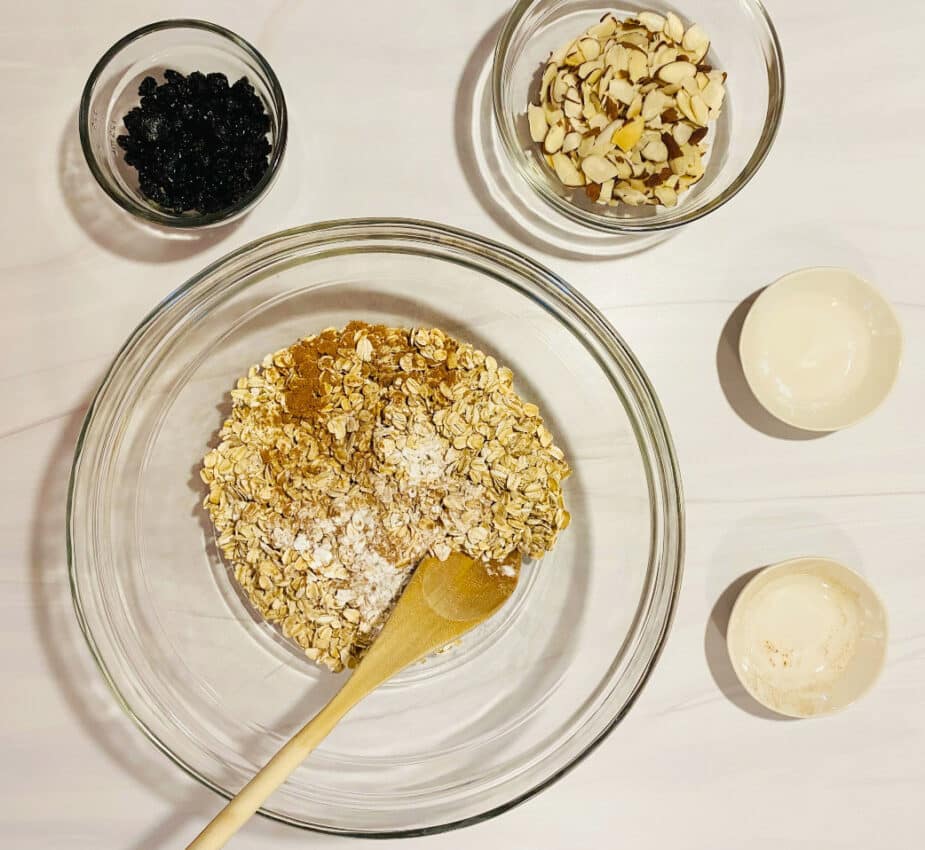 Then mix in the almonds and the raisins. Covering them with some of the oat dust will help them "stick" to the liquids. This prevents them from sinking to the bottom when the mixture bakes.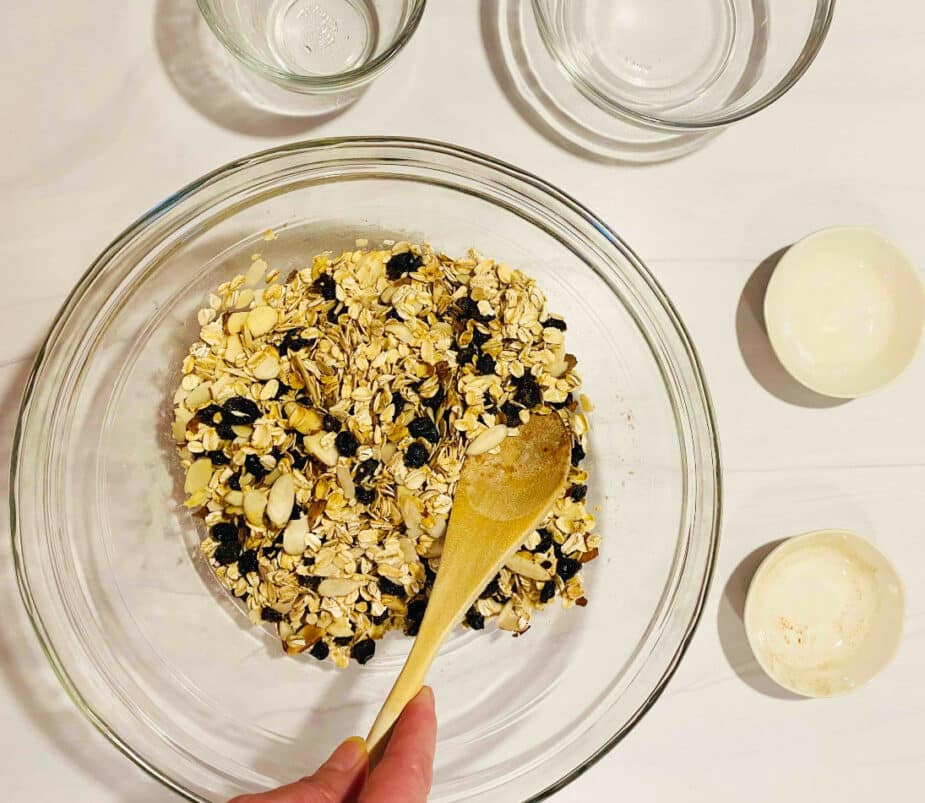 Third – Mix the egg, pumpkin, almond butter, almond milk, and maple syrup. To get the almond butter completely broken up and incorporated use a hand-held mixer and mix the egg and almond butter first.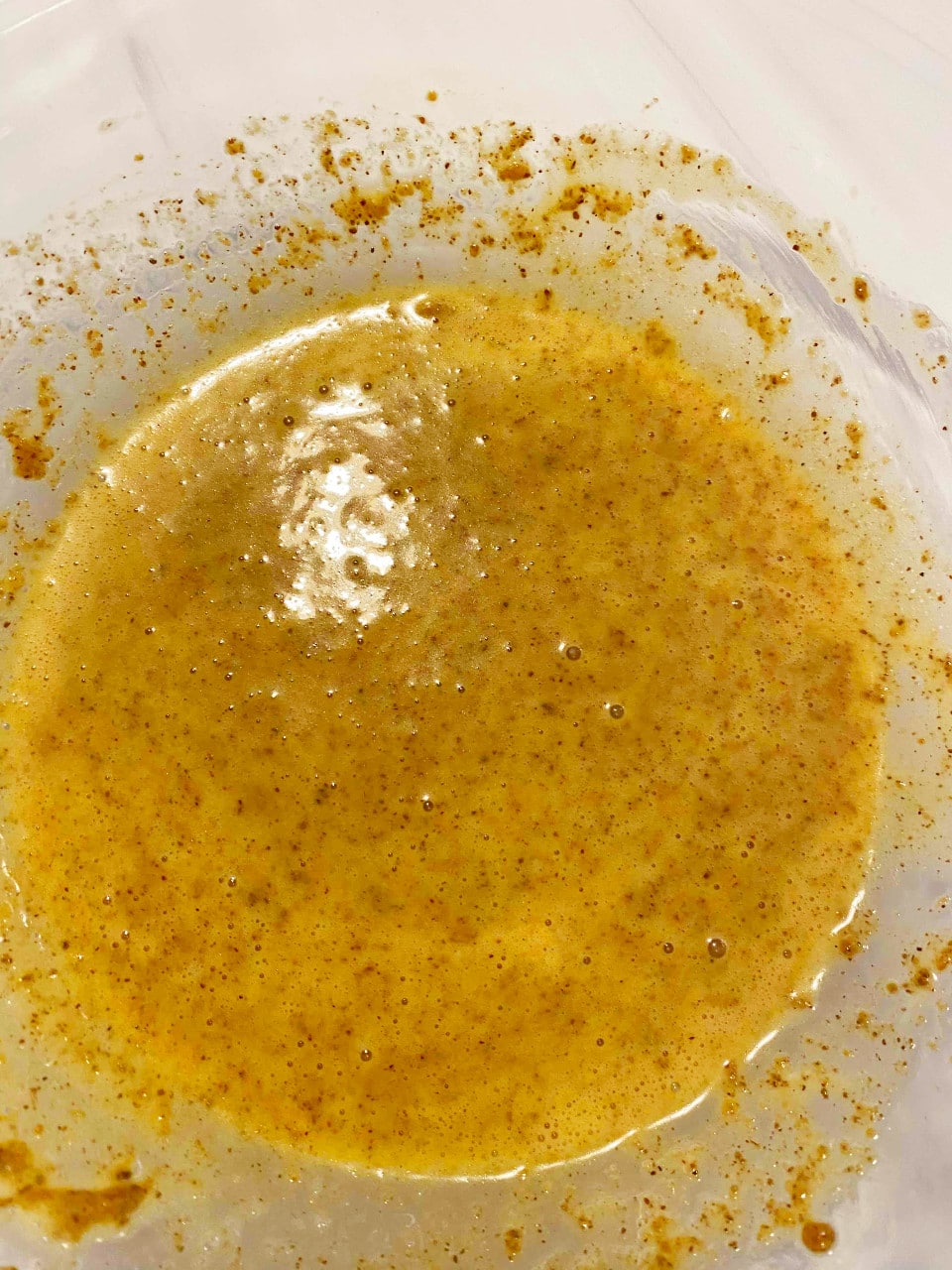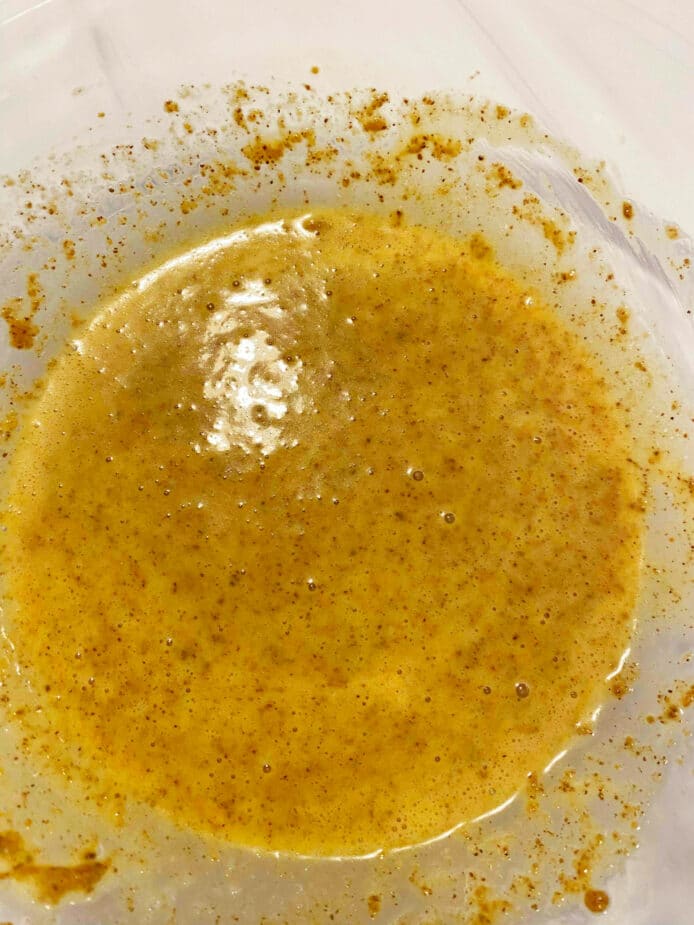 Once it is completely combined, add the pumpkin, almond milk, and maple syrup and blend quickly for a minute.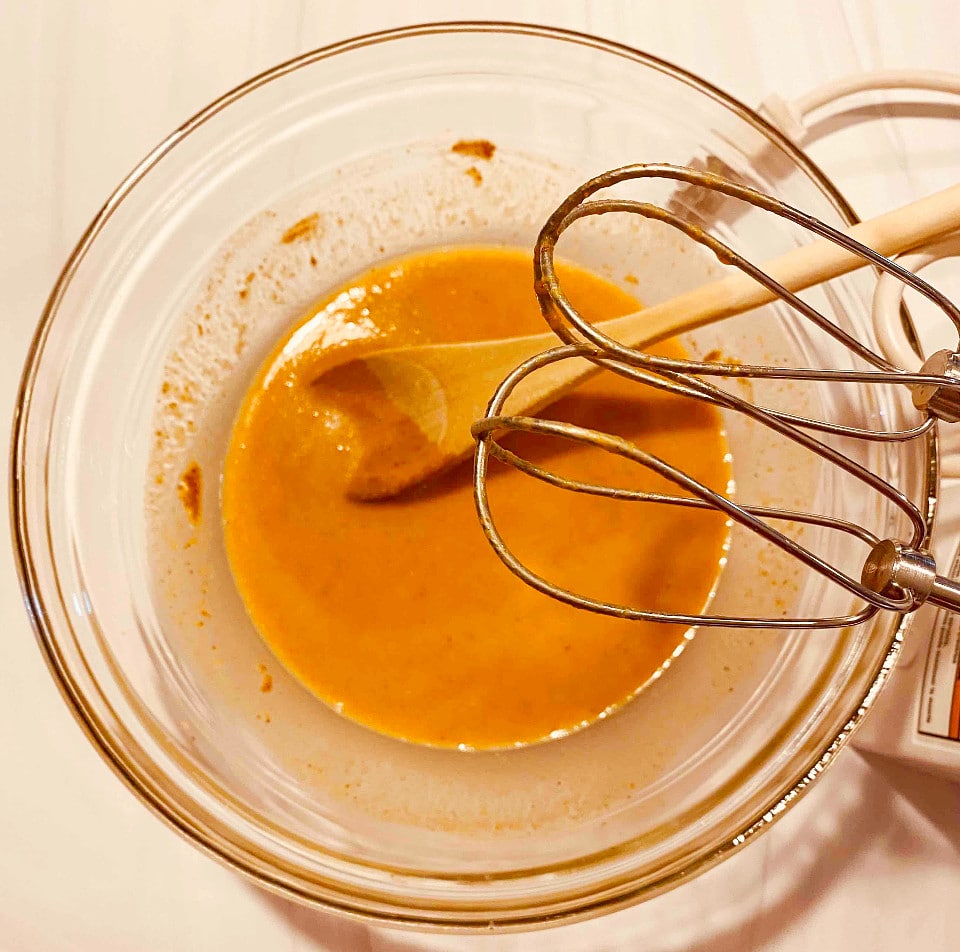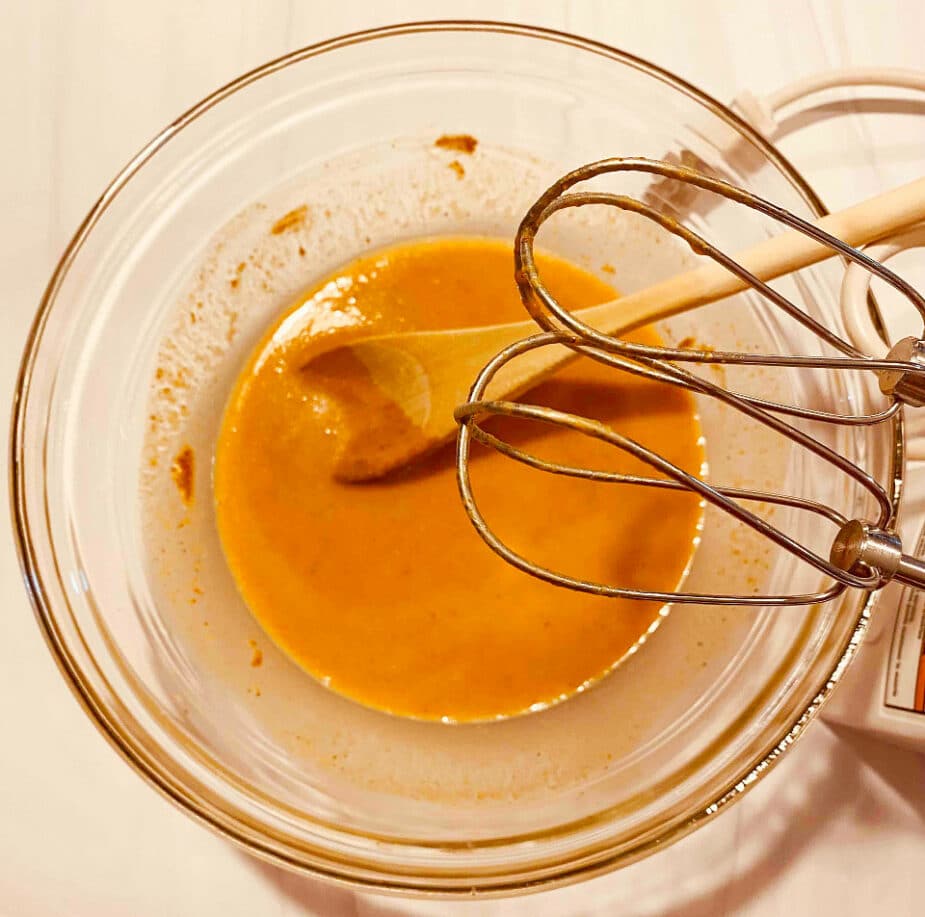 Fourth – Mix the liquids into the dry ingredients, combining them completely. Then pour it into your prepared pan.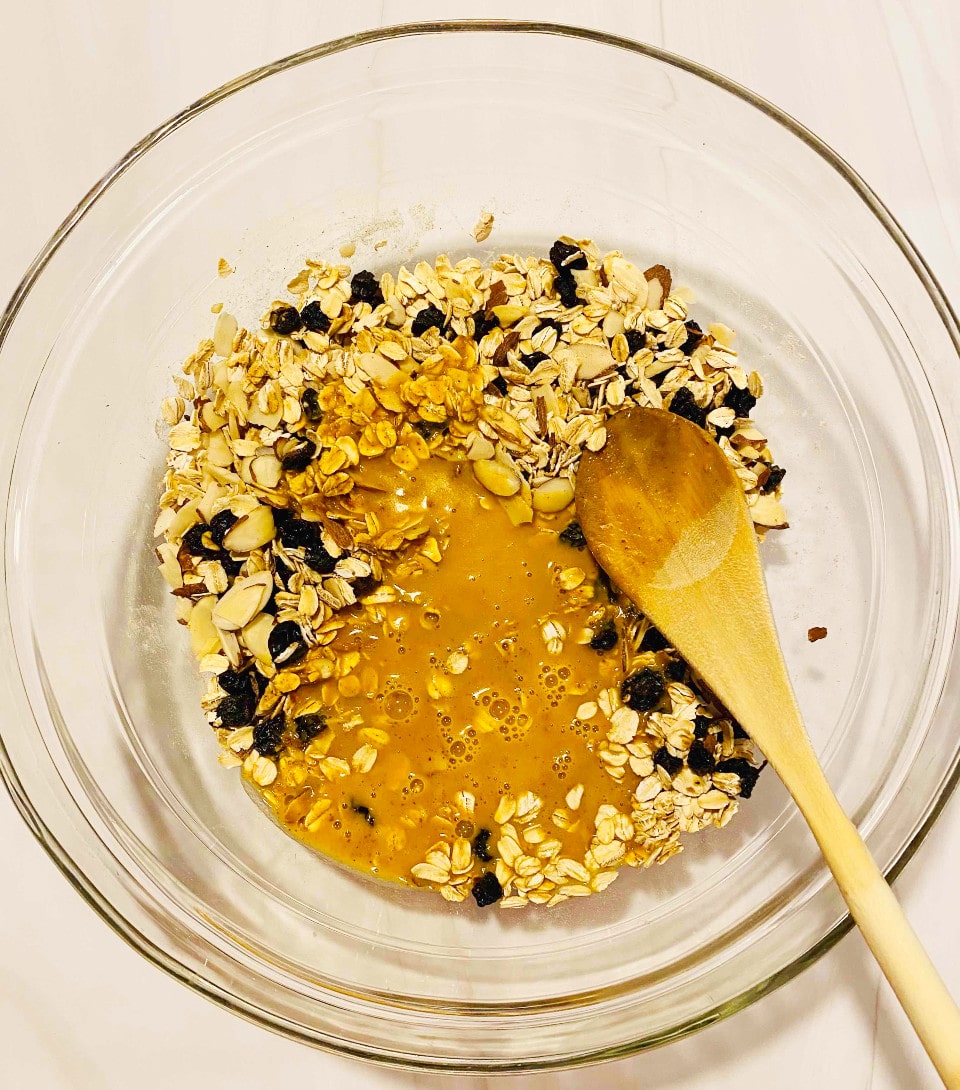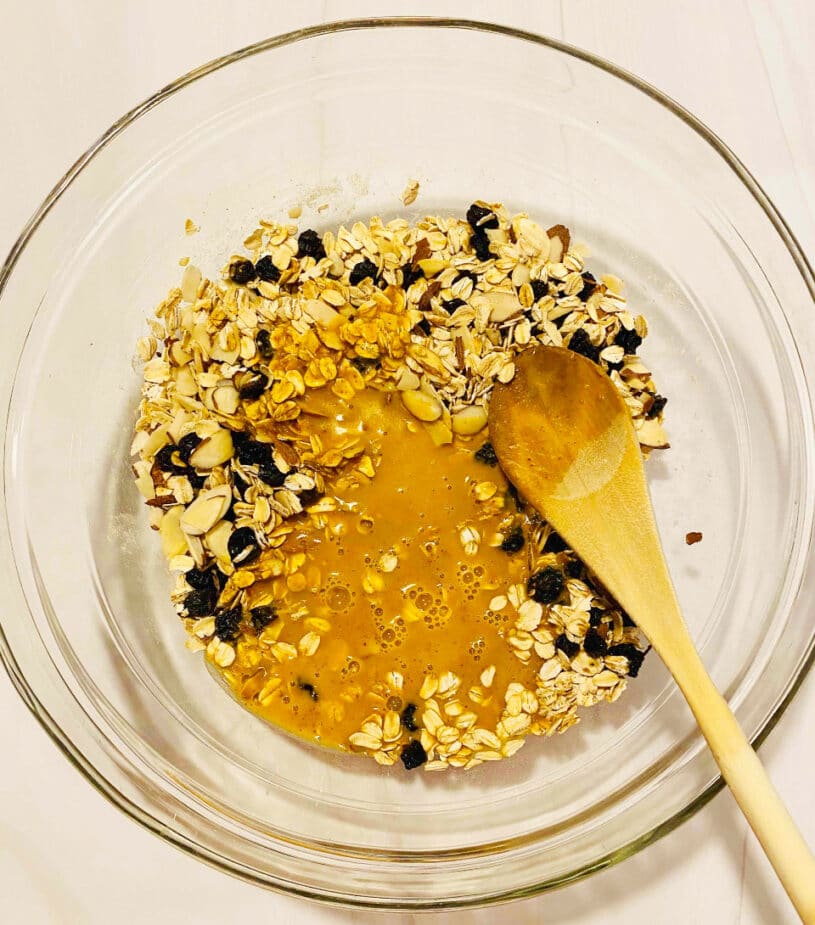 Finally – Bake the mix for 25 minutes, or until lightly browned and firm to the touch. A pick should come out clean.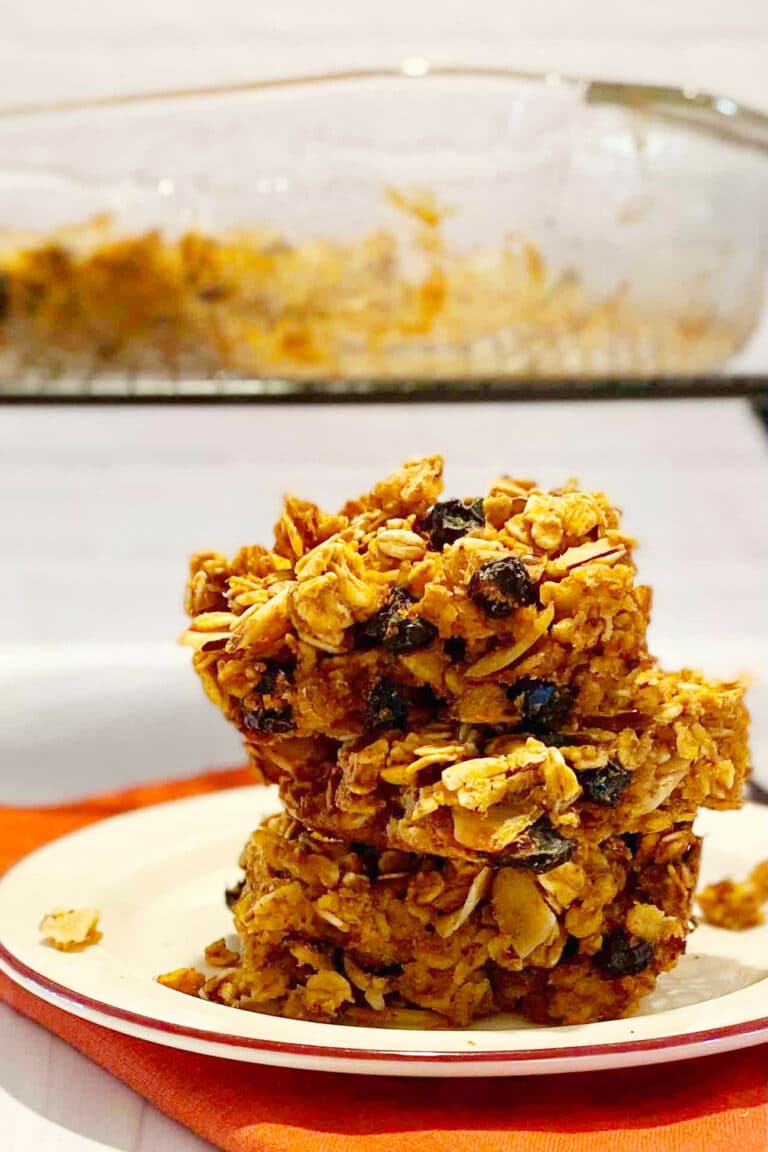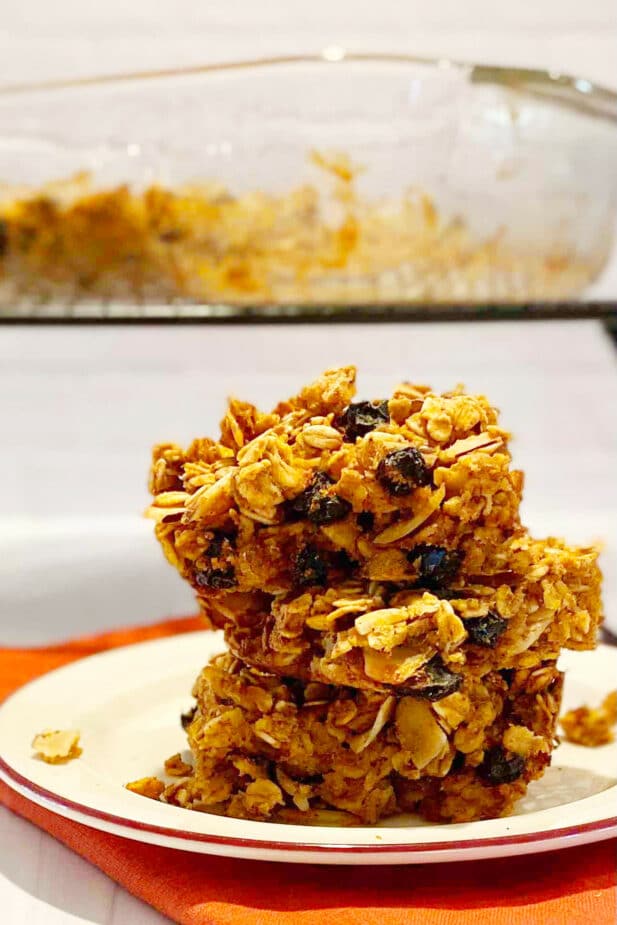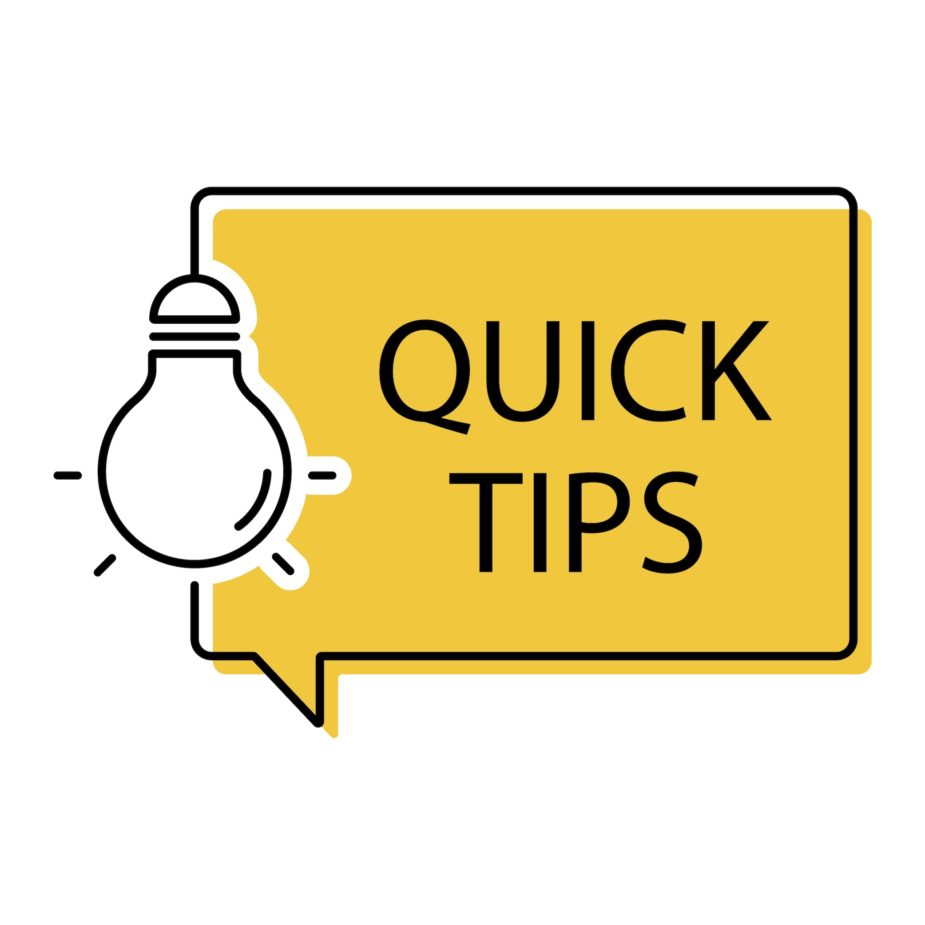 Spray your measuring spoon lightly with non-stick cooking oil spray before measuring sticky ingredients like maple syrup or almond butter. Those sticky ingredients will slide right out of the measuring spoon, making sure you get 100% of the ingredients you measured!
Variations
Use regular milk in place of almond milk.
Try swapping the almond butter with walnut butter and use chopped walnuts instead of almonds.
Storage Tips
Baked Pumpkin Oat Bars can be stored in an airtight container at room temperature for a week.
They also freeze well. Just wrap them tightly and freeze them individually. They will last for about 3 months in the freezer.
Other Recipes you will love
Dark Chocolate Chip Baked Oats with Almonds and Cherries
Dark Chocolate Hazelnut and Cherry Granola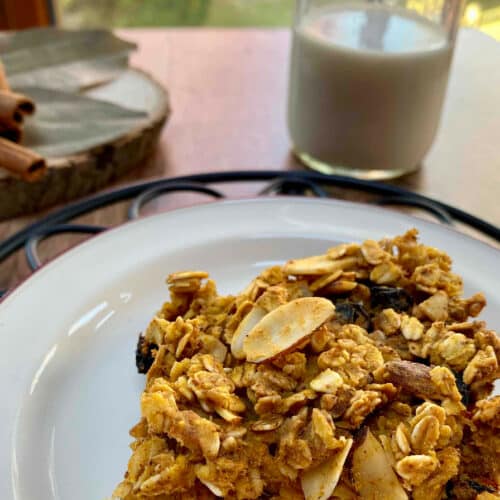 Baked Pumpkin Oat Bars
A hearty breakfast bar that is full of fall flavors. A perfect make-ahead treat for a cool fall morning.
Equipment
1 8 x 8 baking pan

1 handheld mixer
Ingredients
2

cups

old fashioned oats

2

tsp

baking powder

1

tsp

pumpkin pie spice

½

tsp

salt

kosher

½

cup

sliced almonds

toasted

½

cup

raisins

optional

1

large egg

½

cup

pumpkin puree

2

tbsp

almond butter

½

cup

almond milk

¼

cup

maple syrup
Instructions
Preheat the oven to 350°F for a glass pan or 375°F for a metal or ceramic pan. Spray an 8 x 8 baking pan with non-stick cooking spray.

Place oats, baking powder, salt, and spices in a large bowl and mix to combine the dry ingredients.

Add the raisins and almonds to the oat mixture and toss to coat with the oats. This will prevent them from sinking to the bottom while cooking.

In a separate bowl, mix the egg, almond butter, pumpkin puree, maple syrup, and almond milk on medium speed. Using a handheld mixture will help ensure the almond butter is completely incorporated.

Add the pumpkin mixture to the oats and mix well. Pour the mixture into the prepared pan. Make sure the mixture is evenly distributed and gets into the corners. Smooth the top with a spoon.

Place the pan in the middle of the oven and bake for approximately 25 minutes, or until it is firm and a toothpick comes out clean.

Cool slightly on a rack and then cut into pieces. These are best enjoyed fresh from the oven with a drizzle of maple syrup over the top.
Nutrition
Serving:
1
bar
Calories:
280
kcal
Carbohydrates:
43
g
Protein:
8
g
Fat:
10
g
Saturated Fat:
1.5
g
Polyunsaturated Fat:
2.5
g
Monounsaturated Fat:
5
g
Cholesterol:
30
mg
Sodium:
200
mg
Potassium:
350
mg
Fiber:
5
g
Sugar:
20
g
Calcium:
320
mg
Iron:
2
mg