It may seem like holiday time is the only time for fun appetizers, but I'd argue that any night of the week is a great night for a delectable before-dinner treat. I mean, why not?
These Italian stuffed mushrooms are just filling enough to take the edge off. And never mind that they are filled with some mind and body-boosting nutrients too. (I have to throw a little health twist in here, right?)
Sunday nights though, are the perfect time for a little appetizer before dinner. My hubby and I love to cap off our weekend with a Sunday night cocktail and I like to pull together some quick appetizers to nibble on while we relax.
Normally we just have some hummus and crackers or if we are feeling indulgent, some cheese and crackers. Once in a while though, I like to dress it up a bit and actually get in the kitchen and make something a little extra special. And that is what I did last weekend.
I had picked up some really nice-looking portabella mushrooms at the store and had some leftover fresh spinach that needed to be used up. I decided to play around and the results were, well, we both thought, pretty darned amazing.
These little babies will work for a casual night in, or a special occasion too. We loved them, but you give these a try and tell me what you think! Now, let's get to it – I know you don't want to read all about how or why I came up with these!
What You Will Need to Make Italian Stuffed Mushrooms
Extra virgin olive oil
Medium-sized portabella mushrooms
Fresh baby spinach
Sundried tomatoes packed in olive oil
Onion and garlic
Just a little Parmesan cheese
How to Make Them
Start by cleaning the mushrooms and taking the stem off and setting those aside. Then, scrape the "gills" out from the inside of the mushroom. I do this with a spoon. Cleaning the gills out accomplishes two things: it gives you more room for the filling and it gets rid of the bitter/earthy flavor.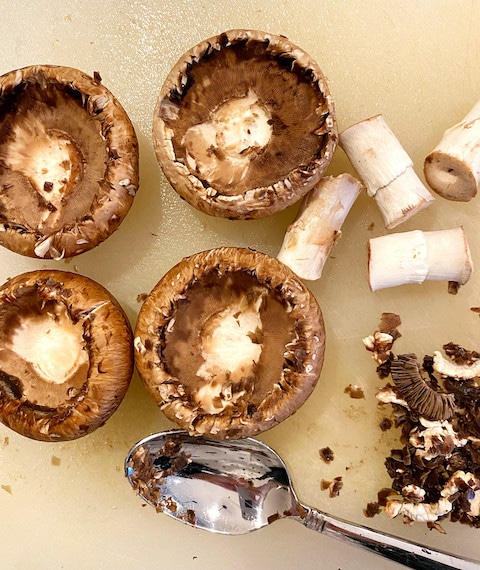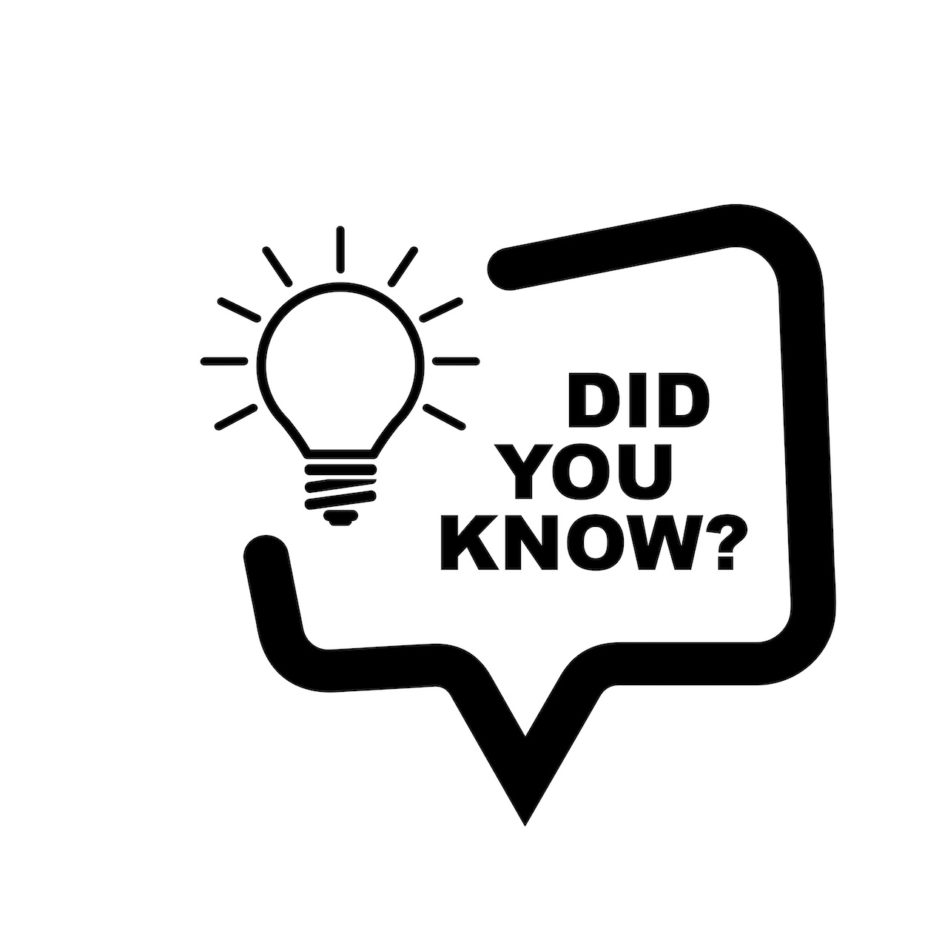 The "gills" of a portabella mushroom can be a bit bitter, hold sand and dirt, and add a dark color to your dish. Scrape them out with a spoon before cooking them. Save them to add to vegetable stock to give it a rich mushroom flavor. Just keep in mind they will turn your stock brown. But maybe, that is exactly what you want for a creamy mushroom soup!
Next, chop the onions and the stems of the mushrooms. Heat a little olive oil in a large skillet and cook the onions until translucent. Then add the garlic and cook until it is fragrant.
Now, add the mushroom stems and cook all until the mushrooms are cooked down and the onions are soft.
While they are cooking, chop the spinach into small pieces and remove the sundried tomatoes from the oil, and chop.
Once the mushrooms are soft and there is no liquid in the pan, add the spinach and the sundried tomatoes and cook until the spinach is wilted, making sure all the ingredients are well combined. Stir in 1 tablespoon of the parmesan cheese and mix well.
Fill each mushroom cap with some of the spinach mixture, slightly mounding it. Sprinkle all the mushrooms with the remaining parmesan cheese. (You really just need a little on top)
Place the pan in the oven and bake it for 20 minutes. Mushrooms will be tender and the spinach and tomatoes just browned.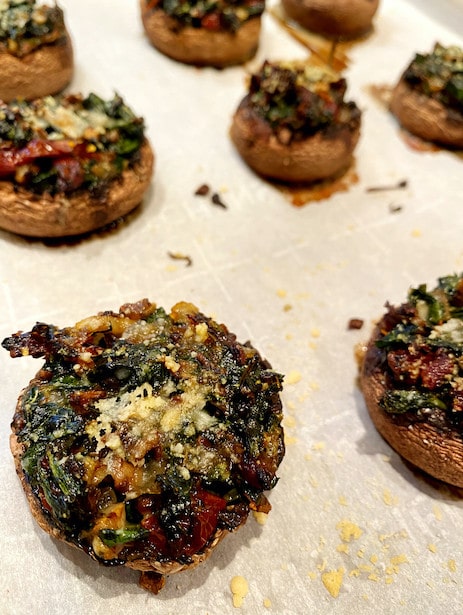 Variations
You can stuff a couple of large portabellas and enjoy these as a side for a flavorful dinner!
Ditch the Parmesean cheese and add a little nutritional yeast on top if you want a flavorful vegan dish. 
Instead of spinach, give some Tuscan kale or Swiss chard a try. 
FAQs (use FAQ block in WP)
How do you prevent mushrooms from seeping too much liquid and becoming soggy?
To keep the mushrooms from seeping too much liquid I've found cooking them at a high temperature really helps. I tried these at 350°F and 400°F and the higher temperature really made a difference. I still had a little liquid on the parchment paper but for the most part, they stayed firm and weren't mushy.
Can you freeze stuffed mushrooms?
Yes, you can freeze stuffed mushrooms. They are better if you freeze them before you bake them (see storage tips below) but you can freeze them after cooking as well.
How long do stuffed mushrooms last once they are frozen?
They will last for about 3 months in the freezer if they are uncooked, and about a month cooked. Keep in mind the quality diminishes the longer they are frozen.
Can you use canned diced tomatoes in place of sundried?
You can certainly try but you will end up with a very different flavor and they will add more liquid which isn't desirable in this recipe. If at all possible stick with the olive oil-packed tomatoes. The oil adds some richness and tons of flavor too.
Can you use sundried tomatoes that are not packed in oil?
Yes, you can definitely use plain sundried tomatoes. You will need to rehydrate them by letting them soak in some hot water to the point they become soft and easy to cut. You will also probably want to add some extra olive oil when you add spinach.

What size mushrooms should you use?
I like to use the medium size portabella mushrooms. They are about an inch to 2 inches in diameter. Baby Bellas are too small. You could use the large portabella mushrooms but will only need a couple of those.
Storage Tips
These are best fresh from the oven, but if you want to make extra they will freeze. It is best to freeze them before you cook them though. Just remove them from the freezer and place them right in the oven. They won't be soggy this way.
What if you have leftovers after you cook them? Well, pop them in the fridge and enjoy them for lunch the next day! You can try freezing them but just know the texture won't be as nice as when you first made them.
Other Recipes you will love
If you are looking for other appetizers or ways to use mushrooms, check out a few of my favorites below!
Pasta Bake with Sausage, Kale and Mushrooms
Love these Italian Stuffed Mushrooms? Sign up for my email list to get new recipes and health tips delivered right to your inbox once a month (no more than that, I promise!) Sign up here.
Love this recipe? Please add your rating and tell us in the comments why you loved it!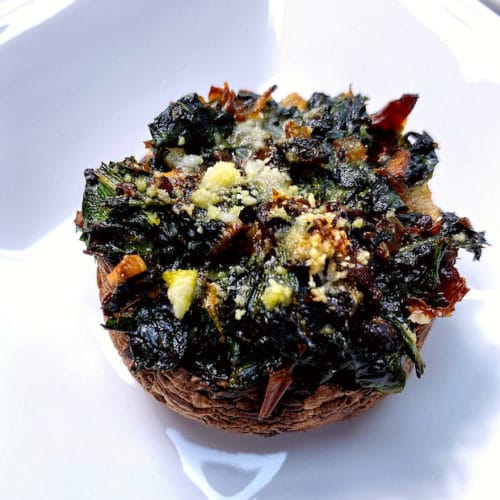 Italian Stuffed Mushrooms
This delectable appetizer is perfect for a holiday or just a cozy night at home for the two of you!
Equipment
1 medium sheet pan

1 sheet parchment paper

1 knife

1 cutting board
Ingredients
2

tbsp

extra virgin olive oil

4-8

med size

portabella mushrooms

stems removed, gills cleaned out

½

cup

chopped sweet onions

2

each

garlic cloves, chopped

2

cups

chopped spinach

fresh

¼

cup

chopped sundried tomatoes

oil packed

1 ½

tbsp

shredded parmesan cheese
Instructions
Preheat the oven to 400 °F. Line a sheet pan with parchment paper.

Clean mushrooms, remove the stems, and chop them finely. Set aside. Gently scrape the gills out of the center of each mushroom. Place them on the prepared sheet pan.

In a medium skillet heat the olive oil over medium heat. Add the onions and chopped mushroom stems to the skillet and cook for 3 minutes until the mushrooms start to brown and the onions are translucent. Add the chopped garlic and cook for 1 minute.

Stir in the chopped spinach and tomatoes and cook for about 2 minutes until the spinach wilts. Stir in 1 Tablespoon of parmesan cheese.

Place ~ 1 Tablespoon of the spinach mixture into the center of each mushroom. Depending on the size of the mushroom some will take more and some less. Top with a sprinkling of the remaining cheese.

Place the pan in the oven and roast for 20 minutes, until the mushrooms are just soft and the cheese is browned.
Notes
You can easily double this recipe for a party. Make them the day before and hold them in the refrigerator. Bake them right before your guests arrive.
Nutrition
Serving:
2
mushrooms
Calories:
120
kcal
Carbohydrates:
8
g
Protein:
3
g
Fat:
9
g
Saturated Fat:
1.5
g
Polyunsaturated Fat:
1.5
g
Monounsaturated Fat:
6
g
Sodium:
80
mg
Potassium:
530
mg
Fiber:
2
g
Sugar:
3
g
Vitamin C:
15
mg
Vitamin D:
24
µg