My husband and I took a wonderful vacation to Ireland last fall. It was a trip full of gorgeous sites, beautiful vistas, memorable drives, and delicious food. Yes, the food was surprisingly good but the breakfasts were what I loved the most.
Ireland isn't known for its cuisine, but it is known for breakfast! The traditional Irish breakfast of eggs, toast, potatoes, blood sausage, roasted tomatoes and bread is what most people think of when they think of Irish cuisine.
I'm not much of an egg eater. Ok, let's be honest; I really don't like eggs at all so breakfast has always been a lighter meal for me. Usually, it's a bowl of cereal and milk with fruit, but when I travel I'll splurge, and especially on this trip.
Every morning when we sat down for breakfast a small basket of fresh baked bread was placed at our table. Usually, it was a variety of rich, brown hearty bread with real butter and fresh jam. Honestly, that along with a cup of coffee was enough for each of us, but we always made our way to the buffet anyway where we often found fresh fruit, oatmeal, scones, rolls, pastries and a variety of jams and jellies.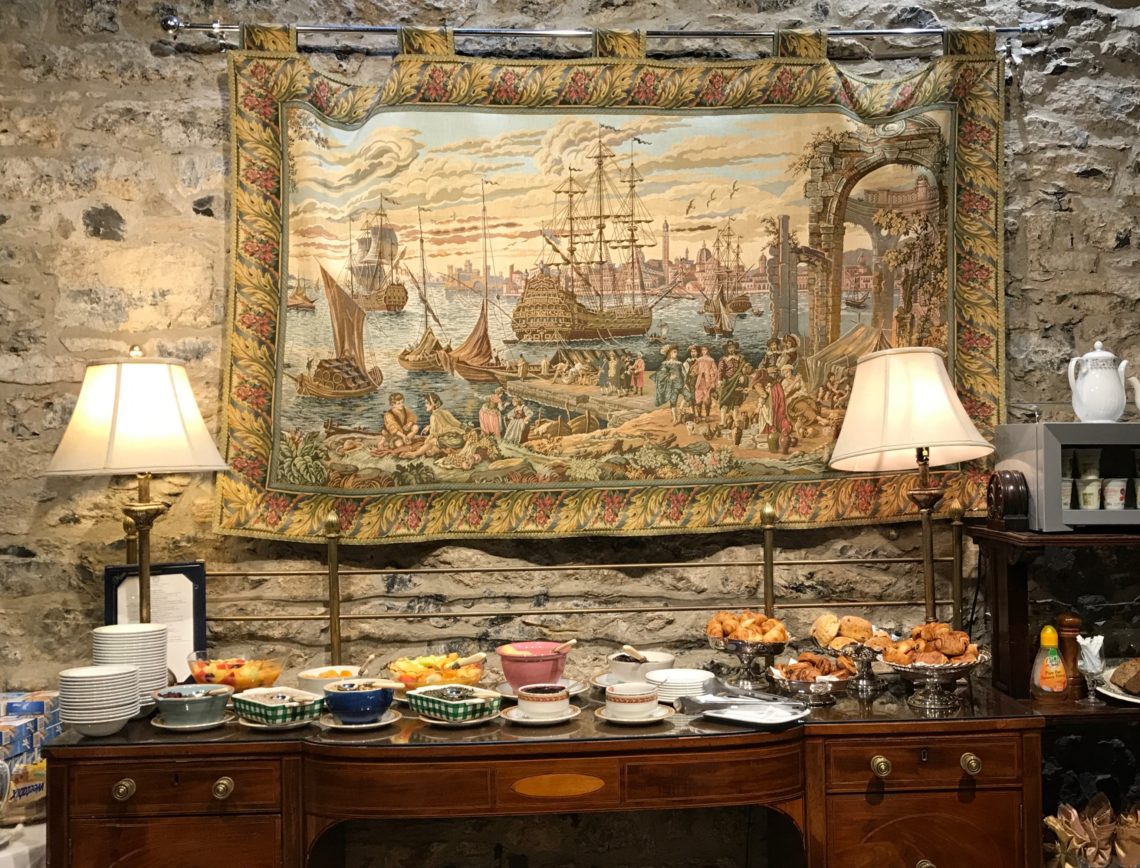 It was more than enough to get our day off to a good start. I loved the richness of the bread. It was always hearty and dense and when slathered with butter and jam, absolutely delicious. With St. Patrick's Day around the corner, this weekend seemed like a good time to try my hand at making them at home.
On vacations, I typically pick up at least one cookbook but I had a hard time finding a really good one on this trip. I did find a little Irish Baking Book by Ruth Isabel Ross part way through the trip and decided it would be the perfect remembrance. She includes a variety of baked goods but I love the old country recipes in the beginning. They are rich and hearty and what I think of when I think of Ireland.
Her Brown Soda Bread was the first I tried but I found it much too dense, so I made a few adjustments. I also like (and always remember) having currents or raisins in soda bread, which her recipe didn't call for so I added them to this one. Instead of one large loaf, I rolled these into little mini loaves so you can just grab one as you head out the door to the parade. They are still pretty dense and hearty and are certainly substantial enough to keep you going for a bit!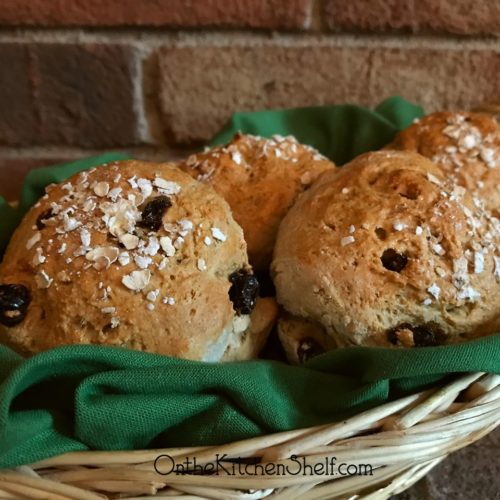 Mini Irish Soda Bread
Mini whole wheat Irish soda bread, perfect before heading out for St. Patty's Day festivities
Ingredients
1

cups

whole wheat flour

3

cups

all purpose flour

1-1/2

tsp.

baking soda

1

tsp.

salt

1-1/2

cups

buttermilk

1/2

cup

raisins or currants

1

egg

beaten

2

Tbsp.

rolled oats
Instructions
Mix flours, baking soda, and salt in a large bowl.

Gradually mix in buttermilk until a rough dough forms. Add raisins or currents and combine.

Turn out onto a floured board and knead until the raisins are mixed throughout and the dough begins to soften.

Roll into a log and cut into 8 equal pieces.

Roll each piece into a ball and place on a baking sheet, leaving at least 1-inch around each. Brush each with beaten egg wash and sprinkle with oatmeal.

Bake in the middle of a preheated oven for 25 – 30 minutes, until browned and firm when tapped.

Remove from oven and serve with butter and jam.
Notes
Recipe adapted from the Irish Baking Book, by Ruth Isabel Ross
Please follow and like us: