Updated: January 2022
My husband and I took a wonderful vacation to Ireland a few years ago. It was a trip full of gorgeous sites, breathtaking vistas, memorable drives, and delicious food. Including Irish Soda Bread, which is what inspired me to create this delicious mini Irish Soda Bread recipe.
Ireland may not be known for its cuisine, but everything we had was delicious. Beginning with a hearty breakfast every morning to some of the best seafood dinners I've had – the food really was amazing.
The breakfasts and bread were really amazing and the perfect way to start the day. Every morning started with a cup of coffee and a basket of bread and rolls, typically including my favorite, Irish Soda Bread.
What is an Irish Breakfast
The traditional Irish breakfast is huge! Eggs, toast, potatoes, blood sausage, roasted tomatoes, and bread – lots of bread! It is a hearty, "stick to your ribs" kind of meal that will keep you going all day. With a packed sightseeing schedule, that is not a bad way to start the day!
Breakfast at home is always a lighter meal for both of us Usually, it's a bowl of yogurt and berries or a fruit smoothie or toasted English muffin with cheese. However, when we travel, I tend to splurge, especially when breakfasts are this good!.
Each morning when we sat down for breakfast a small basket of fresh-baked bread was placed at our table. Usually, it was a variety of rich, brown bread, slices of Irish soda bread and muffins or scones along with real butter and fresh jam.
Honestly, that along with a cup of coffee was enough for each of us, but we always made our way to the buffet anyway, where, in addition to the eggs, sausage and potatoes, we often found fresh fruit, oatmeal, yogurt, pastries, and a variety of jams and jellies.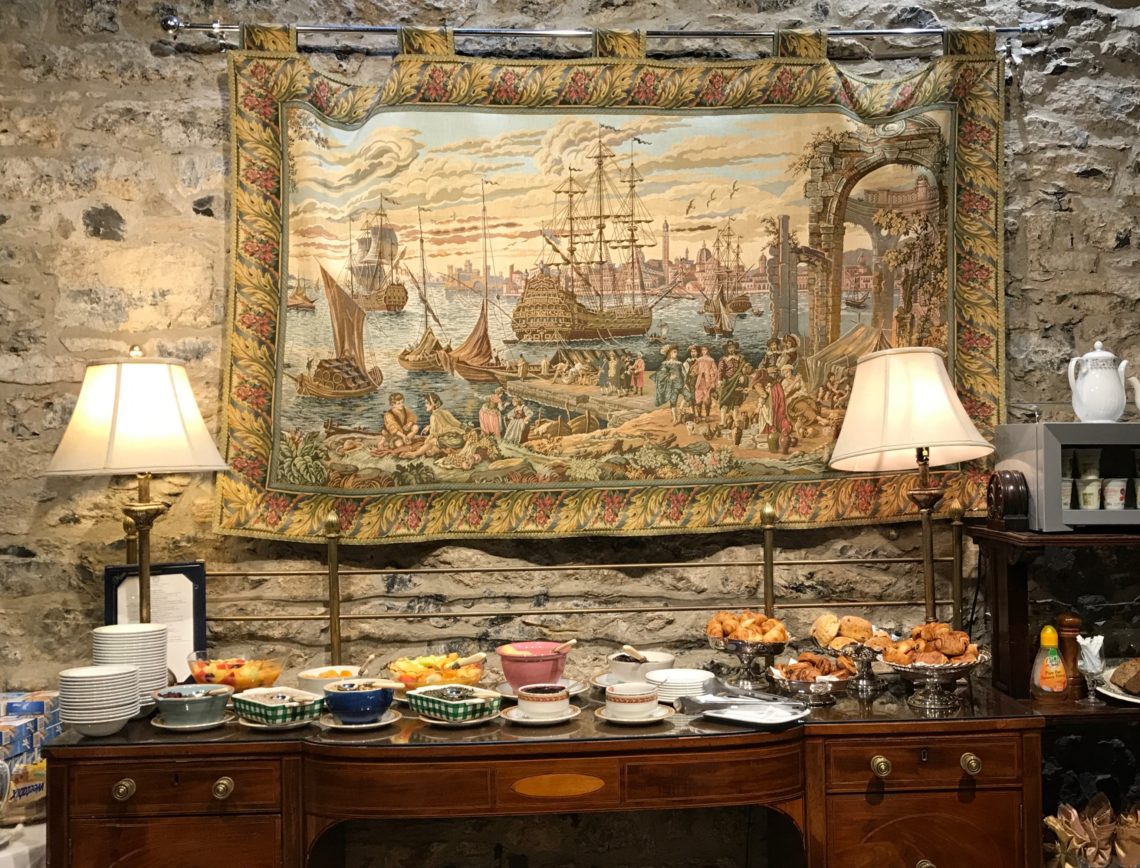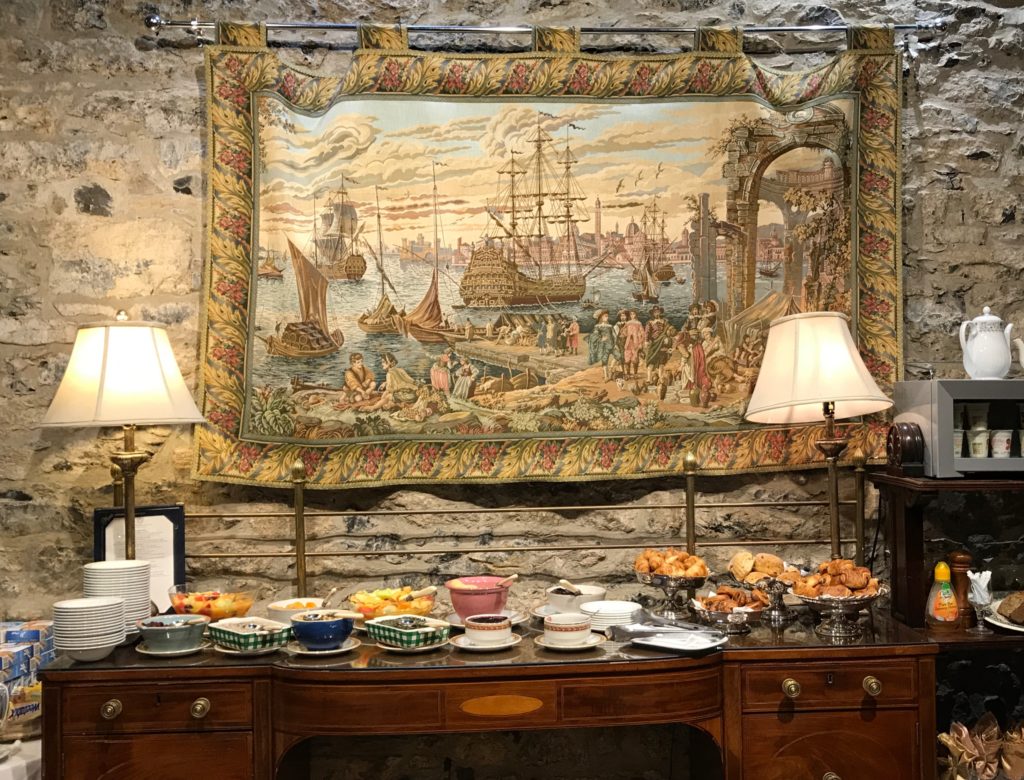 What is traditional Irish Soda Bread?
Irish soda bread is a quick bread that is made with buttermilk and baking soda. It doesn't require yeast or any proofing time and takes just a few ingredients. It is leavened (meaning it puffs up when cooked) by the combination of buttermilk and baking soda.
Irish Soda Bread can be sweet or savory. It may have raisins or currents or other dried fruit or caraway seeds while others may be plain.
Some loaves of bread are rich and brown and made with a hearty red whole wheat flour while others are less dense and made with white flour.
Some soda breads require a bit of kneading to stretch the dough, while others are just mixed and placed in a pan.
You are probably getting the idea – there really isn't ONE recipe for Irish Soda Bread. It seems everyone has their own version.
How to make Mini Irish Soda Bread
When we got home from our trip I started trying some of the recipes from the "Irish Baking Book" by Ruth Isabel Ross. (a memento I picked up on our trip so I could try to recreate some of my favorites!)
Her Brown Soda Bread was the first recipe I made. We liked it but it was a bit too dense and heavy for my taste. So I made a few adjustments and kept playing until I came up with a recipe I loved.
I used just 6 ingredients to make my Mini Irish Soda Bread:
Whole wheat pastry flour (a bit finer than just regular whole wheat flour and works well in baking), 
All-purpose flour
Kosher salt, 
Baking soda
Buttermilk – I use full fat buttermilk since there is no other fat in this recipe
Raisins
I do knead my dough. It is an extra step but I think it makes a more tender bread and only takes an extra 3 – 4 minutes. And it makes it easier to separate into 8 equal size rolls.
Instead of one large loaf, I rolled these into little mini rolls so you can just grab one as you head out the door to the parade or have it with a bowl of Irish stew when you get home. They are hearty and substantial enough to keep you going for a bit!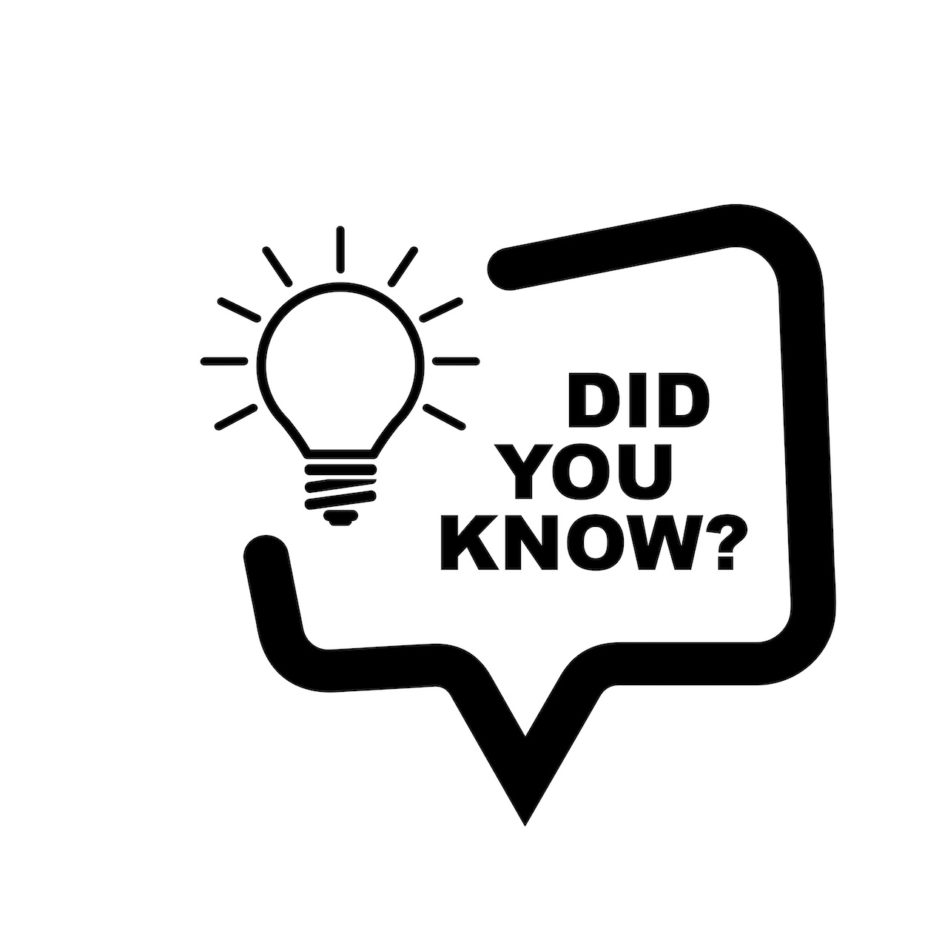 If you don't have buttermilk you can make your own? Use 1 1/2 cups of regular, whole milk and add 1 -1/2 tablespoons of lemon juice or white distilled vinegar.
Variations
Skip the raisins if you aren't a fan.
Use 100% all-purpose flour if you don't have whole wheat pastry flour.
You can use white whole wheat flour in place of the whole wheat pastry flour but your rolls will be a little denser.
If you like your rolls sweeter, add some honey or sugar to the dough. A couple of tablespoons is really all you need.
How to store them
These will probably be gone quickly but if you do have any leftovers, place them in a resealable bag and store them on your counter for a few days or in your freezer for up to 3 months. 
I recommend reheating them as they are pretty dense and are best when they are warm with a little butter on them!
Serving Suggestions
Since I don't use sugar in this recipe it really is pretty versatile. We enjoy these for breakfast with some honey and jam, or they are nice with a pat of butter on the side of a warm bowl of soup or Irish Stew. 
Of course, you can also just grab one as you head out the door for the local St. Patty's Day parade! They travel well and a hearty enough to fill you up so you can enjoy all the sights without your stomach growling!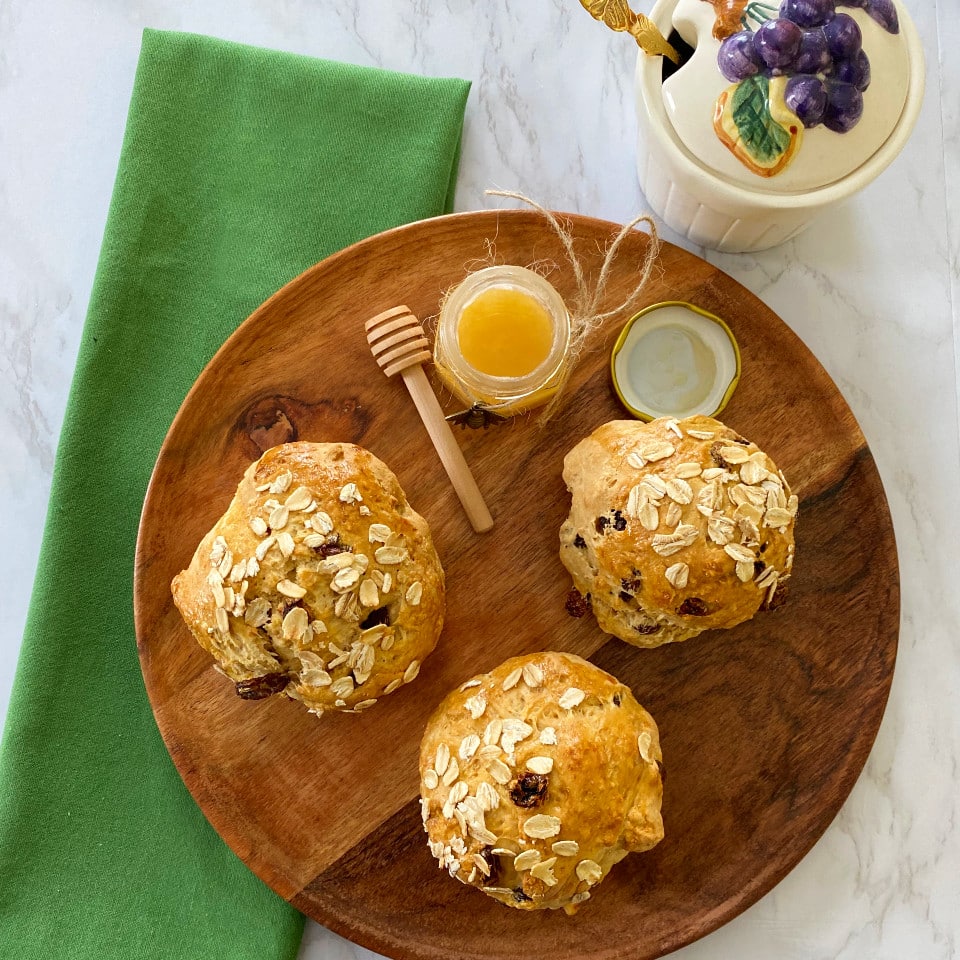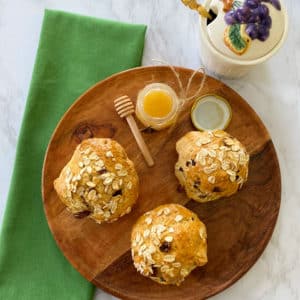 Mini Irish Soda Bread
Mini Irish soda bread is a hearty way to start your day or to soak up juice from a rich Irish Stew.
Equipment
1 large bowl

1 cutting board

1 baking sheet

1 Parchment Paper
Ingredients
1

cup

whole wheat pastry flour

3

cups

all purpose flour

1½

tsp

baking soda

1

tsp

kosher salt

1½

cups

buttermilk

whole milk

½

cup

raisins or currants

1

egg

beaten

2

tbsp

rolled oats
Instructions
Preheat the oven to 400°F.

Mix the flours, baking soda, and salt in a large bowl.

Gradually mix in the buttermilk until a rough dough forms. Add the raisins or currents and mix until they are distributed through the dough. The dough will be rough and crumbly. 

Turn the dough out onto a lightly floured board and knead it until the raisins are mixed throughout, and the dough becomes smooth – about 3 – 4 minutes.

Roll the dough into a log and cut it into 8 equal pieces.

Roll each piece of dough into a ball and place it on a parchment-lined baking sheet, leaving at least 1-inch around each roll. Brush each roll with the beaten egg and sprinkle them with oatmeal.

Place the baking sheet in the middle of a preheated oven and bake for 25 – 30 minutes, or until browned and firm. They should have a "hollow" sound when tapped. 

Remove the rolls from oven and place the baking sheet on a wire rack to cool slightly. Serve the rolls with butter and honey, or jam.
Notes
Recipe adapted from the Irish Baking Book, by Ruth Isabel Ross
Nutrition
Serving:
1
roll
Calories:
270
kcal
Carbohydrates:
57
g
Protein:
8
g
Fat:
2
g
Saturated Fat:
1
g
Cholesterol:
10
mg
Sodium:
530
mg
Potassium:
150
mg
Fiber:
4
g
Sugar:
10
g
Vitamin D:
1
µg
Calcium:
60
mg
Iron:
30
mg