There is a tradition in my husband's family that I love. Every year his great-aunts gathered at their local church, along with other ladies in the area, and made Italian Easter Bread. These ladies make loaves and loaves of this rich bread and sell them as a fundraiser for the church. Mark's mom always made sure that he and his brothers each got one or two loaves for their families.
The Easter after we were engaged was the first time I had a taste of this bread. This rich bread has a delicious buttery and eggy flavor and is slightly sweet. It is delicious toasted and slathered with butter or a confectioners sugar icing. I know, who wouldn't love that?
I remember asking Mark's mom for the recipe after our first Easter together. She told me that her Aunt Maggie had it and she would ask her for it. Aunt Maggie came through and delivered her recipe at the next family event.
Her recipe calls for about 24 eggs and pounds and pounds of flour! I don't remember how many loaves she said it made, but it is way more than the 2 of us could ever eat!
I later found out that she had given the same recipe to each of my sisters-in-law. Apparently, we all threw in the towel after seeing that and just enjoyed the bread from the church ladies instead.
One year, my sister-in-law and I had Mark's mom and his aunt teach us how to make it. I took a stab at cutting the recipe down and we spent a fun Sunday afternoon mixing, kneading, and baking.
We lost Mark's Mom a couple of years ago and most of the great aunts are also gone, so this was a really special day. I'm so glad we found the time to do that.
We successfully made 4 loaves of bread and now have a more reasonable recipe for all of us to use and enjoy. This year I had my niece over to try it again. She and I spent a few hours making 4 delicious loaves of bread! It worked! It brings back wonderful memories for both of us.
You may have noticed that I love family food traditions. If you haven't, the more you read my blog, the more you will see that!
I think it is important to keep these food traditions alive and hope this is one we can keep going for years!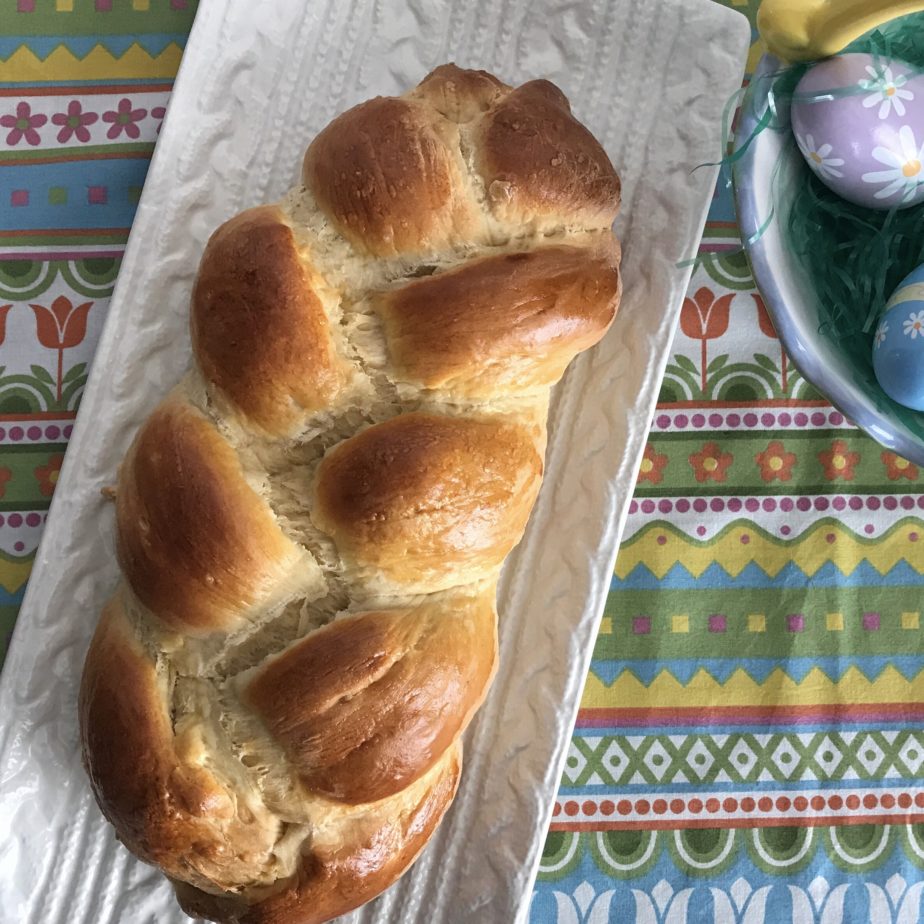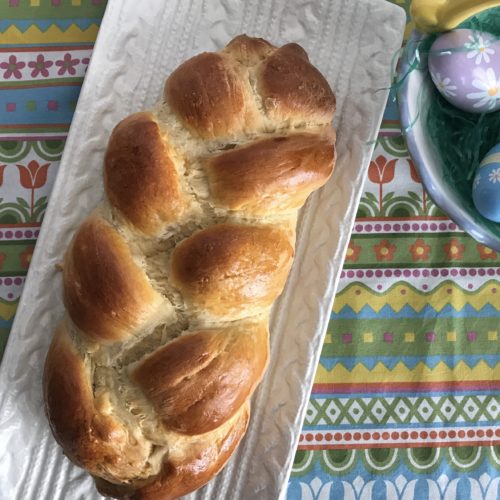 Italian Easter Bread
A traditional rich, dense braided bread served at Easter
Equipment
2

Large Bowls

I like a large metal bowl with a non-skid bottom is my go-to bowl.
Ingredients
6

eggs

2

cups

sugar

1-1/2

cups

2% milk

2

Tbsp.

vanilla

1/2

cup

margarine, melted and cooled

5

Tbsp.

yeast

3

lbs.

flour

1-1/2

Tbsp.

salt

Yellow food coloring (optional)
Instructions
Beat eggs and sugar (reserved 1 Tbsp. Sugar for the yeast) in a large bowl.

Warm milk to 105°F to 115°F. Sprinkle yeast and a little sugar over the milk and let it "proof" for ~ 5 minutes. It should be bubbling.

Place flour and salt in a really large bowl. Add eggs and sugar mixture, yeast, vanilla, milk and melted margarine (mix food coloring in margarine if you want a slightly yellow bread and mix together with a large wooden spoon.

Turn out onto a board and knead until the dough is smooth. Place in a large, clean bowl, cover with a kitchen towel, and allow to rise for about an hour to an hour and a half, until doubled in size. (I like using a large metal bowl for this as it holds the heat in the best)

Turn out onto a wooden board and punch down and knead again briefly. Split in fourths (about 1-1/2 pounds each) and place all but one back in the bowl.

Break the first ball into 3 equal pieces and roll into long "logs" (about 12-15 inches). Line them up next to each other and press the ends on one side together. Braid the three pieces and finish by pressing the other ends together. Repeat with each ball of dough.

Place loaves on individual baking sheets, cover with a towel and let rise for an hour to an hour and a half.

Brush each loaf with a beaten egg and bake in a preheated 275°F oven for one hour.
Notes
Once cooled wrap each loaf tightly with plastic wrap. They will stay fresh in the freezer for a month or two.
Nutrition
Calories:
190
kcal
Carbohydrates:
37
g
Protein:
5
g
Fat:
3
g
Saturated Fat:
2
g
Monounsaturated Fat:
1
g
Cholesterol:
35
mg
Sodium:
230
mg
Potassium:
25
mg
Fiber:
1
g
Sugar:
11
g
Calcium:
16
mg
Iron:
2
mg