Growing up we had fish every Friday. Not just during Lent, but pretty much every Friday night was a meatless night and that usually meant fish. Normally it was a baked white fish fillet with lemon juice, tuna soufflé or for a special treat, shrimp cocktail. Never would fish tacos have appeared on her menu though!
My Mom was a pretty creative cook and considering there were 8 of us to feed, the fact that she was able to work fish into our meals was amazing. And even more amazing that she didn't have a lot of varieties to choose from. There just weren't a lot of fish options available at that time, and what was available was expensive.
Today, we are lucky to have so many types of fresh fish available – even if you don't live near the coast, there are plenty of varieties to choose from. Mark and I try to have some type of fish dish once a week. While we love a nice salmon fillet or lemon sole it's nice to make it a casual dinner too and for that, we love fish tacos.
My first experience with fish tacos was on a trip to California, in a little restaurant near Long Beach. My new boss and I stopped for a quick lunch on our way to a meeting. I wish I could remember exactly where it was but it was just a cute little lunch place in some small town in Southern California.
If you have never tried fish tacos, California is certainly one of the best places to try them! Grilled fish on grilled corn tortillas with cabbage and avocado drizzled with a zesty creamy lime sauce. The creamy avocados with tender seasoned white fish and a little crunch from the cabbage and a bite of lime at the end – so good! It was years ago but I still remember and I've never had any as good as those.
I've played with recreating them but decided it was best to leave that as a memory and make my own. While I love grilled fish, for tacos at home I like to make a light breading and bake them. I can throw them in the oven and get everything else ready to go while they cook.
I use cod for this recipe as it has a meaty texture that holds up to breading and baking nicely and the seasoning that I add to the breading mixture works well. The fish doesn't overpower the seasoning.
Cod is easy to cook and it is a relatively inexpensive fish right now so it's good for a family or just two of you. I like a light breading as it gives the taco a bit more texture and crunch but you could certainly skip it and just use the seasoning if you prefer. I think corn tortillas work best and like white corn but flour tortillas are also good, especially if you grill them quickly.
These tacos are quick and easy, and with a light lime and yogurt sauce drizzled over top they are great with beer or a nice white wine on a warm spring Friday night.
Have you ever tried fish tacos? Do you prefer them breaded or grilled? Do you have a favorite sauce or do you eat them just like these?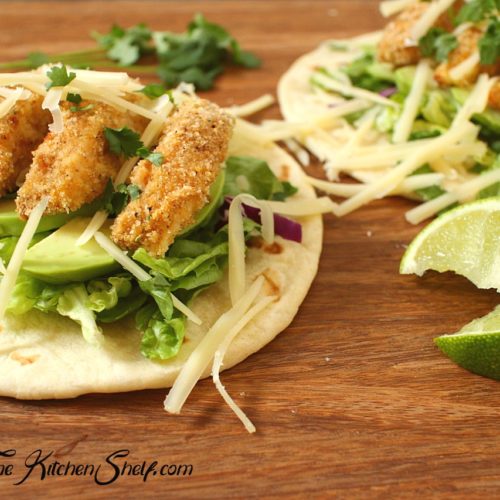 Fish Tacos
Lightly breaded and baked fish with avocado and lime juice.
Ingredients
1

lb.

cod fish

1/2

cup

bread crumbs

1/2

tsp.

chili powder

1/4

tsp.

garlic powder

1/2

tsp.

ground cumin

1/4

tsp.

smoked paprika

1/2

tsp.

oregano

Mexican

salt, to taste

1

tsp.

lime juice

1

egg

8

tortillas

white corn

1

cup

shredded lettuce or broccoli slaw

1

avocado

sliced

1/2

cup

shredded smoked white cheddar or cojita cheese
Instructions
Cut the cod into 1/2 inch by 1-1/2 inch pieces and set aside.

Mix bread crumbs, chili powder, garlic powder, cumin, paprika, and oregano together in a medium bowl. Add salt to taste

Whisk egg and lime juice in a small bowl until well combined.

Take pieces of cod and coat them with the egg mixture. Then toss with the bread crumbs to completely coat. Place on a baking sheet that has been sprayed with cooking spray or brushed lightly with vegetable oil.

Bake cod for 15 minutes in the preheated oven.

Meanwhile, place 2 tortillas on each plate. Tear lettuce into small pieces and put ~ 1/8 cup on each tortilla. (or use broccoli slaw or a combination)

Once cod is finished, place on top of lettuce and add a few slices of avocado on the side. Top with a little shredded cheese and add a squirt of lime juice on top.
Notes
A light yogurt sauce mixed with lime juice and a little chili powder would be a nice addition!