Warning! If you don't like chopping vegetables, this recipe is not for you!
I spent the better part of last week at a conference for work. It was the Produce for Better Health Consumer Connections Conference, in Scottsdale, Arizona. I've been to this conference 3 times and each time I come back renewed and with new ideas for both work and home. This year was no exception.
It was a busy conference with very little downtime but I still came home feeling a bit renewed. Maybe it was the warm weather and sunshine, or maybe it was the company and networking or maybe the food and all those fruits and vegetables! (They do improve your mood you know!?)
The food was fantastic and the educational sessions talking about how to help consumers eat more produce were all great. As I sat through some of the sessions and talked with my peers, I realized that I've been slacking a bit. Blame it on a long, cold winter but I know I haven't been eating as much fruit or vegetables as I should. While I make sure we have some every day, I know we certainly are not eating what is recommended on a regular basis.
Yes, even Registered Dietitians can slack and contrary to what you may believe, we don't always eat as well as we should! I know the health benefits – improve our immune system, improve our mood, help our hearts, our bones and our brains. Yup, I know that, and even though we try, I know we could do better.
Sitting on the plane on my way home, my brain swirled a bit and I came up with all sorts of ideas for recipes. Of course, the majority are fruit and veggie-focused and I think I have some fun ideas that I can share with you.
To kick this off, I came up with this Southwestern Chopped Salad over Grilled Romaine Lettuce.
This recipe is a combination of a couple of things I have been wanting to try. I love chopped salad, so creating one has been on my list of recipes to develop for a while. I have also wanted to develop a grilled romaine salad as well. This combines both and has a southwestern flavor. It will be perfect for Cinco de Mayo, this coming Sunday.
I find chopping vegetables relaxing and after a frustrating day, a great way to get all those irritations and aggravations out of my system. There is something about dicing a carrot or pepper that is soothing and calms me after a long day.
The salad has 9 different vegetables; peppers, cucumber, carrots, onions, corn and jicama along with avocado that is added just before serving. A spicy lime cilantro dressing that has a touch of diced jalapeño pepper for a little kick gets brushed over the Romaine just before grilling. The extra is added to the salad just before serving. (I added extra jalapeño to give it more of a kick, and you can go light or heavy with it based on how spicy you want it!)
So, are you like me and have fallen a bit off the wagon this winter with eating produce? What is your biggest challenge with eating more fruits and vegetables?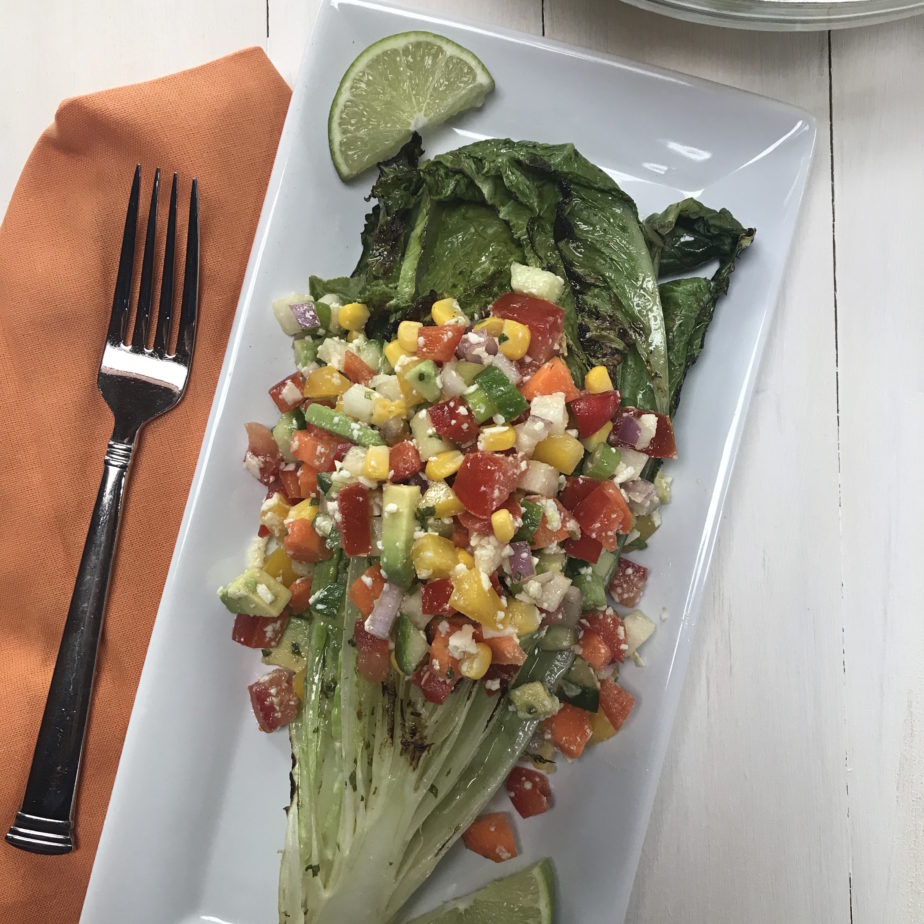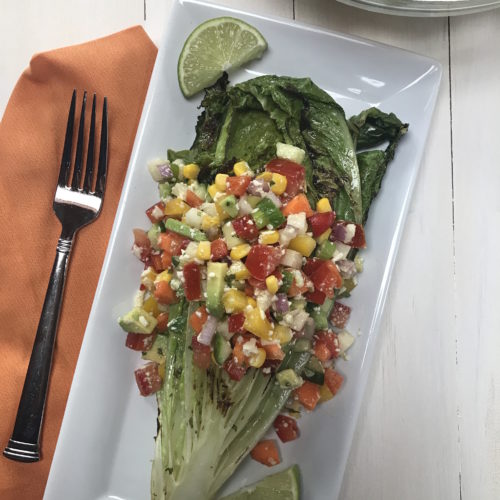 Southwestern Grilled Romaine Chopped Salad
This show-stopper of a salad will be the hit of your Cinco de Mayo celebration or any summer barbeque!
Ingredients
1/4

cup

diced red onion

1

cup

diced red pepper

1

cup

diced yellow pepper

1

cup

diced seedless cucumber

1/2

cup

diced carrots

3/4

cup

diced jicama

1

cup

diced tomato

seeded

1

cup

yellow corn

1

avocado

diced

1/2

cup

shredded cojita cheese

(about 2 oz.)

1/2

tsp.

ground cumin

1/4

tsp.

garlic powder

1

tsp.

chopped jalapeno

optional

4

Tbsp.

Lime Cilantro Dressing, divided

See below

4

Romaine hearts

split in half, lengthwise

2

tsp.

chopped cilantro

optional
Instructions
Mix all vegetables except the avocado in a large bowl. Add cheese, cumin, garlic powder, and jalapeno (if desired)

Gently mix in avocado and toss with 2 – 1/2 Tbsp. of the dressing.

Brush Romaine halves with remaining dressing, letting some dressing go into the crevices.

Place Romaine halves on the grill and close the lid. Check after 3-4 minutes. Remove from grill when softened and grill marks are evident.

Place Romaine halves on a large platter or individual plates. Top with 1 cup of chopped salad and sprinkle with chopped cilantro if desired.

Spritz with a wedge of fresh lime right before serving
Lime Cilantro Dressing
A zesty southwestern style dressing with a bit of a kick
Ingredients
3

Tbsp

Lime Juice

2

Tbsp.

Avocado Oil

1

tsp.

White Wine Vinegar

1/2

tsp.

Honey

1

Tbsp.

Chopped Cilantro

1

tsp.

Chopped Jalapeno

1/2

tsp.

Garlic Powder

1/2

tsp.

Ground Cumin

1

Tbsp.

Lime Zest

salt and pepper to taste
Instructions
Place all ingredients in a small bowl and whisk well.