My mother made artichokes for dinner at least once a year. She steamed them and then served them with a little ramekin of melted butter.  Tearing off the leaves, dipping them in melted butter, and then scrapping them across your teeth to get that tiny little bit of deliciousness.  I'm not sure if it was the little bit of choke I loved or the melted butter, but I looked forward to them every year and knew they were a special treat.  
Then I was introduced to Italian-style stuffed artichokes and everything I thought I knew about artichokes changed!
I don't think I knew that there was any other way to prepare, or eat, an artichoke until I went to my future in-laws for New Year's Dinner. My soon-to-be mother-in-law asked if I liked artichokes and I know my eyes lit up. "Of course", I said. Mark made some comment about how he thought they were a waste of time (so little food for so much work) but he said I had probably just endeared myself to his mother forever!
The next thing I knew, a huge platter of artichokes, covered in tomato sauce made its way to the table – along with platters of meatballs and sausage, parmesan-crusted chicken, cavatelli and sauce, pork and sauerkraut. I was being indoctrinated into a full Italian holiday dinner. As we stuffed ourselves, I tried my best to save room for that artichoke.
Finally, the platter was passed and as I carefully made the transition from platter to my plate I realized this was not like the artichokes I had growing up. Each leaf held a treasure – Italian meat stuffing.
I dug in…oh my! No butter needed here – the meat and sauce added all the flavor you needed and as I scrapped the leaf against my teeth I realized I had never tasted anything like this!
The following year I asked her to teach me to make them as I knew she didn't have a recipe for them and didn't want this tradition to die. My sister-in-law, niece and I worked with her and her sister and learned this long-standing Ali tradition.
I don't know that Italian-Style stuffed artichokes were ever a "New Year's Tradition" in his family or just something they always had around the holidays but in my mind, it will always be part of my New Year's dinner.
Mark still thinks they are a waste of time but he knows that I will always enjoy them and I know my Father-in-law and brother-in-law will eat them as long as I keep making them. Making them always brings back wonderful memories of that first New Year's Day with his family and spending time with his mom in learning how to make these.
I love special food memories – somehow they make the food taste that much better 🙂
Happy New Year – here's to a happy, healthy, and prosperous New Year!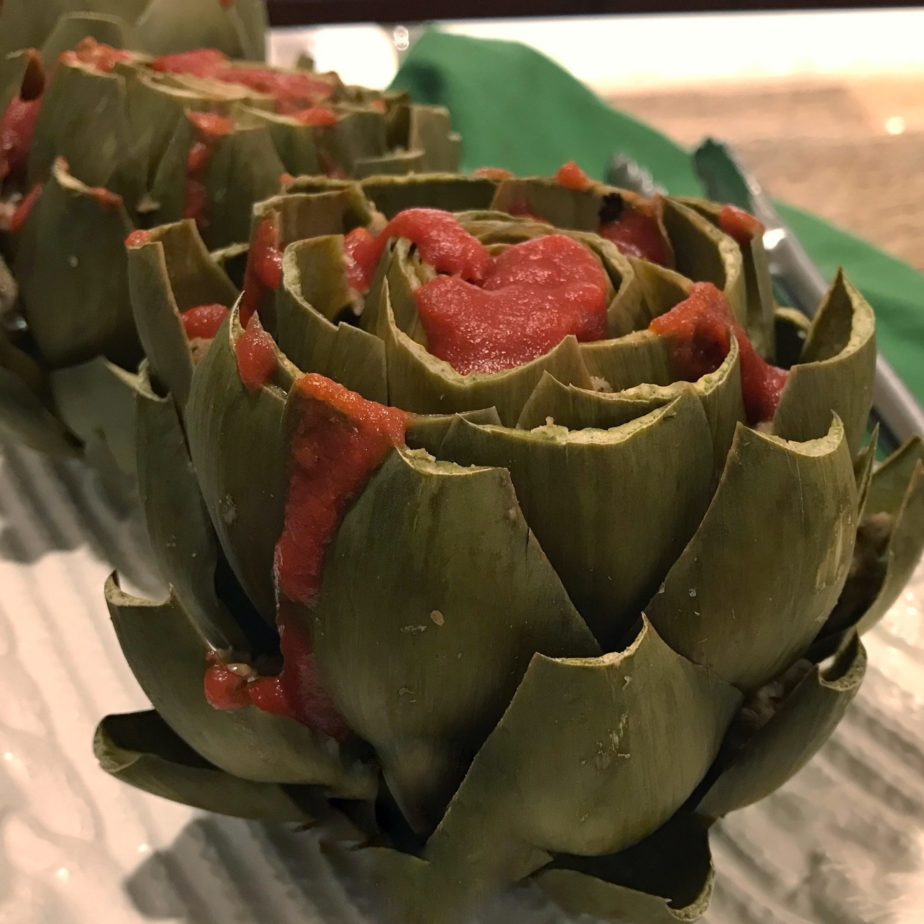 Italian-Style Stuffed Artichokes
Stuffed with an Italian sausage and meat blend and then steamed over chicken or beef broth these artichokes add a special touch to a holiday meal.
Equipment
2 large stockpots

1 kitchen scissors
Ingredients
1

lb

lean (90%) ground beef

½

lb.

sweet Italian sausage

¼

cup

finely diced yellow onion

¼

cup

bread crumbs

¼

cup

grated parmesan cheese

1

tsp.

dry basil

½

tsp.

dry oregano

¼

tsp.

kosher salt

¼

tsp.

black pepper

½

tsp.

garlic powder

¼

tsp.

fennel seeds

1

egg

8

whole artichokes

2

cups

chicken or vegetable broth
Instructions
Mix the stuffing
In a large bowl, mix the beef, sausage, onion, breadcrumbs, cheese, spices, and egg together until everything is well combined.
Prep the artichokes.
Cut the stem close to the base so the artichoke so that the artichoke will sit flat.

Take your scissors and cut the top of each leaf off – about 1/4 of an inch. The leaves are pointy and sharp and you want to get rid of the point.

Place each artichoke in a bowl of water with a little lemon juice while you trim up the others.
Stuffing the Artichokes
Place each artichoke on a cutting board. Gently pull the leaves away from the core but keep them attached to the artichoke. Stuff a little (½ – 1 tsp) of the meat stuffing in each leaf. Repeat, filling as many of the leaves around the outside of each artichoke as you can.

Divide the stuffed artichokes between 2 large stockpots with an inch of broth in the bottom of each.
Cooking the Artichokes
Place the stockpots on the stove and gently heat over medium-low heat, bringing the broth to a low boil and cook, covered until the meat is done and the artichokes are tender. This will take about 30 minutes.
Notes
Good artichokes can be hard to find! If you find them well before the big day you can make this recipe ahead and freeze them for a month. Thaw them in the refrigerator and then gently reheat them on the stove with a little water or broth in the bottom of the pan.
Nutrition
Serving:
1
each
Calories:
270
kcal
Carbohydrates:
10
g
Protein:
25
g
Fat:
15
g
Saturated Fat:
6
g
Cholesterol:
100
mg
Sodium:
460
mg
Potassium:
300
mg
Fiber:
3
g
Sugar:
2
g
Calcium:
80
mg
Iron:
3
mg