There is nothing better than biting into a ripe, juicy, sweet peach on a hot summer day!  While Georgia is "The Peach State" there are delicious peaches grown right here in Pennsylvania. Local peaches are delicious to eat by themselves or are perfect for a rustic peach pie.
Most are grown in the middle and South-Eastern part of the state, but there are many orchards in Western Pennsylvania as well.  A trip to the Farmer's Market, local market, or grocery store, and you will find a good selection this time of year.
As a matter of fact, peaches have quite a significant history in this great state.  There was a large battle that took place at Gettysburg in a peach orchard. The Federal Army held off the Confederate troops which allowed them to hold onto Little Round Top.  (My husband will be SO proud of me for including this tidbit! He's quite the Civil War buff and the better one of us to really go into detail on that)
If you want to learn more about Pennsylvania peach history, Sarah Duda has a wonderful blog post on the Historical Society of Pennsylvania website about Pennsylvania peaches. She also has an old recipe for peach ice cream that I have to try!
Since it is National Peach Month and I know how good local peaches are, I picked up a bunch of Chambersburg peaches on my weekly trek into town on Thursday.  "Chambersburg Peaches" aren't really a variety of peach but are from an area around Chambersburg, Pennsylvania, in Franklin County, a couple of hours north of Pittsburgh.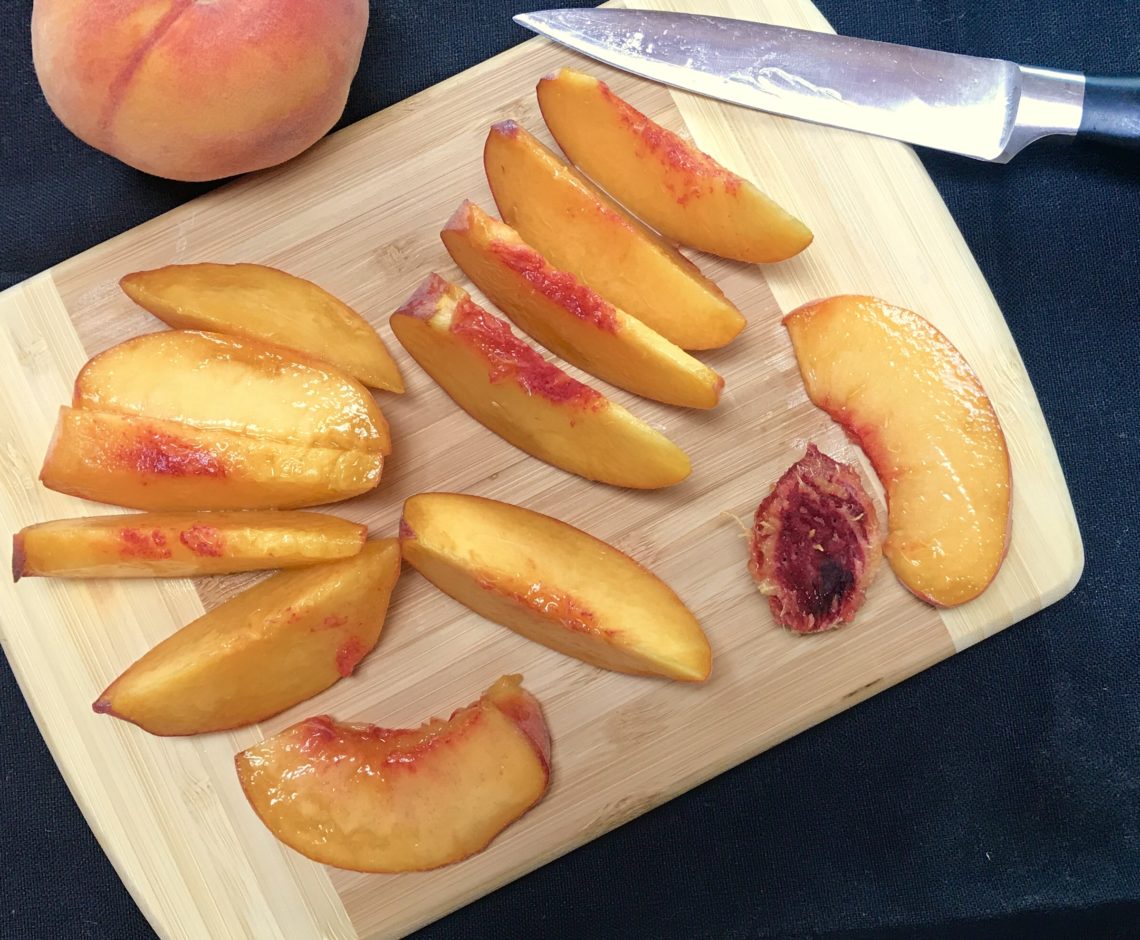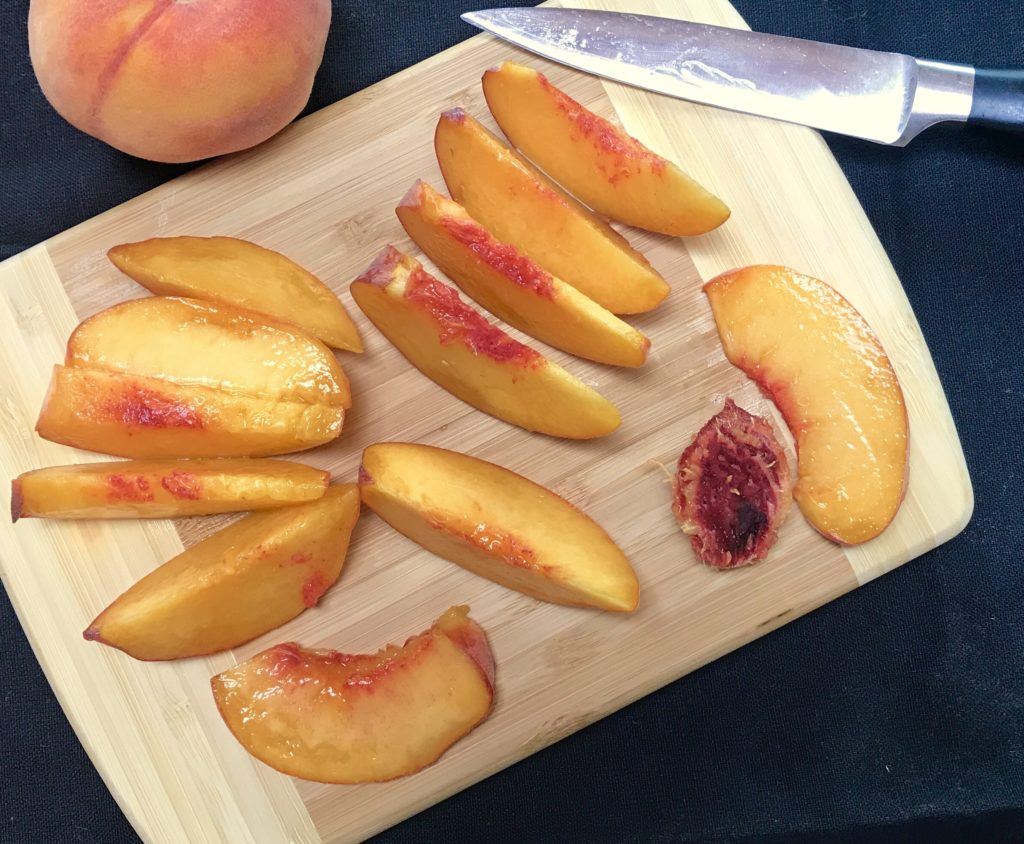 Why Chambersburg?  According to the Chambersburg Chamber of Commerce, it's the soil found in the Cumberland valley.  They have grown delicious peaches for over one hundred years and foodies in the area know to look specifically for them. They are sweet, juicy and absolutely delicious!
There are a number of varieties of peaches from this area: traditional yellow/orange-fleshed round peaches, white flesh peaches, and donut-shaped peaches are the most common.  The benefit of buying local peaches are they are handpicked when ripe, they are allowed to ripen on the tree and don't have to travel far to get to you.  All of which lessens the likelihood of them being bruised or damaged during picking or transit and they lose fewer nutrients while traveling long distances.
Since I wanted to make a peach pie, I used a traditional yellow flesh, juicy peach (and enjoyed a few slices while I worked on the pie).  This pie is more of a rustic tart than a traditional pie, but it was perfect for us and quick to throw together.
I kept the skin on my peaches to maintain some of the fiber and nutritional content. The peaches were sweet enough that I only needed to toss them with 2 Tbsp. of sugar. I used a little additional sugar in my crust and sprinkled a bit of raw sugar over the top of the pie for added interest but in general, I didn't use much – and didn't need much! I added a little ground nutmeg which gave it a little flavor punch. Honestly, these peaches are flavorful enough you could probably get away without it as well.
Cooking fruit does cause a loss of Vitamin C, but by making the pie this way I didn't need to cook it as long as a traditional pie. I think I was able to maintain some of the nutritional value – at least a little!
Happy Peach Pie day and I hope you pick up a few delicious peaches over the next couple of weeks.  They are in season until early September so you still have some time to enjoy them – fresh or in a pie! Local peaches are perfect for a rustic peach pie!
Let me know in the comments if you make this and if you did anything differently.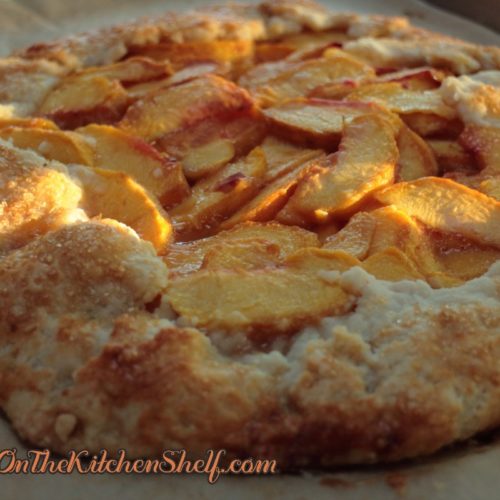 Rustic Peach Pie
A delicious rustic peach pie made from local Pennsylvania peaches
Equipment
Rolling pin

Parchment Paper

Oven
Ingredients
Pie Crust
2

cup

all-purpose flour

2

Tbsp

granulated sugar

1/2

tsp

salt

1 – 1/2

cups

unsalted butter

chilled, cut into 1/2 inch pieces

1 – 2

Tbsp

water

ice cold
Pie Filling
4

cups

sliced peaches

leave skin on

2

Tbsp

granulated sugar

1

Tbsp

cornstarch
Finishing Ingredients
1

egg

beaten

1-2

tsp

raw sugar

(demerara sugar)

1/4

tsp

ground nutmeg
Instructions
Make Pie crust
Place flour, sugar, and salt in a large bowl.

Cut butter into the mixture with a pastry cutter until you have small pea-size pieces. Or pulse in a food processor until pea-size pieces form)

Gradually add water by the teaspoon, mixing with a wooden spoon until the mixture starts to form a ball. (Or pulse in a food processor, adding the water through the tube until a ball just starts to form). Be careful not to over mix! You should still see pieces of the butter in the mixture. This is what will make the crust flaky.

Turn the dough out onto a lightly floured board and roll out to a large square. Fold the dough over to form a smaller square and place it in the refrigerator for 30 minutes to an hour to chill.

Line a sheet pan with parchment paper.

Remove from the refrigerator and place on a floured board. Roll out to a 1/4 inch thick, into a large circle, about 16 inches in diameter.
Make the filling
While the dough is chilling, preheat the oven to 350° F.

Slice peaches into 1-inch pieces and place in a large bowl.

Toss the peaches with the sugar and cornstarch just before placing in the pie dough.
Assembling the Pie
Gently roll the crust over the rolling pin and place it on the sheet pan, allowing the edges to drape over the side.

Place the peaches in the center of the dough and spread out slightly, leaving ~ 2 inches of crust around the edges free. Fold the edges of the crust over the peaches, sealing with a little water if necessary.

Brush the crust with the beaten egg and sprinkle with the raw sugar and ground nutmeg.

Place in the center of the preheated oven and bake for about 30 minutes, until the crust is golden brown and the peach mixture is bubbling.

Remove from oven and allow to cool slightly. Serve with a side of vanilla ice cream!