Last week I spent a few days working in the Strip District – an old historic market area in Pittsburgh, which is one of my favorite places (but that is for another day).
I came home with a huge bunch of parsley and not wanting to waste it I decided to make a chimichurri sauce. It could also be that we ate lunch that day at Gaucho Parrilla, an Argentinian restaurant that is absolutely fantastic. Worth the wait if you happen to be down there!
Anyway, I guess I had South American cuisine on my mind…and had a skirt steak thawing in the refrigerator, so it was meant to be!
Chimichurri sauce is really easy to make and will only take 5 minutes to whip together in your food processor.
Traditionally it is made of oil, vinegar, garlic, a variety of fresh herbs and red pepper. I made mine with most of the same ingredients but because I had garlic scapes in the fridge, I used those in place of garlic.
While you make it in a food processor or a blender, it shouldn't be a pureed sauce. Blend it just enough for the herbs to be well chopped and the flavors to combine, but make sure you can still see the pieces of parsley, cilantro, and red pepper flakes.
A good Chimichurri has a bit of a bite from the vinegar and garlic, which complements steak nicely. You can make it as spicy as you'd like by adding red pepper flakes. We like a little kick but really want the other flavors to shine through so I only use a pinch of red pepper flakes, but you can adjust it to your taste.
Some people will marinate the steak in the sauce, reserving some of it to serve on the side which will help tenderize the meat. If you have a tough piece of meat, marinating it in this sauce for a few hours will help break the fibers down a bit and add a lot of flavor to the meat.
If you find yourself with a huge bunch of parsley and don't know what to do with it, give this chimichurri sauce a try. Just like pesto, it freezes well, so you can make a big batch and have it ready for your next cookout.
Give it a try and drop a note in the comment section to let me know what you think!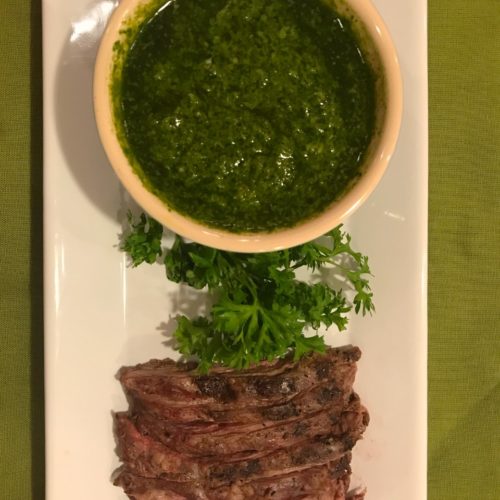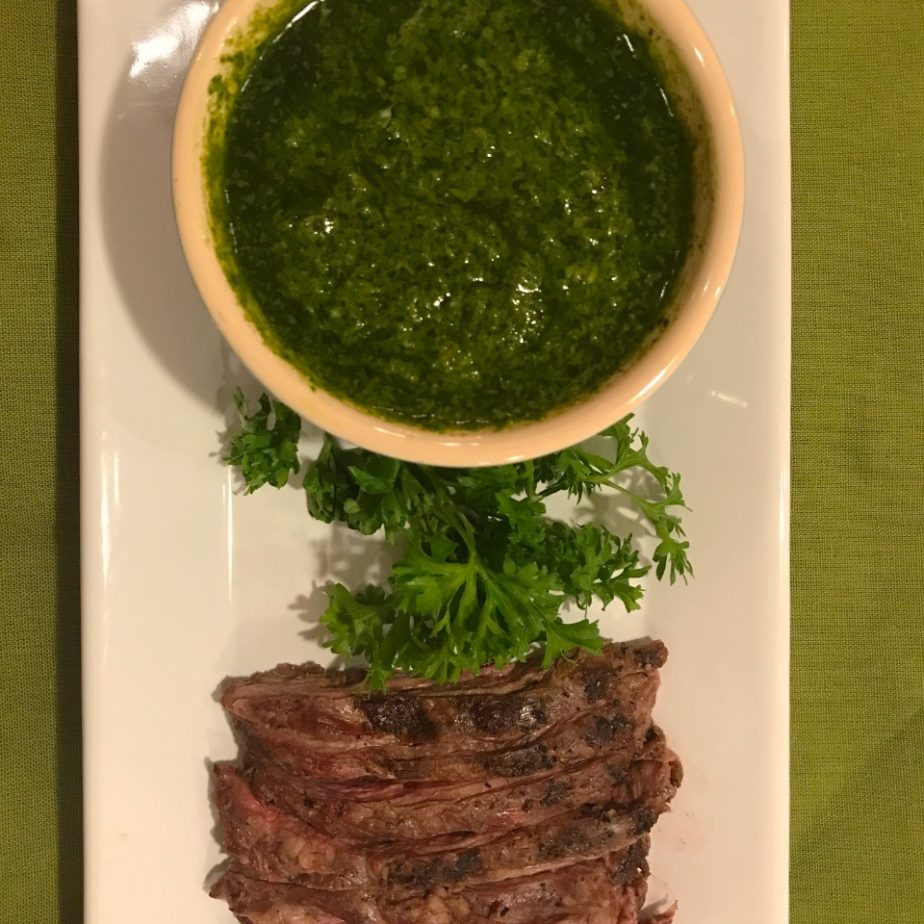 Chimichurri Sauce
A South American herbed sauce typically served with grilled beef
Ingredients
2

cups

fresh parsley

washed and dried well

2

garlic scapes, chopped

(or 2 -3 cloves garlic)

1/2

cup

Extra Virgin Olive Oil

1/4

cup

red wine vinegar

1/4

tsp

red pepper flakes

(or to taste)
Instructions
Place parsley and garlic scapes in the bowl of a food processor with the chopping blade in. Pulse until parsley is well chopped (but not smooth) and garlic scapes are minced.

While the processor is running gradually pour the olive oil and red wine vinegar through the opening in the top of the food processor and drop in the red pepper flakes. Process until thoroughly mixed but you can still see pieces of parsley.

Serve on the side of a grilled flank steak, chicken or white fish.
Notes
This can be made ahead and frozen for a couple of months before use.  
If you want your steak to have extra flavor, brush some of the sauce on the steak 2 -3 hours before grilling and leave in the refrigerator to marinate.  Serve the extra on the side.
Please follow and like us: