While salmon has a beautiful, rich flavor all by itself, sometimes a sauce to go with it can really make it special. This dill sauce for salmon does just that and you can whip it together in just 5 minutes!
So, why does dill go so well with salmon? You see these two together a lot. It is a classic combination and often lemon is added, which I did here as well.
The addition of dill to salmon apparently originated in the Middle Ages. Northern Europeans needed a way to preserve their fish so they buried it with birch bark and a variety of spices – a process called "gravad – lax."  Over time the process was modernized and they added salt and dill for a nicer or "more gentle" flavor which is what we now know as gravlax. You can read more about this on the House of Hegelund's website, which has a wealth of information on traditional arctic cuisines!
Whether they were the first to add dill to salmon, I'm not sure, but it is a classic combination and one I love which is why I wanted to come up with an easy dill sauce for my roasted salmon.  This one is really easy – just put everything in a food processor and blend! Voila! You have a delicious sauce that really takes a weeknight meal from plain Jane to fancy in no time!
What You Will Need to Make This Zesty Dill Sauce for Salmon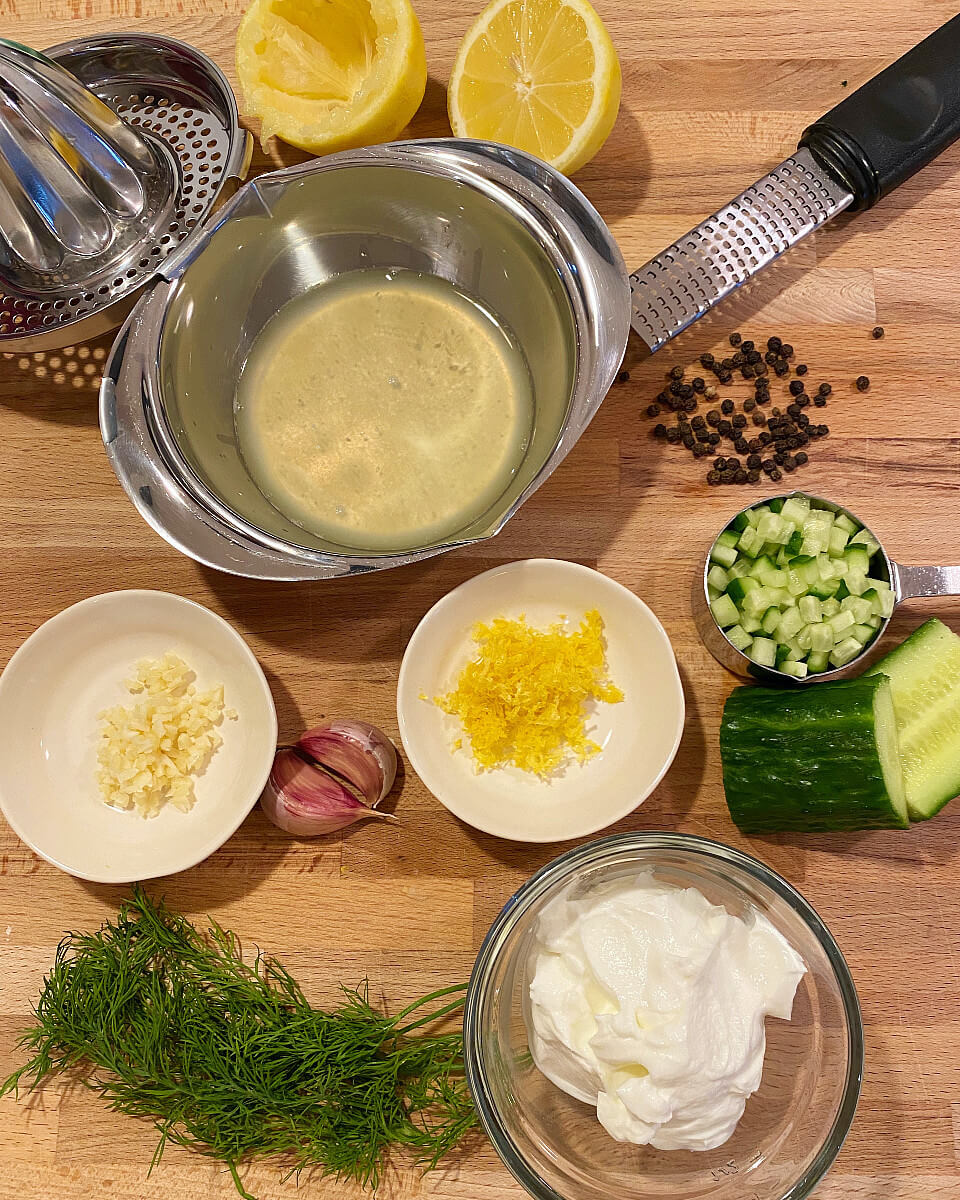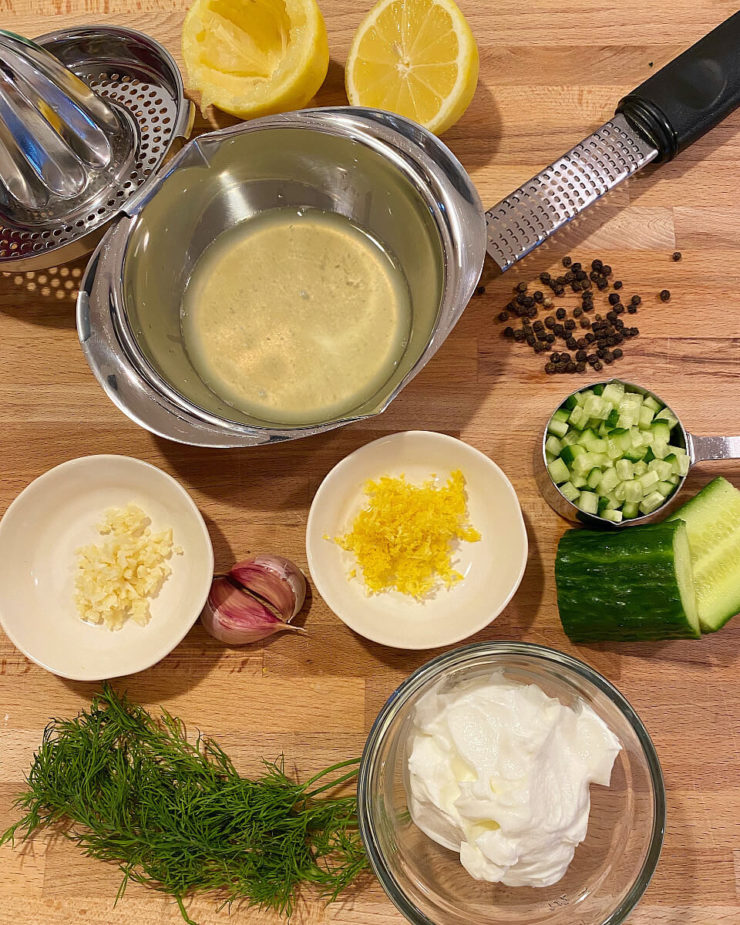 Minced garlic – this adds a nice punch to the sauce
Lemon juice – lemon juice adds a lot of brightness and means you really don't need to add any salt!
Lemon zest – lemon zest adds a little pop of yellow color and zestiness to the sauce
Cucumber – maybe this is unexpected but I think it also adds some freshness and green color – I leave the skin on so you get a little more color and a tiny bit of fiber.
Plain Greek yogurt – I use full fat for this sauce. Fat free or low fat would thin it out too much
Dill weed – I prefer fresh but you can use dry dill – see the FAQs for how to do that
Black pepper – A bit of pepper adds a nice bite!
How to Make the Dill Sauce for Salmon
I wasn't kidding when I said this was easy to pull together! I used my food processor, added all the ingredients and then pureed it for about 30 seconds. I scraped down the side of the bowl and pulsed it again to thoroughly chop up the cucumber and dill and it was ready to go. Prepping everything is what took the most time and even that was easy.
You can make the sauce while your salmon is roasting.
Here's a quick video showing me making it!
Variations
Is this zesty dill sauce only good on salmon? My husband and I talked about that as we were enjoying our salmon dinner last night! Here are some other ideas we came up with:
A dip for air-fried shrimp 
A salad dressing
A topping for other mild-flavored but hearty white fish like cod
As a spread for a fried fish sandwich
FAQs
How long does the sauce last in the refrigerator?
This sauce will last for 3 – 4 days in the refrigerator. You may need to stir it well before using it since it is pretty high in water due to the cucumbers and lemon juice.
Can you freeze the sauce?
You can certainly freeze this sauce. It may separate a little when you thaw it but a quick stir should take care of that.
What is the best way to freeze the sauce?
I like to freeze this in an ice cube tray and then pop the cubes out once they are frozen and keep them in a resealable bag. This way I can pull a couple out to use when I need them.
What can you use in place of yogurt?
You could certainly replace the yogurt with sour cream.
Would bottled lemon juice work?
Freshly squeezed lemon juice will give you the best flavor but if you don't have any bottled will work. You may need a little more, but go easy as it will make the sauce more liquid!
Could you use dried dill in place of fresh
Yes, you could use dried dill. Just remember that you will need much less. Use 1 teaspoon of dried dill in place of 1 tablespoon of fresh.
Storage Tips
The sauce is best stored tightly sealed in a non-reactive container in the refrigerator for a couple of days. Because of its high water content from the cucumbers and lemon juice, you may have to whisk it before using it. 
It also helps to place a piece of plastic wrap or parchment paper right on top of the sauce and then cover it with another covering. This will prevent skin from forming on the top and keep it fresher longer.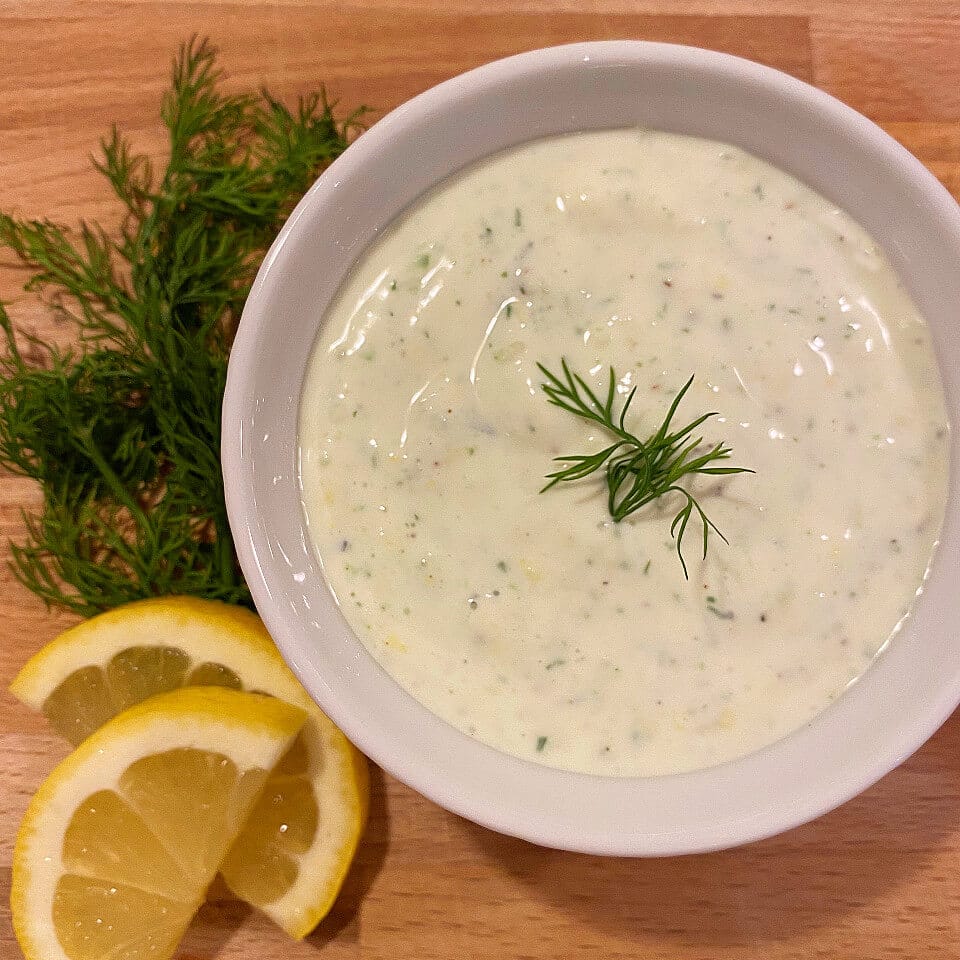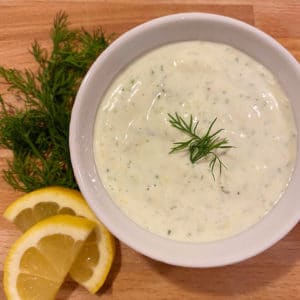 Zesty Dill Sauce for Roasted Salmon
Ingredients
½

cup

plain Greek yogurt

¼

cup

English cucumber

finely chopped

1

tbsp

fresh dill

chopped

2

tbsp

lemon juice

freshly squeezed

1

tsp

minced garlic

about 1 clove

1 ½

tsp.

lemon zest

¼

tsp.

black pepper
Instructions
Place all ingredients in the bowl of a food processor. Process for approximately 30 seconds. Remove the lid and push the sides down.

Replace the lid and process again for 30 seconds, pulsing to thoroughly chop the ingredients.
Notes
This makes about 3/4 of a cup so will last for a while. The serving size is 2 tbsp.
Nutrition
Serving:
2
tbsp
Calories:
25
kcal
Carbohydrates:
2
g
Protein:
2
g
Fat:
1
g
Saturated Fat:
0.5
g
Monounsaturated Fat:
0.5
g
Cholesterol:
10
mg
Sodium:
10
mg
Potassium:
45
mg
Sugar:
1
g
Vitamin C:
2
mg
Calcium:
25
mg
Other Recipes You Will Love
If you liked this recipe here are a few more that might sound good! And if you loved this one, please drop a rating and let us know what you liked or any questions you have!