Some mornings just call for something quick and easy that you can eat on your way to the office – whether that is 10 miles away or a quick walk upstairs! This simple strawberry blackberry banana smoothie is an easy solution. 
Why You'll Love It
The number 1 reason is…Taste! Seriously, this is a delicious berry smoothie with a nice banana flavor in the background. It kind of tastes like a cool berry nice cream. 🙂 Now who wouldn't love to start their that way?
The Number 2 reason is…Easy to make. Yup, other than prepping the strawberries and peeling the banana, just throw the ingredients in a blender and go! Watch my video below to see how easy it really is!
The Number 3 reason is…It is packed full of nutrition! From the gut healthy kefir to vitamin C and potassium-packed fruit this is a super healthy way to start your day. Add some chia seeds or ground flaxseeds to the mix and you'll be really good to go.
What You Will Need to Make the Strawberry Blackberry Banana Smoothie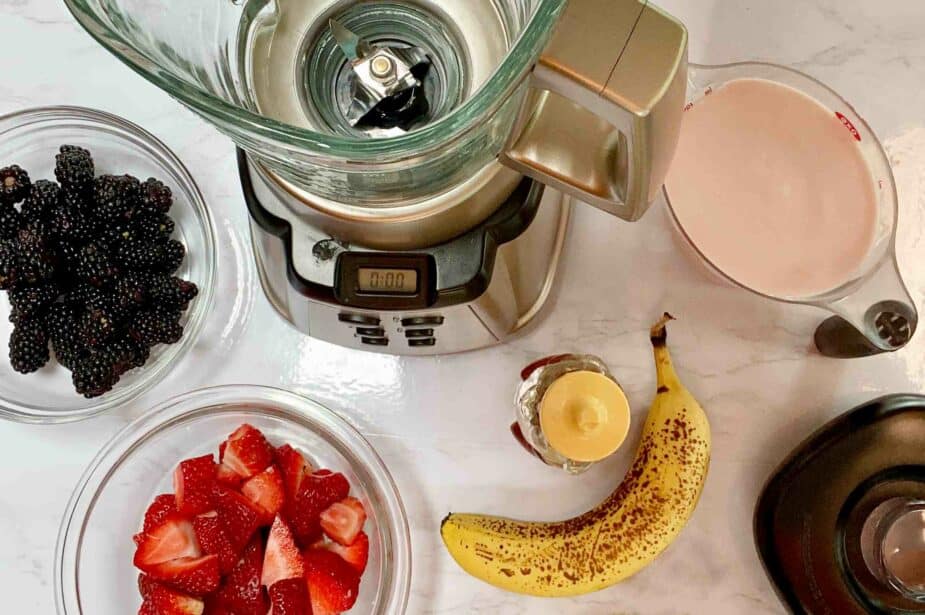 Strawberries
Washed and stems removed (although you can use those if you want! Strawberry stems are edible and provide some great nutrition.) Then quartered to make them easier to blend. If you are in a rush, just add the whole berry!
Blackberries
All you need to do is wash these babies! I used fresh berries in this smoothie but if you have some in your freezer by all means use those! 
Banana
I prefer a slightly riper banana because it is sweeter. That said, it does increase the sugar content very slightly and under-ripe or just ripe will work perfectly too! Aside from the sweetness, bananas add some thickness and body to a smoothie so you won't want to skip it in this one. 
Kefir
By now you probably know that kefir is my preferred liquid for making smoothies. I love the tangy flavor it has and you just can't beat the gut health benefits it provides. For this one, I used a mixed berry flavor, but vanilla or plain would work too.
Honey
This is optional but I like my smoothies a little sweet. You could also use maple syrup or agave syrup if you prefer!
How to Make The Strawberry Blackberry Banana Smoothie
Watch this video to see how really simple this is to make or follow the simple steps below!
Step 1
Place the peeled banana in the bottom of the blender. Add ½ the kefir.
Step 2
Add the strawberries and blackberries and top with the rest of the kefir. Drizzle a little honey on top.
Step 3
Blend on high for a minute or two. Stop ½ way through and stir and then blend again. I found it needed a little longer in the blender than others to really pulverize the seeds of the blackberries. If you don't mind those you can certainly stop sooner!
Variations
The thing I love about smoothies is that you can mix up the ingredients and use whatever you like! Don't like blackberries or the seeds that come with them? No problem, just swap in some fresh or frozen raspberries instead!
You could add ground flaxseed or chia seeds if you want to boost the omega-3 profile and add some protein.
Need this to be higher in protein? A scoop of protein powder or two would be a nice addition. Just make sure it is either vanilla or unflavored.
Storage Tips
While you'll be dying to drink this down, you may need to store it overnight or longer and the good news is that this smoothie lasts for a few days in the fridge.
Refrigerator storage: Divide the smoothie into portions and store them in glass jars with a lid or smoothie cups that have a sealable lid. (I like these that come with sealable lids and lids that a straw can go through to drink on the go!) The smoothie will last for a few days in the fridge. You can make a batch and enjoy it all week.
Freezer storage: This actually freezes nicely. Divide it into portions and place them in resealable plastic bags for easy storage. Pull a bag out the evening before you want to enjoy it and thaw it in the fridge overnight. Just pour it in your smoothie cup in the morning and you are on your way!
Other Recipes you will love
If you tried this recipe and loved it please leave a star rating below. Ratings will help other people find my recipes and I greatly appreciate it!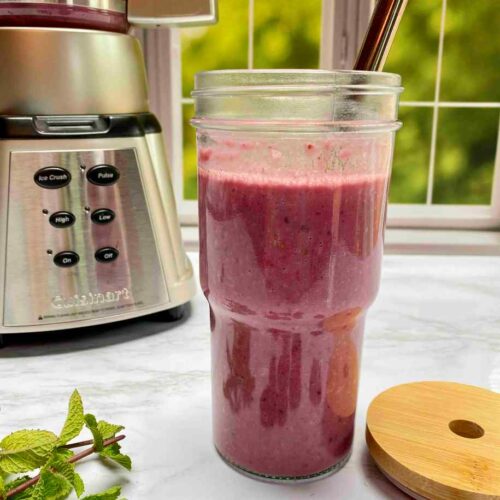 Strawberry Blackberry Banana Smoothie
Ingredients
2

cups

strawberries

hulled, cut in half

2

cups

blackberries

1

banana

medium

1 ½

cups

kefir

berry of vanilla flavored

1

tsp

honey

optional

fresh mint

for garnish
Instructions
Place strawberries, blackberries, banana, and kefir in the blender. Drizzle with honey if desired.

Pour into 12 oz. glasses and enjoy or refrigerate overnight. Garnish with mint leaves if desired.
Notes
You could add ground flaxseeds or chia seeds to give this a boost in protein and omega-3s if you like!
Nutrition
Serving:
1.25
cup
Calories:
160
kcal
Carbohydrates:
28
g
Protein:
6
g
Fat:
3.5
g
Saturated Fat:
2
g
Cholesterol:
10
mg
Sodium:
50
mg
Potassium:
480
mg
Fiber:
6
g
Sugar:
20
g
Vitamin C:
60
mg
Vitamin D:
2
µg
Calcium:
180
mg
Iron:
1
mg