It's a beautiful warm spring or summer morning and there is nothing better than a cool refreshing smoothie to jump-start your morning. This tropical mango kefir smoothie is like drinking in a burst of sunshine. Its cool refreshing flavor is a delightful way to wake up!
However, when you're racing around and just trying to get to work on time, or just have a ton of errands to do, you may think the coffee shop or drive-through is the only way to find one.
This utterly delicious tropical mango kefir smoothie recipe is your secret weapon! It's a completely make-ahead and delightful healthy breakfast that you can make at home! Whip up a batch the night before and you've got smoothies for the next few days.
It's cool, refreshing, and packed with all sorts of healthy goodies to give your body the jump start it needs. Protein and probiotics from the kefir, antioxidants from the fruit, and a bit of collagen powder for your bones and joints. Yes, please!
What You Will Need to Make This Tropical Mango Kefir Smoothie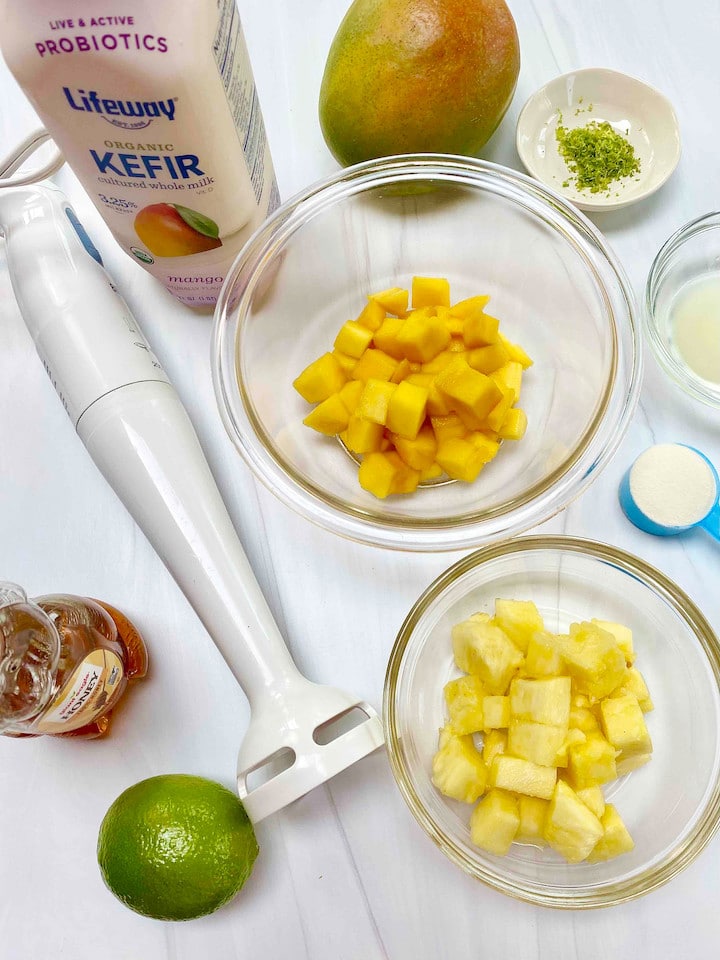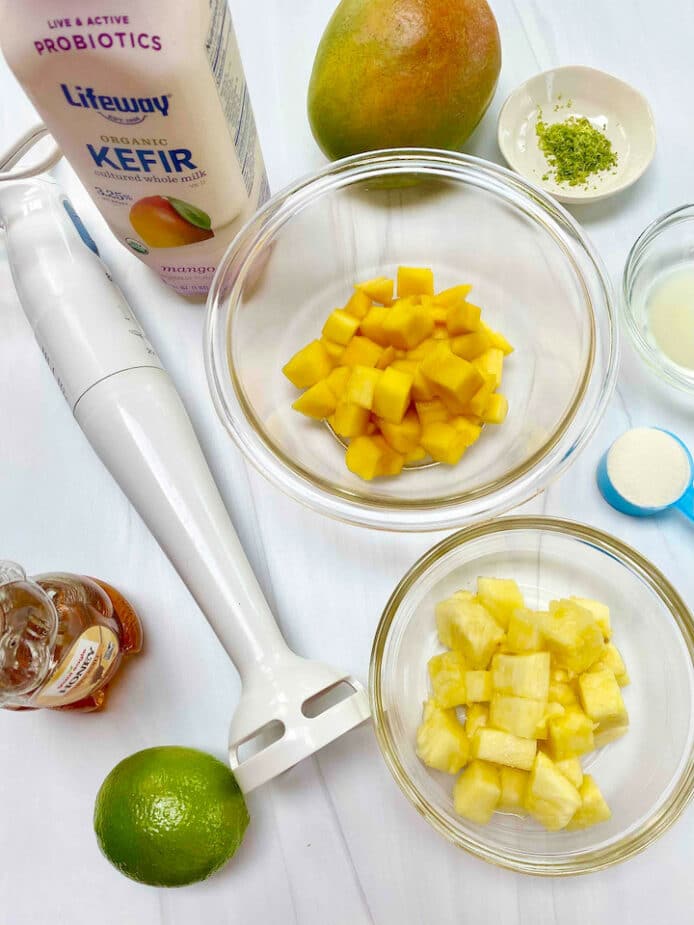 To start with, you'll notice that this is a no-banana smoothie recipe! I know I know… most smoothies have bananas, but honestly, a banana in this would overpower the other flavors. I just don't think it's needed and I think if you try it you'll agree.
You can also use fresh fruit in this or frozen fruit. I like to keep some frozen fruit in my freezer. It makes whipping up a smoothie in the morning easy, and I love adding a piece or two of frozen fruit to my afternoon glass of water. It's such a refreshing way to stay hydrated!
But, let's get back to how to make this delish smoothie!
Mangos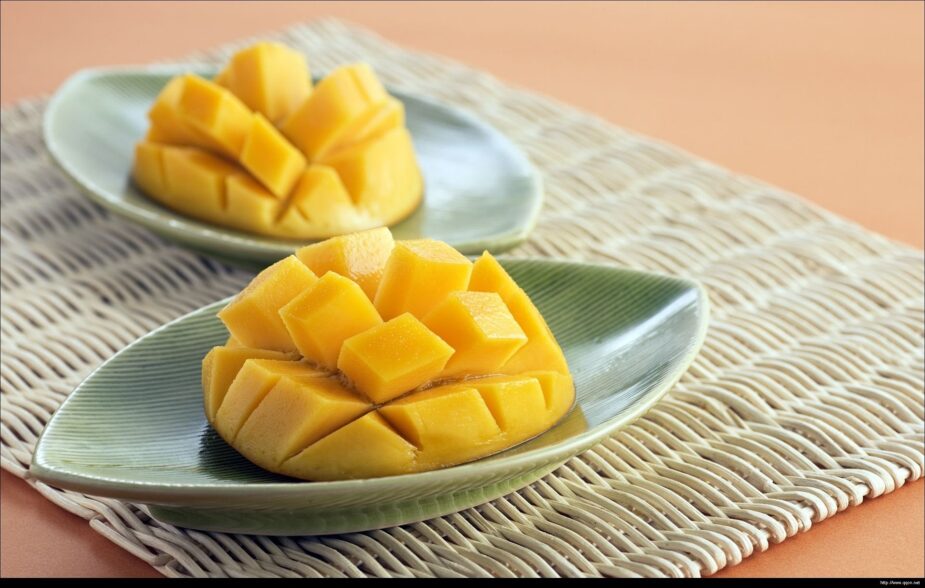 This tropical fruit is plentiful in the spring and early summer. It has a bit of a citrusy flavor and bite and is delicious in salsas, on top of ice cream, mixed into yogurt with granola, or in a smoothie as I've done here.
Mangos are full of vitamins C and A, fiber, phytochemicals, and B vitamins. They also contain the carotenoids lutein and zeaxanthin which may help protect our eyes from age-related macular degeneration.
Do you have to use fresh mangos? No, feel free to use frozen mango cubes. Just one cup of frozen mango will work. You can also cut up fresh mangos when they are in season and freeze them for later.
Not sure how to cut a mango? Watch this video to learn how
Pineapple
Pineapple adds a bit of a refreshing tropical flavor to this smoothie. Along with vitamin C, antioxidants, and fiber, pineapples also contain an enzyme called bromelain that can help digest protein.
You can use fresh or canned pineapple in this smoothie. Because pineapple does contain so much fiber you may have to blend the smoothie a bit longer than you usually would to get it really smooth.
Kefir
Why use kefir when yogurt is more common?
I like kefir because it is thick and holds up well when mixed with fruit. Because it is usually made with fortified milk, it also has vitamin D which is so important for our bones and immune system and possibly our brains too.
Then, we can't forget its gut health benefits. Kefir is another healthy probiotic that provides healthy bacteria for our GI tracts. And if that weren't enough, it may help our brain out too! There is some research that has found kefir may be helpful with:
Fighting inflammation
Regulating our mood and anxiety levels
Supporting our memory (now wouldn't that be great?)
Catching those much-needed zzzs that are sometimes hard to come by
Reducing stress
You can use plain kefir, vanilla or I like Lifeway's mango-flavored kefir in this recipe. It's low in fat, only has 8g of added sugar and 1 cup has 15% of the daily amount of vitamin D that is recommended.
Collagen
I've been doing a lot of research on the potential benefits of collagen and use it myself to help keep my joints and bones strong. There are other benefits including keeping your skin supple and decreasing wrinkles so for me it's a "win-win!"
I usually add a scoop of collagen to my coffee in the morning. Adding a scoop to a smoothie is another way to use it. Most collagen powders mix easily into hot and cold liquids but some do clump. The brands I like are Vital Proteins and Orgain. Both dissolve easily and don't clump and both companies have a lot of research to support their products.
If you are interested in trying collagen check out my full script store where you can order some to try at a reduced rate.
Note: if you place an order through my FullScript store, you will receive a reduced price and I make a small commission on the sale.
Lime
Like other citrus fruits, Lime juice, and lime zest add a burst of freshness to the recipe. Start by zesting the lime just before you are ready to blend your smoothies. The zest contains essential oils, where all that lime flavor comes from.
I use a microplane grater to get just the flavorful part of the zest. Be careful when using these. The little blades are sharp. I like this one because it comes with a cover and has a good, sturdy handle that is easy to hold.
After you've zested the lime, cut it in half and squeeze it to get the juice out. You can use as much of the zest and juice as you like. I use all the zest and juice from one lime, but you can add less if you prefer. The rest of the juice can be saved and used as part of a marinade or dressing.
Honey or Maple Syrup
Adding a sweetener to this is optional. The flavor is a bit tart and a little honey or agave syrup helps tone that down just a tad. A liquid sweetener will blend better than regular sugar so try one of these if you opt for a bit of sweetness.
How to Make a Mango Keifer Smoothie
Now, here's the easy part! Just put the fruit in the bottom of the blender with the lime zest.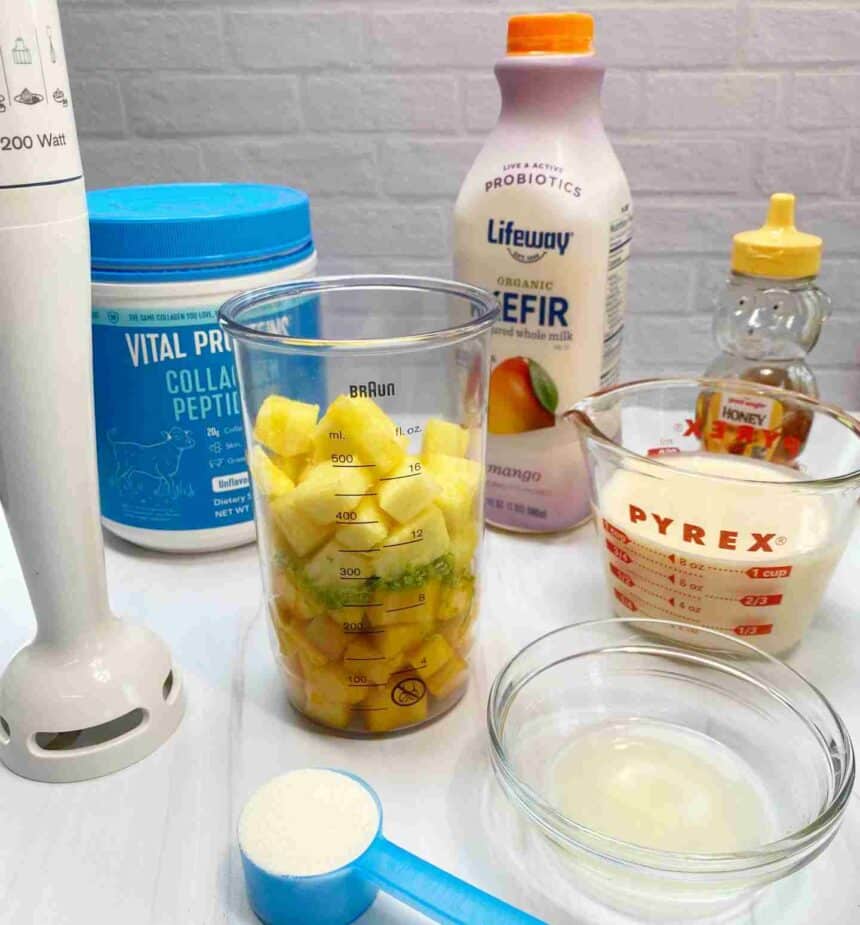 Pour the kefir and lime juice in and add the collagen powder over the top with the honey or agave syrup.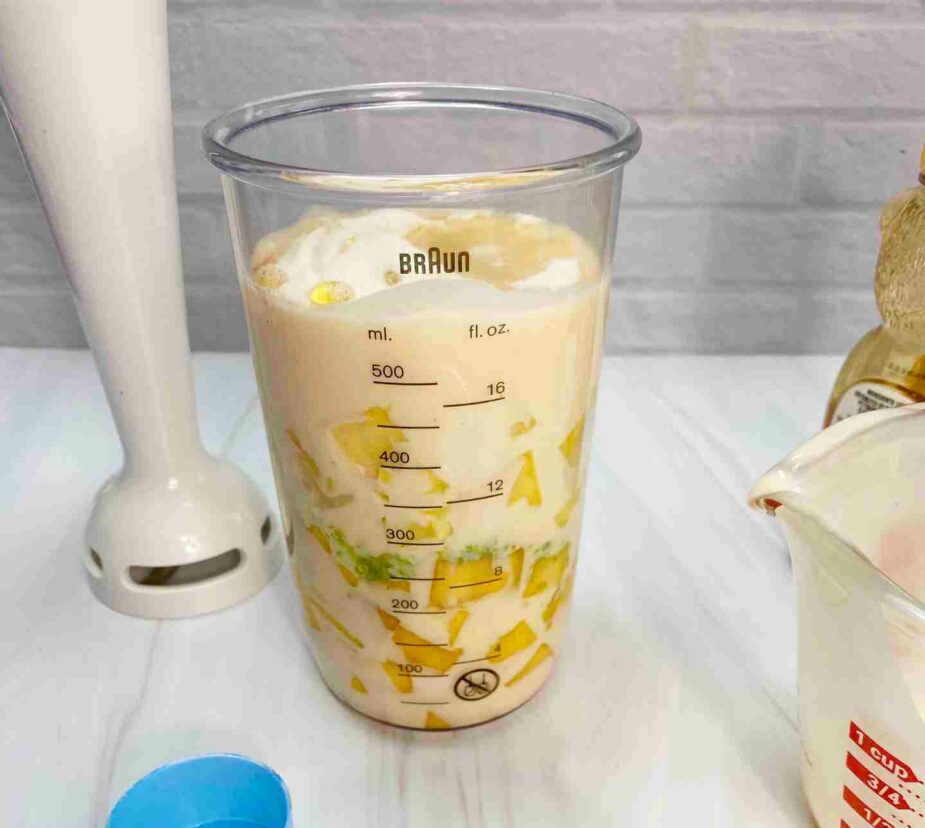 Blend the fruit and liquid on high until it is smooth.
It seriously takes less than 5 minutes to pull this zesty smoothie together!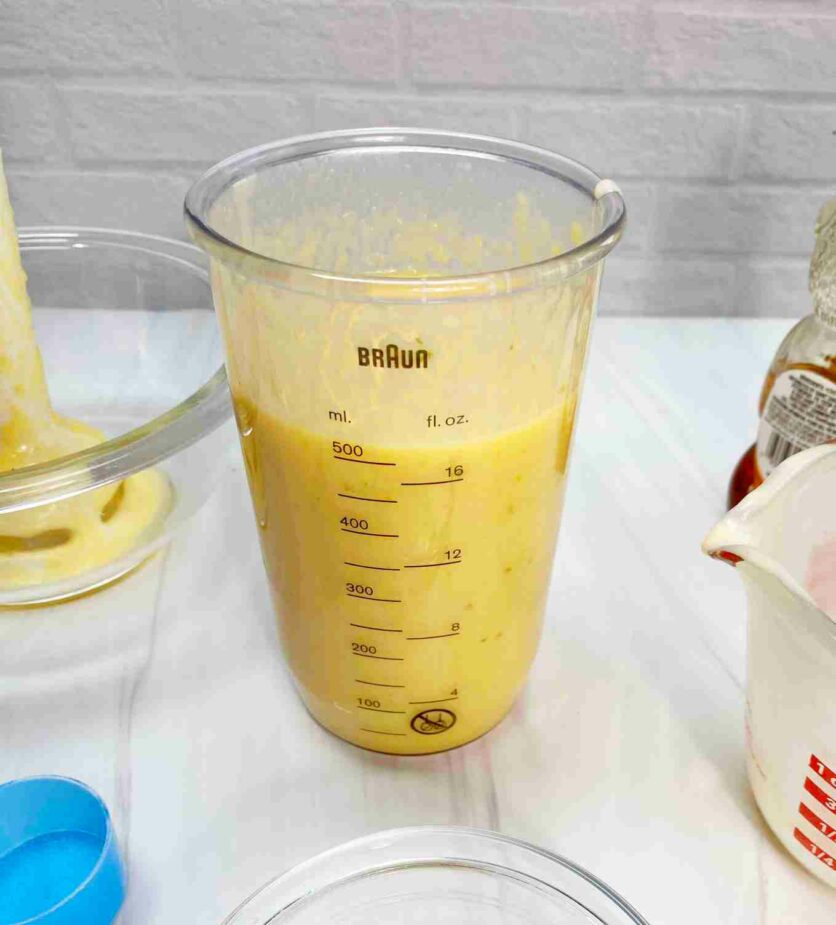 I have an older model of this Braun immersion blender (affiliate link) that comes with a plastic cup that is the perfect size for making smoothies. You can also use a regular blender or even a food processor.
Delicious Kefir Smoothie Flavor Combinations
Kefir may be too sour and tangy on its own, but it does make a delicious smoothie and because of its many potential health benefits, it's a good ingredient to have on hand. While I love the flavor combination in this tropical mango pineapple kefir smoothie, you can mix kefir with a variety of ingredients to make delicious and healthy smoothies. Some of my favorites are:
Blueberries with Lemon Kefir
Avocado, spinach, and lime juice with Plain Kefir
Mixed berries and honey with Vanilla Kefir
Peanut butter and dark chocolate cocoa powder with Vanilla Kefir
Frequently Asked Questions
What is Kefir?
Kefir is a fermented milk product that is made by adding kefir grains or a "culture" to milk. The culture contains healthy bacteria that feed on the sugar in milk (lactose) and convert it to lactic acid which gives kefir its tangy flavor.
Does kefir contain more probiotics than yogurt?
While yogurt is a more well-known probiotic, kefir actually contains more probiotic bacteria. These healthy bacteria help support healthy digestion, and may have a role in supporting our heart and brain health too!
Can you freeze mangos?
You can freeze fresh mangos. Just dice them and place them in a resealable bag and get as much air out as possible. Store them in the freezer for 3-4 months. This is a great way to save that delicious fresh fruit!
Can you freeze pineapple?
Yes, you can freeze fresh pineapple and it is a wonderful way to store that beautiful fresh fruit to use later. First, remove the outer tough skin and inner core. Then dice it or cut it into large chunks and place them in a resealable bag. Get as much of the air out as possible and seal the bag. Store it in the freezer for 3-4 months.
Storage Tips
You can store this smoothie in the refrigerator for 2 – 3 days, tightly covered.
You may have to give it a quick stir before drinking it as it might separate slightly.
Other Recipes You Should Try
My other favorite kefir smoothie recipe is this Berry Breakfast Smoothie! It is full of mixed berries and pomegranate seeds for a truly delicious way to start your morning!
If you love mangos, my mango salsa is a zesty and bright topping for fish or chicken. We love it on grilled chicken or salmon in the summer!
I hope you love this mango pineapple smoothie recipe! If you do, please give it a 5-star recipe rating below!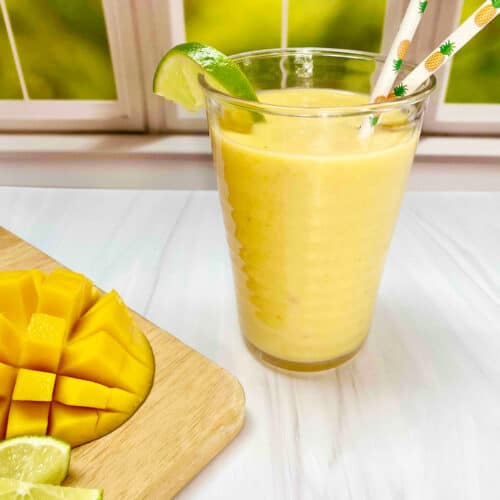 Tropical Mango Kefir Smoothie
Ingredients
1

cup

mango cubes

fresh or frozen

1

cup

pineapple chunks

fresh, frozen or canned

1

lime, zested

1

cup

kefir

mango or vanilla flavored

1

tbsp

lime juice

2

tbsp

collagen powder

½

tsp

honey or agave syrup
Instructions
Place the mango cubes, pineapple, and lime zest in the bowl of the blender.

Insert the blender (if using an immersion blender) or place the cover on top and blend on high speed until the mixture is smooth.

Add the kefir and lime juice on top of the fruit. Sprinkle the collagen powder and drizzle the honey or agave on top. Cover and puree on high speed until the mixture is smooth.

Pour it into 2 cups and enjoy. Or cover the mixture with a tight lid and store it in the refrigerator overnight.
Nutrition
Serving:
1
cup
Calories:
190
kcal
Carbohydrates:
35
g
Protein:
12
g
Fat:
1.5
g
Saturated Fat:
1
g
Cholesterol:
5
mg
Sodium:
80
mg
Potassium:
425
mg
Fiber:
2
g
Sugar:
31
g
Vitamin C:
70
mg
Vitamin D:
3
µg
Calcium:
230
mg