Original Post: June 15, 2021
Updated: May 20, 2023
A couple of years ago I went strawberry picking with my niece and nephew and came home with a TON of fresh strawberries – 3.14 pounds worth! Now, we love strawberries and I try to eat them at least a few times a week for their brain health benefits, but that is a lot of berries, so I started coming up with some creative ways to use these delicious babies. Including this chilled strawberry soup – Strawberry Gazpacho!
We love gazpacho in the summer and I've had a delicious watermelon gazpacho, so why not strawberry gazpacho? I wasn't sure the strawberries would have enough liquid, but it turns out they were perfect. Just juicy enough to make a delicious chilled strawberry soup.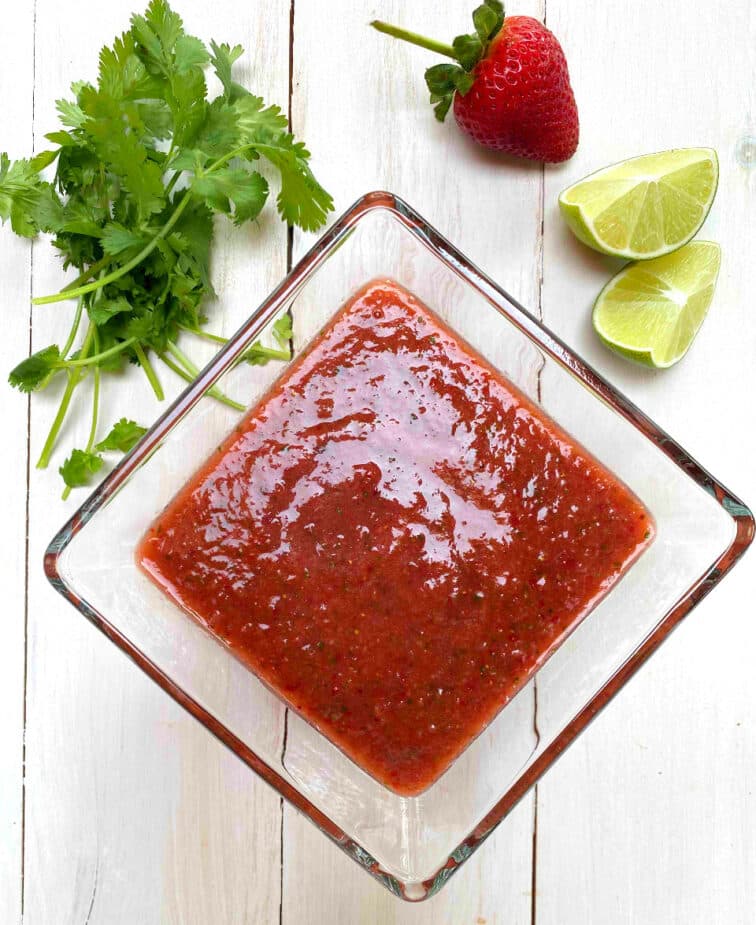 I served it in these beautiful glass bowls with our pork tacos. I was worried it would be too sweet, but the jalapenos, lime, and cilantro really balanced it out. I could pull out a slight strawberry note, and just a hint of sweetness, but other than that, it tasted like gazpacho.
What You Will Need to Make Strawberry Gazpacho Soup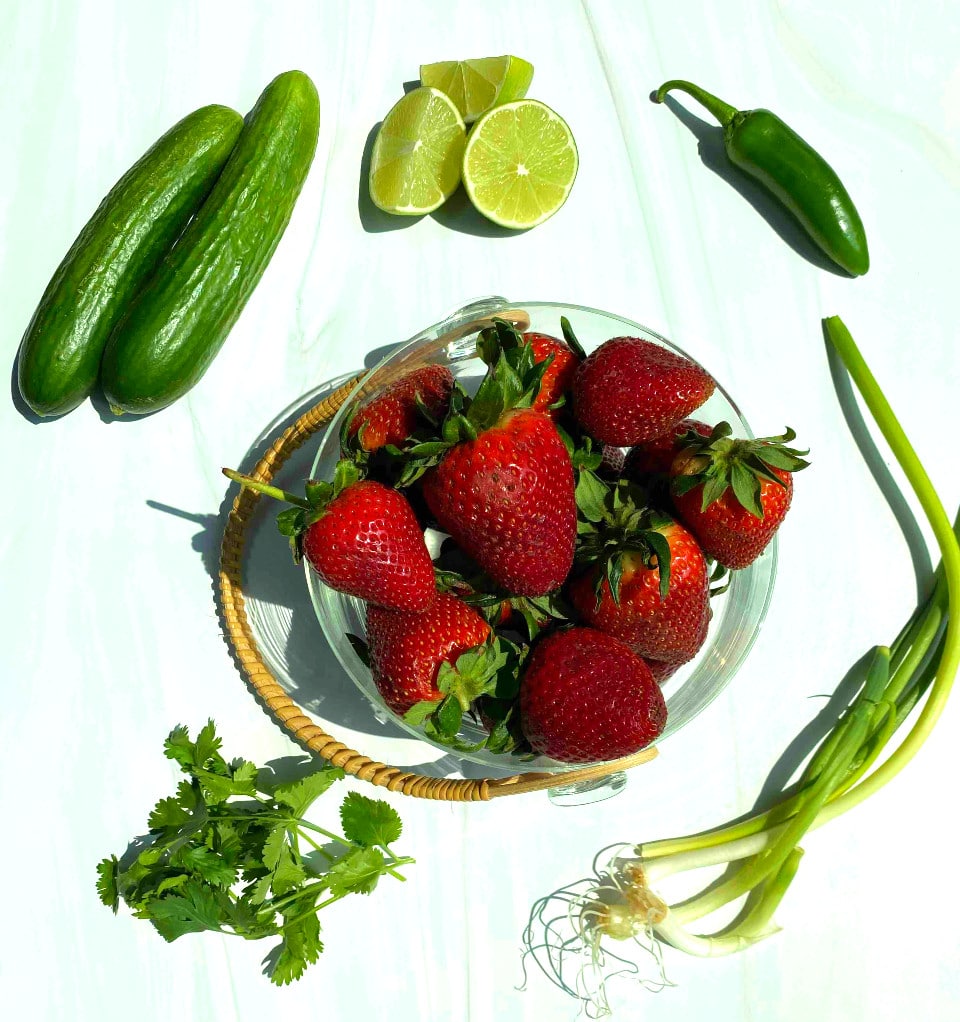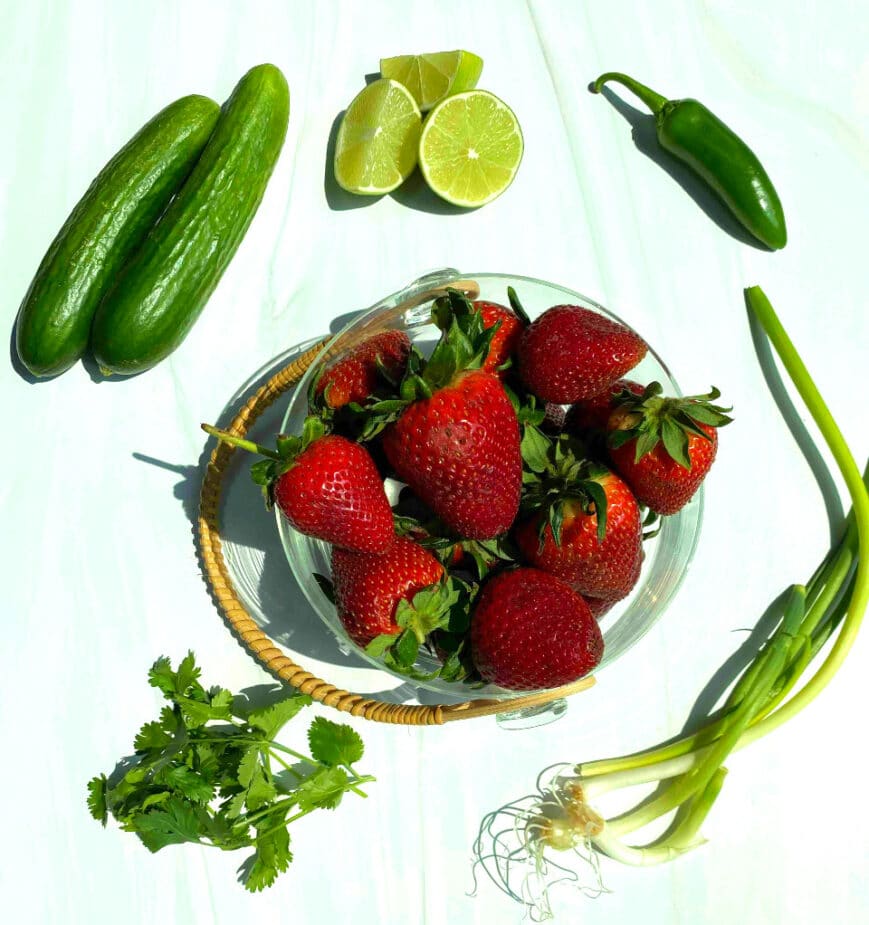 Strawberries
You'll need about a pound of strawberries, washed and the hull removed. The strawberries add a bit of sweetness to the soup. You can use the leaves if you'd like, but I prefer this soup without them.
English Cucumber
Cucumber adds liquid and coolness to the soup. A half of a large English cucumber is about right or two small ones. You don't need to peel them. Leaving the peel on adds some extra fiber and no one will be the wiser.
Limes
Both lime juice and lime zest add a lot of fresh bright flavor. The zest contains a bit of oil that is what really adds a lot of lime flavor and the juice adds a bright citrusy note. Don't skip either! And if you want to know how to zest a lime, watch the video below.
Jalapeno Pepper
I did use one entire jalapeno pepper in this recipe, which seems like a lot, but it added just the right amount of heat. You could certainly add more or less depending on how spicy you like your gazpacho.
Scallions
Scallions are the only onion in this soup. They add a little bit of a garlic and onion flavor. There is enough going on in this soup that you don't really need more than a few scallions.
How to Make Strawberry Gazpacho
Gazpacho is usually a bit chunky but also has a nice amount of liquid in it. When I make my traditional gazpacho I usually add tomato juice to get the right consistency so my concern with this was the liquid. Where would that come from?
Tomatoes and watermelon are naturally full of water so they make a nice soup but I wasn't sure how the strawberries would work. It turns out, beautifully!
The other thing I was worried about were the seeds on the berries, but there was no need to worry about that. They seemed to just blend right in and if anything, they helped to identify it as strawberry gazpacho but they really weren't bothersome at all.
First, I put about 4 cups of hulled berries in my food processor along with 1/2 an English cucumber, small jalapeno pepper, a Tbsp. of lime juice, lime zest, and cilantro and pureed it well. I added a bit of salt and adjusted the lime juice a little but that was it.
If you like a chunkier gazpacho, I'd suggest reserving 1/4 of the strawberries and cucumbers and adding them at the last minute. Then pulse the food processor to leave it a bit chunky. Or finely dice some of the cucumber and strawberries with a knife and mix them in after pureeing the soup.
Variations
There are so many possible variations you could make. A strawberry watermelon gazpacho would be lovely. Just swap 1/2 of the strawberries with an equal amount of watermelon.
A strawberry tomato gazpacho would also be nice. Swap 1/2 of the strawberries with chopped and seeded tomatoes.
If you aren't a fan of spicy things, consider skipping the jalapeno pepper and cilantro and replacing it with some mint. Lemon juice might be a nice swap for the lime in this version.
The Dinner Surprise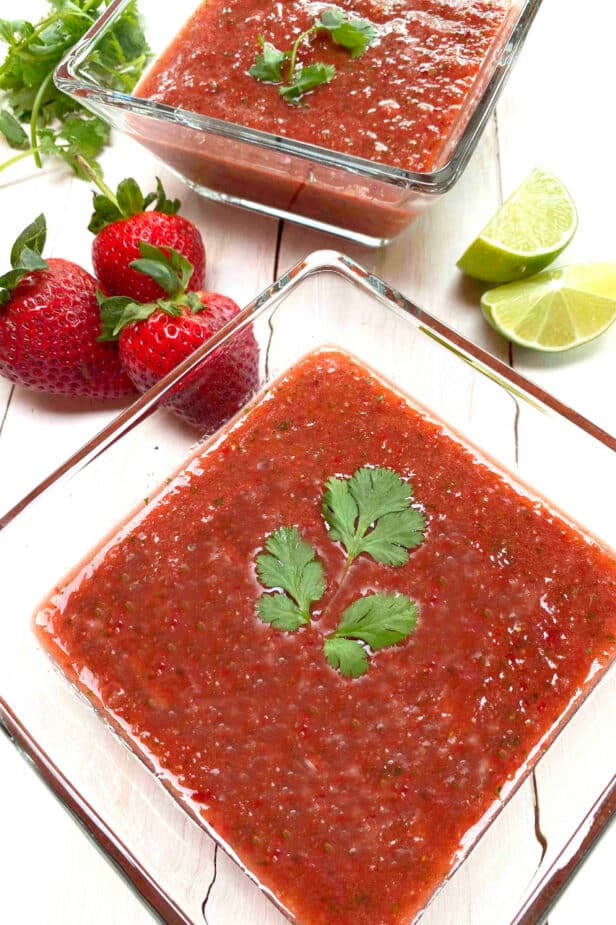 I did not tell Mark what I did. I just served it in these beautiful glass bowls with our pork tacos. He had no idea I used strawberries until I told him. Even then he said, "It just tastes like gazpacho"! I thought it had a slight sweetness to it and I could pull out a slight strawberry note, but it tasted like gazpacho.
It made enough that we have some for another meal and freezes perfectly. It will store in the freezer for 2 – 3 months.
Other Strawberry Recipes You Will Love
Strawberry Goat Cheese Crostini
So, if you go strawberry picking and have lots of berries and don't want any more jam, may I suggest this easy Strawberry Gazpacho?
I'd love to know what you think! Please leave me a note in the comments below!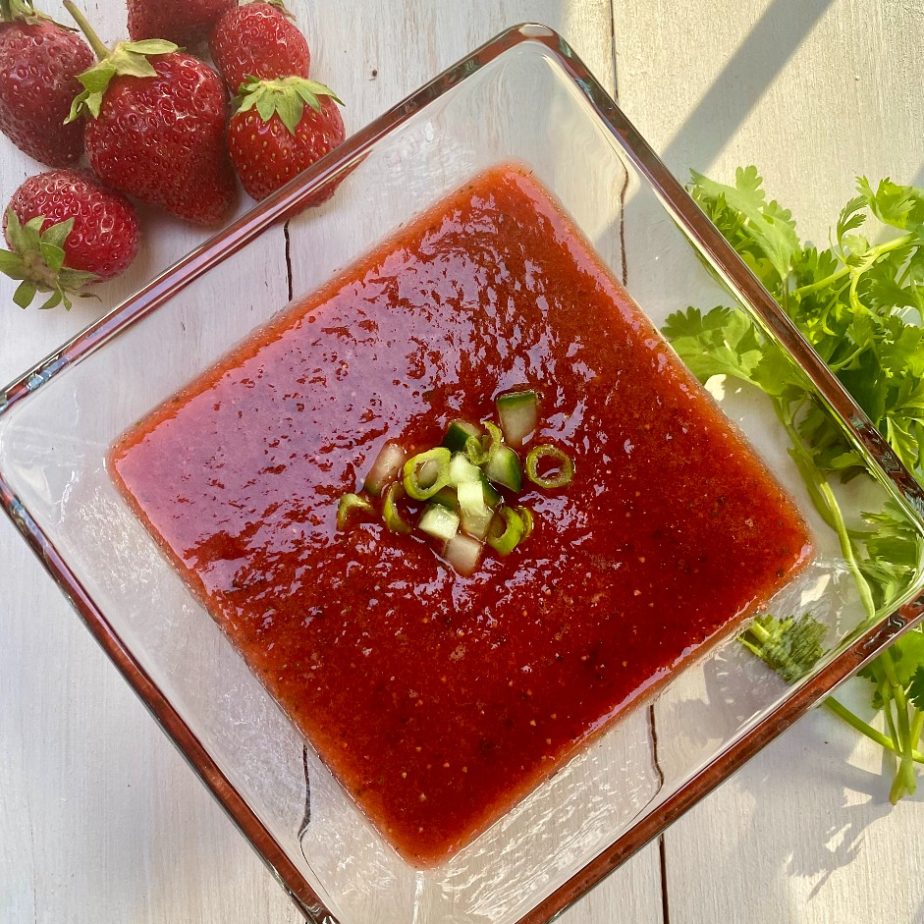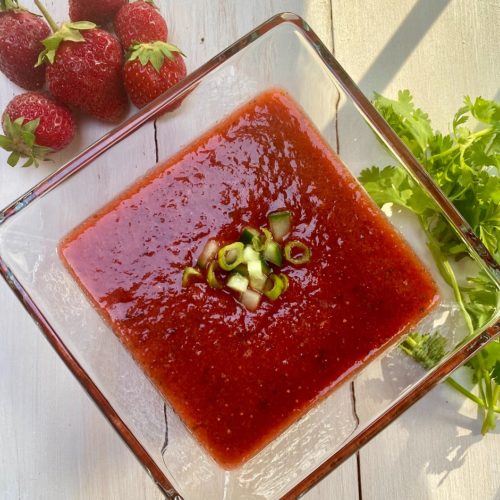 Strawberry Gazpacho
A zesty twist on a classic summer chilled soup
Equipment
Food Processor or Blender
Ingredients
1

lb

Strawberries

washed and hulled

1/2

English cucumber

about 8 oz.

1

jalapeno pepper

quartered and seeded

1

tsp

lime zest

2

Tbsp

lime juice

1

Tbsp

chopped cilantro

1/4

cup

sliced scallions

(green onions)

1/4 – 1/2

tsp.

salt
Instructions
Place all ingredients in a food processor or blender and puree until slightly chunky.

You may want to chill this for a couple of hours before serving.
Notes
You can adjust the jalapeno pepper and add more or less depending on how spicy you like it.  I like a bit of a kick and 1 medium size pepper was just right for us.  
Nutritionals are based on using 1/2 tsp. of salt.  You can adjust that up or down as well but I found this was just right.  You do need some salt – it really brings out the flavors and balances the soup.  
Nutrition
Serving:
0.75
cup
Calories:
45
kcal
Carbohydrates:
11
g
Protein:
1
g
Sodium:
290
mg
Potassium:
285
mg
Fiber:
3
g
Sugar:
7
g
Vitamin C:
75
mg
Calcium:
35
mg
Iron:
1
mg