Is your garden bursting with Zucchini? Is a well-meaning neighbor sharing their bounty? This zucchini carrot bread is the perfect way to use extra zucchini from your garden and not let any of it go to waste!
Zucchini bread is a delicious, hearty bread, but I often feel like its missing something. I experimented with a few things to give it a bit more flavor and body and my favorite variation is when I add shredded carrots to the mix.
Carrots have a sweetness that helps cut down on sugar and for me, hides the baking soda flavor I would get with other zucchini bread recipes. They always had a bit of a bitter flavor. This one is nice and sweet. The nuts add some heartiness, and I think the orange juice and zest mixed with all the fall spices really added a burst of fall flavor.
The carrots and orange also have the added benefit of mixing a few extra veggies and healthy nutrients in, which is never a bad thing! Especially if you are working on eating more! (It is national Fruit and Vegetable Month, so getting a little extra in this way makes it kind of fun).
If you find yourself with lots of extra zucchini from your garden, this zucchini carrot bread is a great way to use it!
This recipe makes 2 loaves and takes a good hour and half to make, but the house smells fantastic and you'll have one loaf to enjoy one now and freeze one to enjoy later! You could also make muffins instead. The recipe would make at least 24 muffins. Just cut the cooking time to 20 -25 minutes.
Let me know if you try this recipe and what you think! Do you like the carrots as an addition or is there something else you'd add in place?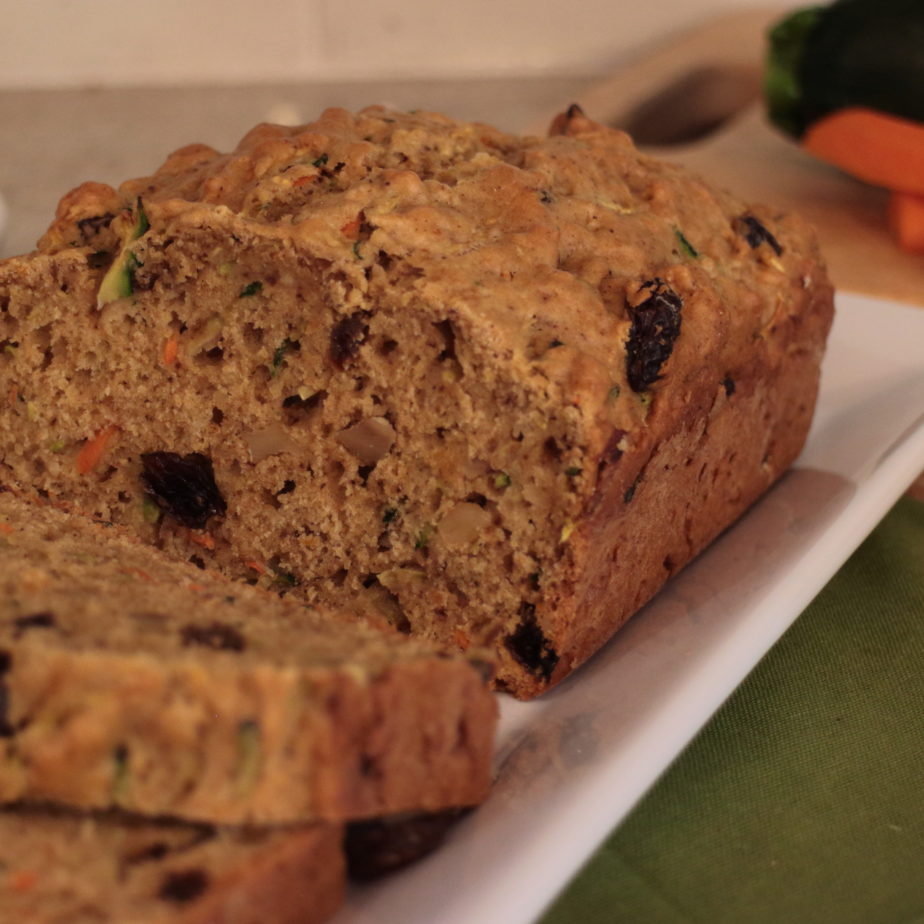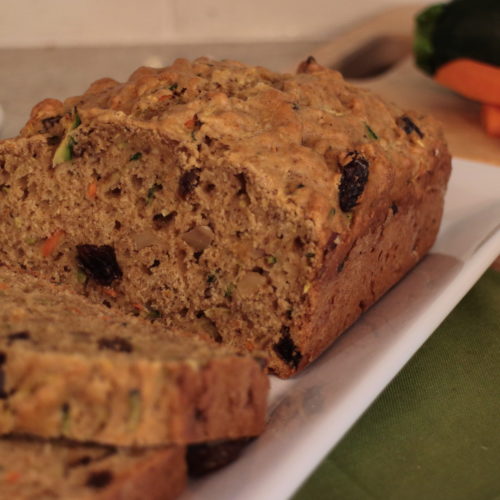 Zucchini Carrot Bread
A hearty quick bread that is perfect for using up extra zucchini from your garden
Ingredients
3

cups

all-purpose flour

1/2

cup

whole wheat flour

2

tsp

baking powder

1/2

tsp

baking soda

1/2

tsp

salt

1

tsp

ground cinnamon

1/2

tsp

grated nutmeg

1/2

tsp

ground cloves

2

cups

grated zucchini

1/2

cup

shredded carrots

1/2

cup

granulated sugar

1/4

cup

golden brown sugar

2

eggs, large

1/2

cup

vegetable oil

1

orange

zested and juiced

1

cup

chopped walnuts

optional

1

cup

raisins

optional
Instructions
Preheat oven to 350°F. Butter 2 loaf pans and place a piece of parchment paper in the bottom of each (cut to size) and spread it with butter. Flour each so they are well coated.

Sift flours, baking powder, baking soda, salt and spices in a medium bowl.

Grate zucchini and carrots in the food processor with the grating blade. (or you can do this with a hand grater as well. (Reserve any extra carrots or zucchini to mix into a casserole or soup later – you can freeze the extra if you have any)

Combine zucchini, carrots, sugars, eggs, oil, juice and zest in a large bowl. Mix well.

Add the flour mixture to the zucchini and carrot mixture and stir just until it is mixed together, being careful not to over mix. (You may still have a few lumps in the batter and this is ok!)

Mix in the nuts and raisins, if desired

Divide the batter between the 2 pans.

Place in the center of the preheated oven ad bake for approximately 1 hour (check after 50 minutes) Test with a toothpick – it should come out clean from the center.

Remove pans and place on a metal rack and let cook for 10 minutes. Then remove the bread from the pans and allow to cool completely.

These can be frozen for up to 4 months. Wrap tightly in plastic wrap or another wrap that seals well.