The choice of cooking oils has expanded from one or two vegetable oils and olive oil to a wide range of nut and seed oils, many with purported health benefits along with unique flavor characteristics. The grocery store shelves are lined with everything from imported extra virgin olive to walnut and avocado oil. Other than the cost, is there really any difference and why would you use any of these fancy oils?
Some oils do have nutritional benefits as well as interesting flavor profiles and can be a healthy addition to your diet when used in place of other fats and oils. These three might be worth experimenting with!
Avocado Oil – The avocado fruit is a nutrient dense food that's rich in healthy monounsaturated fats, Vitamin E and antioxidants lutein and zeaxanthin. These nutrients remain in the oil when extracted from the fruit and have been found to have a role in reducing the risk of heart disease, high blood pressure and are essential for eye health. Using avocado oil in place of other fats and oils is a great way to get some of these valuable nutrients.
Avocado oil has earthy and grassy notes with just mild hints of avocado flavor. It can be heated to a medium high heat so it is perfect for sautéing or baking but should not be used for frying. It has a light green color and I love to use it drizzled over fish, mixed into a salsa or guacamole or whisked into a hearty squash soup.
Grapeseed Oil – This oil is made from the seeds that remain after wine production. The oil is high in polyunsaturated fat, low in saturated fat and rich in Vitamin E. There is little research to support specific health benefits of grapeseed oil and what is written often confuses grapeseed oil with grape seed extract. The extract retains many of the antioxidant rich nutrients found in grapes, but unfortunately these are only found in small amounts in the oil. The use of grapeseed oil specifically for any health benefits cannot be recommended at this time, but it can certainly be a good replacement for other standard cooking oils.
This mild flavored oil works well in salad dressings, baked goods and, because it has a high smoke point, is great for sautéing or pan-frying.
For a quick dressing, mix it with lemon juice, salt and pepper and a little honey or just drizzle it over roasted vegetables for a quick side dish.
Walnut Oil – Walnuts are an excellent source of Omega 3 fatty acids, which remain in the oil when it is extracted from the nut. Research has shown that people who eat a diet rich in Omega 3 fatty acids have lower rates of heart disease. Including walnut oil in place of other oils can help contribute to overall Omega 3 intake and be a part of a healthy diet.
This nutty oil is best used in salad dressings or to drizzle over a grain salad or cooked dish at the last minute. It's not recommended for cooking as it loses its flavor when heated and may turn bitter. It would be a perfect dressing for a spinach salad, cooked quinoa or grilled fish.  Try the Walnut Oil Vinaigrette below – it was delicious on the Citrus Smoked Salmon Salad I made last week!
Each of these oils will hold up best if kept in a dark, cool place in the kitchen and tightly sealed container. If you don't use these often, keep them in the refrigerator, tightly sealed. They will keep this way for about six months.
Have fun experimenting with these different oils and expand the flavors in your food and gain the nutritional benefits each provide when you use them in place of other oils. You can find many of these oils in your local supermarket but expect to pay $2 – $10 more per bottle than your standard cooking oil.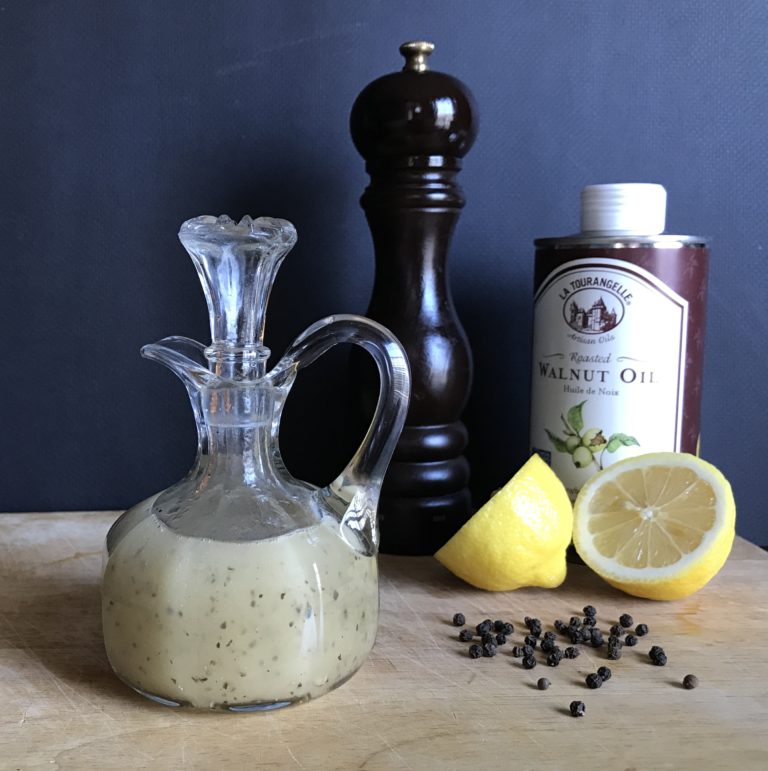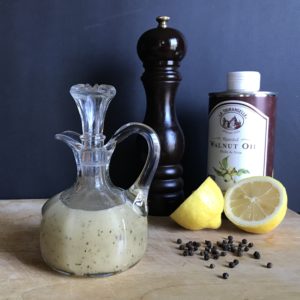 Walnut Oil Vinaigrette
A zesty vinaigrette with a nutty flavor that is perfect on any green salad. You can whip this together in less than 5 minutes!
Ingredients
1/2

cup

walnut oil

1/4

cup

lemon balsamic vinegar

or white wine vinegar

1/4

cup

lemon juice

1/2

tsp.

dried basil

salt and pepper
Instructions
Place walnut oil in a medium bowl.

Whisk in vinegar, lemon juice and basil until completely combined or emulsified.

Season with salt and pepper.